The previous record low for active cases was 45 on April 29.
At the peak of the second wave, there were 6776 active cases statewide.
One new mystery case has been confirmed in Victoria, Department of Health and Human Services data shows.
The new mystery case – an infection that cannot be traced to a known cluster – is a person who tested positive for the virus on Thursday, October 29.
Loading
This brings the tally of mystery cases confirmed over the past fortnight to two. The other mystery case is a person from postcode 3081 who tested positive to the virus on October 24.
There have been no new coronavirus cases recorded in the past six days from an outbreak in Melbourne's northern suburbs, state contact tracing chief Jeroen Weimar said.
"In the last two weeks, we've been dealing with a significant number of complex cases across the northern suburbs, affecting about 12 households and two schools," Mr Weimar told reporters.
"I'm delighted to say that we're just about to finish our day 11 testing for those positive cases, and that's going incredibly well.
"We have detected no new cases now over the last five or six days around the northern suburbs, so we are very much seeing the tail end of that particular outbreak."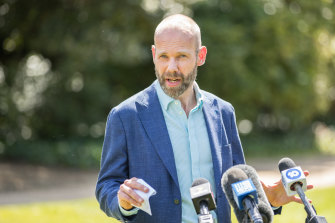 There are three active cases linked with aged care facilities in Victoria and two active cases among healthcare workers.
"Two workers is still two too many … and we will not stop until we drive that number down to zero," Health Minister Martin Foley said.
Victoria v NSW
On Tuesday morning, Queensland reopened its border with regional NSW, but not with Sydney or Victoria.
The NSW border also remains closed to Victorians. NSW Premier Gladys Berejiklian said on Monday it could be "weeks not months" before that restriction is lifted.
Over the past fortnight, there have been 27 locally acquired coronavirus cases confirmed in Victoria (resulting in a 14-day average of 1.9) and 13 locally acquired cases confirmed in NSW (meaning the 14-day average is 0.9).
At the start of last month, Victoria had a 14-day average of about 16, now its 14-day average is 1.9, which is roughly where NSW was one week ago.
There have been two mystery cases (infections that cannot be traced to a known outbreak) confirmed in Victoria over the past fortnight, compared with one in NSW.
While NSW has recorded more cases overall, the bulk of them have been overseas travellers in hotel quarantine.
Craig Butt joined The Age in 2011 and specialises in data-driven journalism.