Thousands of people remain at one of Melbourne's Bayside beaches on Melbourne's first serious day of warm weather post lockdown.
As we've reported earlier in the day, there are a handful of police officers and local law officers meandering through the crowds at St Kilda but they are well, well outnumbered. The Age has seen groups of young people drinking beers directly in front of police officers who are evidently taking a hands-off approach today.
While the Victorian government earlier today reminded beachgoers they should wear a mask when not in the water, by this point in the day there are plenty of people not bothering.
It's not just those on the sand and lawns – who are for the most part staying within their groups and keeping space from others – more than half of the punters walking up and down the boardwalk are maskless now.
Young couple Danilo and Lily Paolella said they weren't too phased by lax attitudes towards masks.
"It's a hot day and I'm really impressed with how everyone's stay inside of the circles in their bubbles distancing from each other, everyone's pretty calm as well," said Ms Paolella.
Mr Paolella predicted it would be a difficult task to try enforce mask-wearing at outdoor places like beaches as Melbourne moves into summer.
"I think it's pretty hard (to enforce) masks with this heat so but I think as long as everyone respects the social distancing, I think it's fine".
The Victorian government remains resolute that masks should stay in place for people while outdoors, with Premier Daniel Andrews stating last month he had no immediate plans to change or relax rules around mask-wearing ahead of the metro regional boundary lifting (hopefully) on November 8.
Last month Associate Professor Euan Tovey, a respiratory virus researcher at the University of Sydney, told The Age said there was little support for fears about transmission at the beach.
While we're celebrating new new cases again today in Melbourne, we should keep in mind there are still active cases and active mystery cases out there.
That's why the live list of public exposure sites is still relevant.
If you've visited any of these places, or ridden on any of the tram, train or bus lines mentioned during the exposure periods you should be vigilantly monitoring for symptoms and getting tested straight away if you have any at all.
State government representatives are meeting with hospitality leaders this week to discuss bringing back COVID-19 safety measures in WA venues, including using QR codes to record people's details.
Health Minister Roger Cook said he believed it was important to make sure there was a good understanding of who visited venues and how long they were there.
"Therefore, in the event that there is any outbreak we are in a better position to contact trace," he said.
He said putting the QR code system in place may also help reinforce the measures people should be undertaking to prevent community spread of coronavirus – physical distancing, good hygiene and not going to work or out of the house if unwell.
Read more: WA looks to beef up COVID-19 precautions at pubs, restaurants ahead of move to 'controlled border'
Hundreds are defying the state's compulsory mask rules at St Kilda beach as they flock to the bay during the Melbourne Cup public holiday.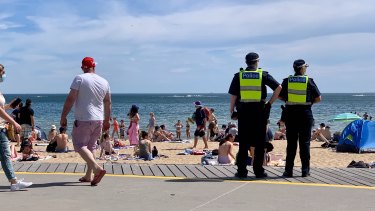 The race that stops a national failed to halt most out enjoying the sun on the popular foreshore as the weather topped 29 degrees.
Despite signage signalling a ban on consuming alcohol along St Kilda beach from November 1, that message also failed to get through to many who could be seen enjoying ice cold beers and ciders in blatant breach of Port Phillip's local laws.
Earlier today the state's Health Minister urged beachgoers to take at least two masks to the beach for wearing while out of the water.
"We'd encourage anyone who's going to the beach – anyone who's going out today – take a couple of masks," he said. "Wet masks are not effective and if you're on the beach, if you're in the park, wear a mask.
"It's the easiest thing we can all do, to do our bit to keep ourselves safe and keep our families safe."
The south-west Sydney restaurant where one staff member tested positive for COVID-19 has been ordered to close its doors indefinitely after another person continued to work despite being told they were a close contact.
The Jasmins1 Lebanese Restaurant in Liverpool will remain closed until further notice after NSW Health investigators found the venue did not have a COVID safety plan or keep contact details of patrons or staff as required.
NSW Health told the restaurant last Wednesday that positive cases had attended the restaurant three days earlier while infectious, and that all staff who worked at the time were regarded as close contacts and had to isolate until November 8.
However, at least one staff member continued to work, and now Jasmins1 Liverpool must provide detailed records to authorities and demonstrate compliance with COVID-19 restrictions and develop a safety plan before they are allowed to re-open.
Time for a round up of what's going on and where around the country today in terms of coronavirus news.
The NSW government is finalising plans to mandate QR check-in codes in all hospitality venues ahead of summer, including on-the-spot fines for businesses that fail to use the technology.
QR codes will be the state's first line of defence over summer, with the government working to enforce electronic customer sign-in systems in all cafes, restaurants, bars and pubs.
Businesses that do not implement the technology could be fined $1000 and, in outbreak hotspots, COVID-19 marshals would be required at the door to ensure patrons have checked in.
Premier Gladys Berejiklian has been increasingly worried by recent cases of non-compliant businesses and indicated on Monday that a decision about mandatory QR codes was imminent.
"In general we're concerned with compliance at some Sydney restaurants… we don't have any room for complacency and, as I foreshadowed last week, mandatory QR codes are still on the table for NSW," Ms Berejiklian said.
"I mentioned last week that my patience is wearing thin and it certainly is, and I know a number of my colleagues share my concerns, and so we're in constant discussions around that."
Customer Service Minister Victor Dominello said there was no time for complacency.
"QR codes are not only critical for contact tracing, they are also a clear pointer to which businesses are taking the situation seriously," Mr Dominello said.
"And those not taking it seriously will have inspectors monitoring them closely to ensure they are following the rules. This is about building resilience as we continue to open up as safely as possible heading into summer."
Snotty kids used to be a permanent fixture of most childcare centres, but not this year.
As The Age reported today, the Victorian Government has a strict policy requiring all children stay at home even if they have the mildest symptoms, including a runny nose.
It appears to be widely enforced.
When we asked parents about the issue yesterday and got a huge range of views and experiences and we thought we'd share some with you.
Here's a selection:
– "Children on average get ten colds a year. For parents to take leave for possibly twenty weeks a year and pay for the days which the child does not attend isn't sustainable."
– "One of my children has been attending childcare every day all year that they have been accepting children. Since the pandemic has come into play, she has not been sick once, where as the year before she was literally sick most of the time. The strictness around the centre has been a godsend. I hope it stays in place permanently."
-"Our childcare centre has blocked all parents from entering the premises. We now drop our kids off at the front door. Staff take them in, temperature check them and get the kids to wash their hands before entering the main area. They have kept this up the whole time with no exceptions.""Not easy with a teething 18-month-old who has also had a teething rash but cleared of COVID. I had to keep her home for a week."
– "Our childcare bowed to pressure from parents and now children with a mild runny nose don't have to stay home. It's crazy! I contracted a serious illness last year from a childcare 'mild cold' that near but killed me. Keep your child at home if they are unwell."
Check out the full story here and you're welcome to also share your thoughts.
More on the RBA decision from our economics reporters Shane Wright and Jennifer Duke:
The Reserve Bank has unveiled a wave of measures, including a cut in the official cash rate to a new record low, in a bid to drive down the nation's jobless rate and kickstart growth out of the coronavirus recession.
Following its traditional Melbourne Cup Day meeting, bank governor Philip Lowe said the cash rate would be cut to 0.1 per cent. It has been at 0.25 per cent since late March.
If passed on in full by commercial banks, a person with a $300,000 mortgage would save about $23 a month.
In addition, the bank said it would cut to 0.1 per cent the interest rate it is charging the nation's banks on a $200 billion line of credit that has been put in place to offer cheap money to small and medium-sized businesses.
The interest rate it pays banks that leave money overnight with the RBA has been taken to zero.
Longer term, the RBA will expand its bond-buying program to purchase $100 billion over the next six months, revealing it would start targeting the interest rate on five and 10-year government bonds.
It will split the purchases, with 80 per cent to be of federal government bonds and 20 per cent from state government bonds. The bonds will be bought on the secondary market and not directly from governments.
This is in addition to the more than $60 billion the bank has spent since March on buying three-year government bonds.
Quantitative easing covers a series of measures undertaken by central banks to boost an economy that extend beyond cutting official interest rates. They include long-term guidance on interest rate settings and the purchase of government bonds, both measures undertaken by the RBA.
"With Australia facing a period of high unemployment, the Reserve Bank is committed to doing what it can to support the creation of jobs," RBA governor Philip Lowe said in a statement on Tuesday.
Though pubs are still not able to fill up to full capacity due to coronavirus restrictions, the vibe was jubilant at venues on the busy streets of Richmond.
The Swan Hotel opened this week and was swiftly booked out for Cup Day.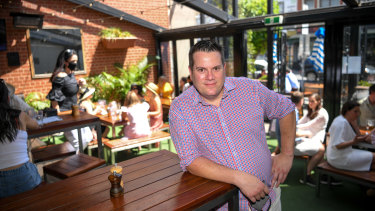 General manager Cameron Johns said he was so excited to see people back.
"It's great, there's sunshine – just to be out. The bubbles are flowing," he said.
Once they got the green relight to reopen this week they were able to implement COVID-safe practices "pretty quickly", he said.
"The hospitality industry have had seven months to think about it," he said.
"It's been hard. Hospitality in general suffered hard, but the bubbles are flowing today and everyone is happy to come out in a COVID safe way now."
He said that compliance officers had been through the venue earlier in the afternoon to check they were abiding by the rules.
Mr Johns is looking forward to welcoming more patrons into the pub soon.
"Hopefully by December and Christmas we can get a few more people back in our venues," he said.