He said this correspondence demonstrated the DPC's request for further information was both "reasonable and appropriate".
Loading
"It is disappointing that the Committee has not published its response of 20 October 2020 on its website, opting instead to take a selective approach by publishing only DPC's emails to the Committee Secretariat," Mr Reardon said.
"DPC has not misled the Parliament. Contrary to statements made by the Chair at his press conference on 30 October 2020, DPC at no stage informed the committee that [senior policy adviser Sarah] Lau had no role in the Stronger Communities Fund."
When she appeared before the committee, Ms Lau said that she had most likely shredded briefing notes and deleted electronic records indicating the Premier's approval of projects.
The state's Information Commissioner confirmed last week they had launched a preliminary investigation into the Premier's office shredding documents, which related to more than $250 million in council grants.
NSW Police on Tuesday announced it would not conduct an inquiry into the documents being shredded after the state opposition requested they investigate the matter.
"An assessment has been conducted and the NSW Police Force will not undertake an investigation," a police spokeswoman said.
According to a Labor's analysis, 95 per cent of the $252 million Stronger Communities Fund went to councils in Coalition seats in the lead up to the 2019 state election.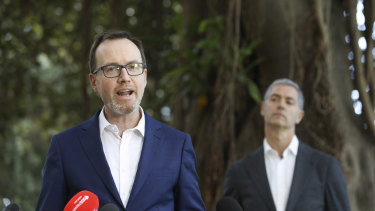 Loading
Emails show the Premier approved almost $142 million, the majority of which went to councils in Coalition seats.
Mr Shoebridge said emails from the DPC contained "misleading information" given they suggested Ms Lau could not assist the committee's inquiry.
"DPC appear to have been acting as government lawyers in this case and were passing on instructions they received from the Premier's office about Ms Lau's role," he said.
"Despite the glaring inaccuracies in their correspondence I don't believe the DPC staff intended to mislead the committee.
"So the question we still very much need an answer to, and the glaring gap in Mr Reardon's communication is, who in the Premier's office told them Ms Lau couldn't assist."
The 30 October correspondence had been uploaded to the committee's website.
Get our Morning & Evening Edition newsletters
Tom Rabe is Transport Reporter with The Sydney Morning Herald.