Spurts of violence occurred in moments when demonstrators attempted to move to a different location, away from the corner of Bourke and Spring streets and were blocked by officers who formed a strong perimeter.
Police used pepper spray on one of these occasions when a group of demonstrators stared down officers and began pushing back against them. The crowd, including those viewing from outside the police ring, chanted "shame, shame, shame" after the incident.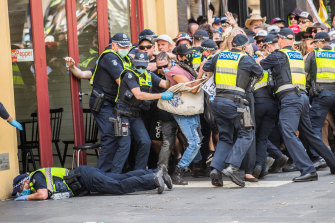 A coffee cup and plastic bottle were thrown at police after the capsicum spray incident, after which tempers began to cool.
A man was left bleeding from the head after he was pinned to the ground following a scuffle with police outside the Princess Theatre. One police officer was knocked to the ground in Bourke Street as police tried to push against oncoming demonstrators.
A spokesperson said that "a female Senior Sergeant was conveyed to hospital with a suspected broken arm following an arrest". It is not know if that was the officer who fell.
A man in his 60s from Melbourne's outer west said he was there to protest against what he believed was a "complete abuse of powers" by the state government.
"If there is a virus, I think the reaction to it has been an overreaction," said the man, who didn't want to give his name.
"I'm concerned for my children and I'm concerned for my grandchildren because it's like a frog in the saucepan.
Loading
"They keep turning up the heat and before you know it it's too late. Little by little our rights are being eroded."
In private message platforms, activists discussed moving the demonstration to Bourke Street Mall but police were not allowing them to move and numbers dwindled significantly as police escorted dozens away. By mid-afternoon the protest was coming to an end.
The crowd at one point turned on a Channel Seven reporter and her cameraman, screaming "tell the truth" at them as they made their way through the crowd.
Spring Street was closed to road traffic along with sections of Collins and Bourke streets that adjoin to Spring Street.
Health Minister Martin Foley said earlier on Tuesday that protesting remained against public health directives that allow up to 10 people to gather outdoors from two different households.
"The democratic right to protest is an important right, but an even more important right is to make sure we stay safe," he said.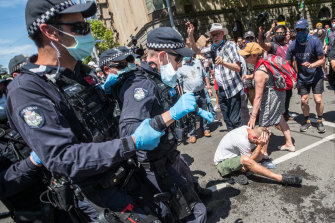 With Bianca Hall
Paul is a reporter for The Age.
Chloe Booker is a city reporter for The Age.