The two candidates have focused on about a dozen competitive state battlegrounds, nearly all states that Trump won in 2016.
Much of their attention has gone to Pennsylvania, Michigan and Wisconsin, the three traditionally Democratic states that Trump narrowly won in 2016, propelling his upset victory over Hillary Clinton.
If Biden can hold all of the states that Clinton won in 2016 and pick up Wisconsin, Michigan and Pennsylvania, it would be enough to capture the White House.
Polls also show tight races in Florida, North Carolina and Arizona. Florida, with 29 electoral votes, is the biggest must-win for Trump, as a loss there would block most of the president's viable paths to winning the Electoral College.
Results in Florida, where mail-in ballots can be counted before Election Day, are expected to begin to come in relatively quickly tomorrow. But Pennsylvania, Michigan and Wisconsin will not begin counting the flood of mail ballots until Election Day, raising the possibility of a prolonged vote count that could stretch for several days.
Trump has questioned the integrity of the election results for months, making unsubstantiated claims that mail-in voting is rife with fraud and refusing to commit to a peaceful transfer of power if he loses. Trump has also said votes should only be counted through election night, even though many states often take days or weeks to tally ballots.
The uncertainty and the prospect of prolonged legal battles have fueled unprecedented anxiety about the election's outcome and the aftermath. Several cities are boarding up buildings in anticipation of possible protests, including around the White House and in New York City. The famed shopping destination of Rodeo Drive in Beverly Hills, California, will be closed tomorrow, police said.
Reuters
After a campaign marked by rancor and fear, Americans tomorrow decide between President Donald Trump and Democrat Joe Biden, selecting a leader to steer a nation battered by a surging pandemic that has killed more than 230,000 people, cost millions their jobs and reshaped daily life.
Trump, 74, is seeking another four years in office after a tumultuous first term marked by the coronavirus crisis, an economy battered by pandemic shutdowns, an impeachment drama, inquiries into Russian election interference, US racial tensions and contentious immigration policies.
Biden, 77, is looking to win the presidency after a political career spanning five decades including eight years as vice president under Trump's Democratic predecessor, Barack Obama. He mounted unsuccessful bids for the Democratic presidential nomination in 1988 and 2008.
Trump's deficit in opinion polls has been driven in part by public disapproval of his handling of the pandemic. He has repeatedly played down the threat, promising the crisis will end soon and urging a quick reopening of schools and businesses, prompting Biden to accuse him of "surrendering" to the virus.
Biden, who has framed the contest as a referendum on Trump's handling of the virus, promised a renewed effort to combat the health crisis, fix the economy and bridge America's political divide. He has kept a relatively steady lead in national polls.
More than 98 million early votes had already been cast in person or by mail as of Monday night, according to the U.S. Elections Project at the University of Florida, a record-setting pace fueled by intense interest in the high-stakes election and concerns about voting in person on Election Day during a pandemic.
The number is equal to about 71.4% of the entire turnout in 2016 and represents about 40% of all Americans who are legally eligible to vote.
The first polling locations will open in some eastern states at 6am (US time).
Reuters
It's nearly 2am in the midwest and many Americans are fast asleep, but the campaigning doesn't stop.
Joe Biden has reiterated his promise to "govern as an American president" and work with both Democrats and Republicans, while Donald Trump is sharing the highlights of his rallies on Twitter.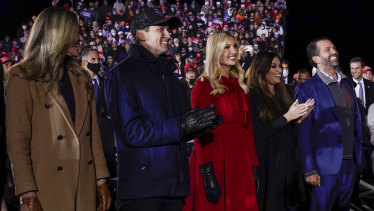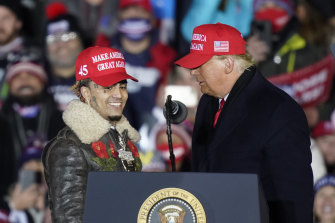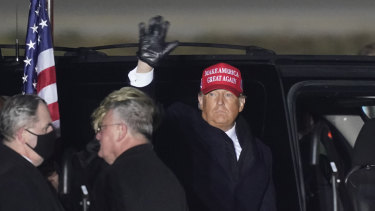 Trump ended his final and fifth rally for the night just before 1.30am (US time).
In his final words to Americans who are yet to cast their vote, Trump promised America will land the first woman on the moon, and land an astronaut on Mars.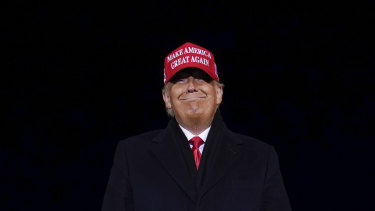 This was his final pitch:
"In conclusion, over the next four years, we will make America into the manufacturing superpower of the world, and we will end our reliance on China once and for all, which is already taking place," Trump said.
"We will hire more police, increase penalties for assaults on law enforcement and we will ban deadly sanctuary cities. With God's help, we will defend the right to life, religious liberty, free speech and the right to keep and bear arms …
"We will maintain America's unrivalled military might and we will ensure peace through strength. We will end surprise medical billing, require price transparency … lower drug prices even more … and we will always protect patients with pre-existing conditions.
"America will land the first woman on the moon, and the United States will be the first nation to land an astronaut on Mars …
"We will stop the radical indoctrination of our students and restore patriotic education to our schools … and we will live through the timeless words of our national motto, 'In God we trust'.
"For years you had a president who apologised for America, now you have a president who is standing up for America … Tomorrow you have the power to save America.
"This is the most important election maybe in the history of our country …
"We are one movement, one people, one family and one glorious nation under God. And together, with the incredible people of Michigan, we have made America powerful again … we have made America wealthy again, we have made America strong again, we have made America proud again, we have made America safe again and we will make America great again.
"Thank you Michigan, go out and vote."
With a very familiar tune – the Village People's YMCA – Trump's final rally for this 2020 campaign has come to an end.
Trump was joined briefly on stage again by Vice President Mike Pence to farewell the crowd.
Pence, however, did not join Trump in dancing off stage.
Meanwhile, back in Michigan, rapper Lil Pump briefly joined Trump on stage at his final rally.
"MAGA [Make America Great Again] 20,20,20 don't forget that!" the rapper – real name Gazzy Garcia – told a cheering crowd.
This isn't the rapper's first Trump rally.
It's the 60th anniversary of the special midnight vote in the tiny town of Dixville Notch in New Hampshire.
Normally, there would be a big food spread and a lot of media crammed into a small space to watch the voting, Tom Tillotson, town moderator in Dixville Notch, said last week. But that's wasn't possible this year because of the coronavirus pandemic.
"Sixty years – and unfortunately, we can't celebrate it," he said.
The results in Dixville Notch, near the Canadian border, were a sweep for former Vice President Joe Biden who won the town's five votes.
But in the small town of Millsfield, about 20 kilometres south, President Donald Trump won 16 votes to Biden's five.
A third community with midnight voting, Hart's Location, suspended the tradition this election because of coronavirus concerns. It decided to hold voting from 11am to 7pm. Tuesday. The White Mountains town started the early voting in 1948 to accommodate railroad workers who had to be at work before normal voting hours. It eventually stopped in 1964 and brought it back in 1996.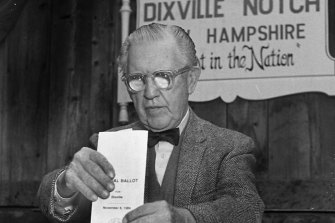 The communities also vote just after midnight for New Hampshire's first-in-the-nation presidential primary, which was on February 11. That almost didn't happen this year in Dixville Notch, when one person moved away, leaving the remaining four residents one short of the minimum needed to handle various election responsibilities. That was fixed when a developer working on renovations of the now-closed Balsams resort, where the voting tradition began, moved in.
For years, voting has been held in a wood-panelled room filled with political memorabilia at the Balsams, which closed in 2011. Some of those items were brought over to a former culinary school on the property, the setting for tonight's vote.
Dixville Notch, a tiny New Hampshire township along the US-Canada border, is among the first places in the US release its election results.
It's a tradition for all eligible voters in this small town (this year, there's a grand total of five) to gather at The Balsams resort to cast their secret ballots once the polls open at midnight.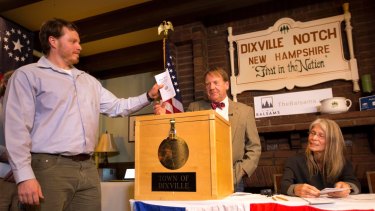 Once every ballot is cast, the votes are counted and the result announced hours before anywhere else.
And this year, it's five votes to Biden. It is a Biden sweep!
Could this be a hint of what's to come? Not necessarily. As CNN reports, Dixville Notch went for then-Democratic nominee Hillary Clinton in 2016.