Elections are a testament to the well-worn cliche: success has many fathers; failure is an orphan.
If Biden wins the contest – and there's still every chance he might – he'll be hailed a hero; the obvious choice to become the nation's healer in chief.
But if he loses, the recriminations will be harsh and swift.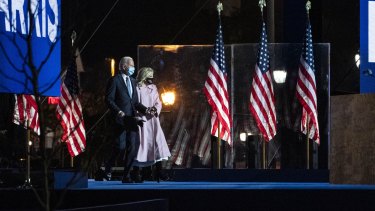 Why did he campaign virtually for so long instead of blitzing the battleground states face-to-face?
Did the Democrats expand their electoral map too much, rather than concentrating on the "rust belt" states that could have secured a clearer path to victory?
And should the party have done more to mobilise a broader coalition, such as the Latino and white working-class voters who flocked to Trump in Florida?
These are all valid questions. The fact is, Biden did take time to accelerate his campaign, but he argued this was both necessary and responsible in the middle of a pandemic that has so far killed almost 230,000 Americans.
At the age of 77, the last thing the nation needed was yet another presidential candidate contracting the coronavirus.
And yes, he could have heeded the calls of people such as Texas congressman Beto O'Rourke, who have warned for months that Latinos are not a monolith and shouldn't be taken for granted.
Kamala Harris' visit to Texas last week was a significant boost, O'Rourke said today, but Democrats might have finally flipped the Lone Star State had Biden taken his advice sooner.
Loading
As for the concerns that Biden spread himself too thin? This will not be known until coming days when ballots in Pennsylvania, Wisconsin and Michigan are finally counted.
As Biden urged anxious supporters today: take a deep breath, be patient, hold the line.
Trumpism may be alive and well, but Trump could still be a one-term president.