As befits one of his professionalism he celebrated – but relatively modestly, as he explained.
These COVID-19 days mean that wild and raucous parties at Crown or some other upmarket eatery or venue were not possible as in previous times, but McNeil gives the impression that might not have been his scene anyway, even though he was not riding at Kyneton the next day.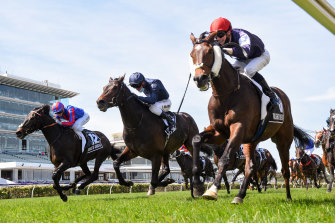 "It's a privilege to be in this position, I am very grateful. It still probably hasn't 100 per cent sunk in yet. I am really enjoying the moment," he said on Wednesday morning as he cradled his Cup trophy.
"We got back to the apartment, had a few drinks to celebrate with Jess [his partner, former jockey Jess Payne] and a few close friends, my manager and a little bit of dinner, we had some Flower Drum and then I caught up with the owners."
He said the experience after he won and then got to speak to his partner will be forever etched in his memory.
"She was very proud and very emotional. That moment where I got to speak to her for the first time after winning the Cup was very overwhelming," he said.
"She was able to set her phone up and get some footage of her cheering me home."
McNeil said that he carried out a plan hatched by trainer Joseph O'Brien and the horse's owners, Lloyd and Nick Williams.
"It was always the intention to be positive. Twilight Payment got into such a great rhythm, we seemed to get left alone out in front, bowling along at a nice speed, and then the plan was to really step it up early and get the horses behind us chasing. I am sure that's what won it in the end.
Joseph and all the connections wanted him to be ridden that way.
Loading
"I couldn't see who it was surging at us late but I could feel them coming and I was worried that I was just going to get overtaken but I knew inside the 200-metre mark that he was doing enough to hold on and I really enjoyed that moment."
Winning in front of an empty grandstand was surreal enough but, McNeil said, he did have a chance to savour the moment.
"I didn't know whether to celebrate or sit still and enjoy the moment. In the end I gave a little fist pump and gave the horse a massive pat and enjoyed the moment," he said.
"There was no crowd to salute to so I just tried to find a happy medium. It's different to how it was last year but the fact that we have been racing without crowds for so long now it's becoming a bit normal to us.
"Thankfully, a few of the guys I am close friends with got around me as I got back and that really set the atmosphere for me.
"The first one I saw was Ben Allen, he was watching at the stewards tower, as I came down the race to come back into the mounting yard he was waiting for me and a few others. As we got back to the winner's stall there were a lot of guys cheering for me."
It will be a similarly vacant Flemington on Oaks day when McNeil has seven rides: even for a Cup-winning jockey reality bites once again quite quickly.
Michael Lynch is The Age's chief soccer reporter and also reports on motor sport and horseracing