"I am not nervous [about the race], it's just that you can't be there, it's my best horse and you would like to be there to see everything's fine. I know she is in good hands but it's not the same."
Montefilia arrived in Melbourne at 5.30am on Cup morning after an overnight trip from Sydney and on Wednesday she had a light canter around the Flemington track for a familiarisation session at a course where, if things go right, she could be back this time next year as a Melbourne Cup candidate.
Most trainers fret as to whether their charges will stay the gruelling 2500-metre Oaks trip at this early point of their three-year-old careers, but that is the last of Payne's worries.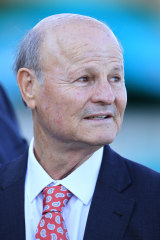 "We were thinking of the Oaks when we purchased her as a yearling. She is very stoutly bred on the dam's [Bana Wu] side. She is by Shirocco [a group 1 winner over 2400 metres in Europe], who is by Monsun, who sired Protectionist, so there is a lot of stamina on the dam's side."
(As well as Protectionist, who won the 2014 Melbourne Cup, Monsun is the sire of Fiorente, who won the Cup in 2013 and Almandin, who landed Australia's greatest race in 2016).
"If you look at her last time over 2000 metres [in the group 1 Spring Champion Stakes] she was doing her best work at the finish, so I don't think it's an issue for her."
Payne's filly has won two group 1s at her last two starts, taking out the Flight Stakes in Sydney before her Spring Champion win, even though both contests were something of an afterthought.
"We didn't have the Flight stakes in mind, or the Spring Champion, we were just going to prepare her for the Oaks," the trainer said.
"When she ran in the 1400-metre race [the Tea Rose Stakes behind Dame Giselle in mid-September] and ran fourth and I knew how fit she was so I thought we have to have a go at the Flight Stakes [1600 metres], and that progressed to the Spring Champion Stakes and onwards to the Oaks."
While Payne has had his share of top horses over a lengthy career in racing even someone with his CV cannot always count on being part of the big days when he has to take on the huge super stables with their battery of wealthy clients.
"It's tough to get a good horse, especially us with a small string, we only buy 10 yearlings a year so it's very exciting.
"I have had fillies that have won six or seven group 1s, she has won two, she seems special but she's still got to do it".
Assuming that she gets through the Oaks test all right it could be a trial run for the first Tuesday in November next year.
"She could be a Caulfield and Melbourne Cup filly once she strengthens up, she's still a baby. That's my dream, maybe next year, but we have got to get past the Oaks. I will leave it [riding instructions] to Hugh. There's a lovely long straight so let's hope it all goes to plan."
Michael Lynch is The Age's chief soccer reporter and also reports on motor sport and horseracing