Loading
"For me, it's just been incomprehensible to imagine another four years of Trump's presidency, I've been hopeful that Biden would win," said Jenny Schmidt, originally from Idaho.
The clear hope was that Biden would establish a big lead early, potentially winning Florida on the way to a crushing landslide victory.
But the blue wave didn't materialise, as solid results for Trump showed the race would be tighter than the polls predicted. That only heightened the tension and nervousness.
"Watching all the polls beforehand, I knew there was a 10 per cent chance that Trump could win, but I was not expecting it to be this close," said Ms Schmidt.
Like many, she was having flashbacks to 2016, when Hillary Clinton lost despite many people believing she would win.
"I'm feeling a bit sick and nervous, I'm reminding myself not to drink as much as in 2016 because I got a little messy," she said.
Alex Pellerano, a Cuban-American who moved to Melbourne from Miami, said he was upset to watch his home state of Florida side with the President a second time.
"I know we f—ked it," he said. "But Miami was blue."
Analysts attributed Trump's strong showing in Florida to Cuban voters fearful that Biden would introduce "socialism". However, Mr Pellerano didn't believe that was right.
"I know many friends there, I personally believe that it is about people's financial interest over the next four years," he said.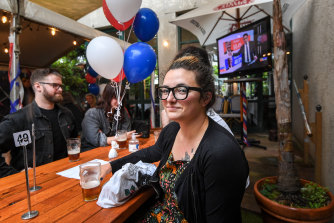 Lindsey Mineff, a native of Cleveland, Ohio, said she was nervous about potential unrest back in her home country.
"I feel physically a lot safer watching it here, I had a call from an American friend who said she was feeling incredibly stressed and fearful of violence," she said.
One state many were watching closely was Texas, a traditional Republican stronghold where the Democrats had made early gains.
"If it doesn't go blue this year, it might at the next election," she said.
In a nod to the current environment, Melbourne's chapter of Democrats Abroad held their gathering online, with about 70 people tuning in to watch the coverage.
Meredith Edelman, who moved to Melbourne from Arizona, was one of them. She was pleased that Biden looked on track to win her home state, while Democrat Mark Kelly had also won the Senate race over Republican incumbent Martha McSally.
"I'm really happy about that, as much as I am about the Presidential race," she said.
Loading
While a romping Biden victory was off the table, Dr Edelman was keeping a close eye on the important states of Wisconsin, Michigan and Pennsylvania.
Counting in those crucial states is expected to take days owing to early voting. For many, it was looking like a long night in front of a screen tuned to CNN, PBS or MSNBC.
"I am worried about the rhetoric that might come out, that seems concerning," she said.
"But I think that once the votes are counted we will do well. I certainly haven't lost hope, I think it's too early to call."
Tom Cowie is a journalist at The Age covering general news.