"I came in and made a huge difference: we finished in the top five in Europe last year scrum wise."
Du Plessis believes the key to his success at Rennie's former club can be put down to his physiotherapy background.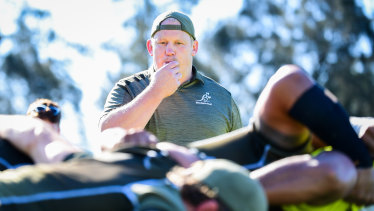 "Physiotherapy is basically movement analysis," he said. "That helps me massively. I'm an expert in neck strengthening. That helps massively in the scrum, core strengthening.
"If you put all that together, with the fact I've only recently played, so I know all the scrum rules inside out – I've stuck my head in those dark places – if you put all that together, that's where the conversation led with Dave.
"He said to me in his own words, I relate well to all ages and props and front rows. He liked that and he liked the way I present and get the message across. We had an honest discussion and I said to him, 'Look, if the chance occurred, I would follow you to Australia'. That's what happened."
Loading
It has taken du Plessis a few months to finally arrive in Australia. After countless cancelled flights, he touched down in Sydney two weeks ago and completed a fortnight in quarantine. His introduction to the Wallabies' team and staff came on the same day as the team's record-breaking loss to the All Blacks at ANZ Stadium.
One of the few bright spots in the 43-5 loss was the Australian scrum.
Du Plessis' next mission is to turn that scrum into a "weapon".
"The Wallabies scrum has always been there or thereabouts," he said. "They didn't have a bad World Cup campaign but, I suppose, some people might say the scrum was just a restart of set piece.
"The thing we want to change is, we want to make the scrum a weapon. So we can decide whether we attack or not and we can manipulate the opposition. That's the main thing for me.
"The talent we've got at the minute is good enough to possibly have one of the best scrums in the world, I believe. Looking at what talent we have, I'm pretty sure we've made good strides."
Sam is a sports reporter for The Sydney Morning Herald.