Nine News correspondent Alexis Dash reports that Joe Biden's campaign manager says they are ready, with legal teams in the wings, to fight any Supreme Court challenge mounted by Donald Trump.
In his election-night speech, Trump threatened to take action in the Supreme Court against the counting of postal votes and what he falsely claimed – without any evidence – was a "fraud on the American public".
Biden's campaign manager Jen O'Malley Dillon said: "If the President makes good on his threat to go to court to try to prevent the proper tabulation of votes, we have legal teams standing by ready to deploy to resist that effort."
Joe Biden has won the vote in Maine.
However, Maine and Nebraska are the only states that don't play by the winner-take-all rules under the Electoral College.
Biden has won at least three of Maine's four electoral votes in his bid to unseat President Donald Trump.
Biden won the statewide tally and the 1st Congressional District, good for three electoral votes. Trump, meanwhile, hoped to claim one electoral vote in a win in the 2nd Congressional District. The 2nd Congressional District hasn't yet been called.
Maine split its electoral votes four years ago, awarding three to Democrat Hillary Clinton and one to Trump, who won the more rural and conservative of Maine's congressional districts.
AP
Matthew Knott is the US correspondent for The Age and the Sydney Morning Herald. He has travelled across the United States over the past year, talking to Republican and Democratic voters in states including Florida, Arizona and Pennsylvania. He reports tonight from Washington.
The foundations of America's centuries-old democracy are shaking.
The outcome of the presidential election hangs in the balance and may not be known for days. A nation with widespread gun ownership, a polarised population, tribal media outlets and a reckless president has to muddle its way through as all the votes are counted. The exact scenario many feared has now come to pass.
Rather than delivering clarity, election night only plunged a fractured nation into deeper uncertainty. Are its democratic institutions – the Congress, the courts, the election systems – able to withstand what is coming?
As he has previewed for months, Donald Trump leapt into the void to claim that Democrats were trying to "steal" the election from him – despite no evidence this had happened.
"We will never let them do it," he said on Twitter. "Votes cannot be cast after the Poles are closed!"
But votes are not still being cast; they are being counted, which is entirely proper.
Then, in a 2am address at the White House, Trump prematurely claimed victory and falsely claimed that his voters are being "disenfranchised" because millions of votes remain to be counted. He vowed to go to the Supreme Court to stop the remaining votes, which are expected to favour Democrats, from being included in the totals.
"This is a fraud on the American public," Trump said. "This is an embarrassment to our country. We were getting ready to win this election. Frankly, we did win this election."
Even if he doesn't succeed, Trump has made it clear: he's willing to resort to blatantly anti-democratic measures if that's what it takes to stay in power. It was a dark, disturbing moment in American history.
In the wake of Trump's 2am press conference from the White House, where he falsely claimed that postal votes were a "fraud on the American public", Philadelphia's election commissioner has vowed that every vote will be counted.
Al Schmidt, the Office of City Commissioner who is responsible for elections and voter registration in Philadelphia, said via Twitter: "Philadelphia will NOT stop counting ALL legitimate votes cases by eligible voters. And we will report and report and report until the last vote in counted."
And here is live footage from the counting room in Philadelphia, in the battleground state of Pennsylvania:
Trump is currently leading in Pennsylvania with 55.75 per cent of the vote, but there are many, many more votes to be counted.
Farrah Tomazin, a senior writer with The Age and the Sydney Morning Herald, has been following the US election campaign for months. Here is her analysis of US election day 2020:
Joe Biden began the most important day of his life just as he's begun so many others: attending Mass at his local church, visiting the grave of his beloved son Beau and calling for unity in a deeply divided nation.
But as the election results began rolling in, his campaign narrative – that Trump's America "is not who we are" – raised a pertinent question: really?
By the time it struck midnight in the US, Donald Trump had won a string of critical states – including the key battlegrounds of Florida, Iowa and Ohio – undercutting Biden's central message: that Trumpism itself is an aberration.
"The citizens of this country have come out in record numbers," a defiant President said in a speech at the White House shortly after 2.30am. "There's never been anything like it to support our incredible movement."
Elections are a testament to the well-worn cliche: success has many fathers; failure is an orphan.
If Biden wins the contest – and there's still every chance he might – he'll be hailed a hero; the obvious choice to become the nation's healer in chief.
But if he loses, the recriminations will be harsh and swift.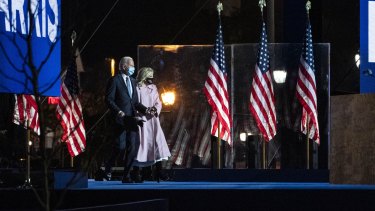 Why did he campaign virtually for so long instead of blitzing the battleground states face-to-face?
Did the Democrats expand their electoral map too much, rather than concentrating on the "rust belt" states that could have secured a clearer path to victory?
And should the party have done more to mobilise a broader coalition, such as the Latino and white working-class voters who flocked to Trump in Florida?
These are all valid points. The fact is, Biden did take time to accelerate his campaign, but he argued this was both necessary and responsible in the middle of a pandemic that has so far killed almost 230,000 Americans.
US futures slipped and oil prices have dropped after President Donald Trump's early morning appearance at the White House where he prematurely claimed victories in several key states.
Earlier, Wall Street futures and Asian shares had posted gains as investors took an optimistic stance on the election's still undecided outcome.
In his press conference at 2.30am local time, Republican Donald Trump said: "Frankly, we did win this election."
That assertion does not match the results and information currently available. Neither candidate has yet secured the 270 electoral college votes needed to claim victory.
Trump said he would take the election to the Supreme Court. It was unclear exactly what legal action he might try to pursue, but a contested election was among the worst scenarios anticipated by investors hoping for an end to the uncertainty after a bruising campaign.
Trump and his Democratic challenger Joe Biden remain locked in tight races in a handful of battleground states. Most polls had predicted a Biden victory.
Many investors took earlier forecasts of a so-called "blue wave" of Democratic Party wins as a signal that the US economy might soon get a big, fresh infusion of help. But with the race too close to call, some analysts said they also might be reassured by the prospect for a continuation of Trump's pro-market stance.
"Markets seem to be pricing in better chances for Trump, or at least a smaller chance of a blue wave," Stephen Innes of Axi said.
"On the one hand with the fiscal implications of a Biden win/blue wave that's a bit of a surprise – on the other Trump is widely considered more market-friendly, so one can see how it nets out a small positive," Innes said.
Dow futures fell 1.5 per cent and the S&P 500 future contract dropped 1.1 per cent. Both initially fell as election returns began coming in but had rebounded. The Nasdaq future contract rose 1.1 per cent.
In Asia, the Nikkei 225 in Tokyo advanced 1.7 per cent to 23,695.23 on Wednesday, while the Kospi in Seoul added 0.6 per cent, to 2,357.17. India's Sensex surged 0.9 per cent and the S&P/ASX 200 in Sydney lost 0.1 per cent to 6,062.10.
AP
In his election-night speech, US President Donald Trump laid out a course of action to challenge the legitimacy of the election, falsely claiming victory, even as votes were still being counted to determine the victor.
In what amounted to a late-night rally in the White House on election night, Trump issued a series of unfounded assertions about the election, all with the apparent intent of bolstering his claim to victory in an unfinished process.
Without providing evidence, Trump said "a very sad group of people" was trying to disenfranchise millions of his supporters who voted for him.
In truth, the states are continuing to count votes, with the expectation that all votes are counted.
Trump claimed "we have won" Georgia, which hasn't been called officially. He also claimed a victory in North Carolina, which also hasn't been called.
Pennsylvania's vote has not been called. The Biden camp evidently has high-hopes to get a surge of postal votes once they're counted.
The President claimed, falsely, that "we did win" the election.
His intention to make this false claim was flagged days ago by Axios which reported Trump had told confidants he would declare victory on Tuesday night if it looks like he's "ahead".
Election results from other battleground states, including Wisconsin and Michigan, are still not finished.
The current Electoral Vote count stands at 225 electoral votes for Joe Biden and 213 for Donald Trump. A candidate needs 270 votes to win the Electoral College to become president.
US laws already provide for vote counts to extend past election day. Trump claimed he would "go to the Supreme Court" to get voting to stop. But there is little basis in law for preventing voting, or escalating issues directly to the Supreme Court without a series of lower-court challenges.
Trump's speech was unprecedented for a sitting President given he has called into question the credibility of the electoral process by describing it as a "fraud". No evidence exists to support his claim.
His suggestion that he will challenge counting in the Supreme Court suggests he may fight the result if he does end up losing key states.
"After saying this morning he wouldn't prematurely declare victory Trump is prematurely declaring victory," US correspondent Matthew Knott said in a Tweet.
Knott added: "The foundations of American democracy are shaking. It's not too much to say."
Democratic supporters are likely punching the air right now: Joe Biden has won Arizona.
AP, who we are relying on for the definitive results, has just called the state as a win for Biden.
In case you missed it, here is President Donald Trump's early morning address to the nation. He spoke from the East Room of the White House around 2.30am, prematurely declaring himself the winner of the election.
He also referred to the counting of postal votes as "a fraud on the American public", without there being any evidence of that, and said he would take action in the US Supreme Court.