Day two of trade period is done and dusted, but keep an eye on realfooty.com.au for more of the best news and analysis until our live coverage picks up again from 9am tomorrow.
Here's a summary of what we learnt today:
Josh Dunkley has told the Bulldogs he wants a trade to Essendon. His manager Liam Pickering says Dunkley is happy to stay at the Dogs if a deal can't be done, but wants to move to Essendon because he believes there is more opportunity for him to play in the midfield there.
The Bombers are in a stalemate with Carlton over a trade for Adam Saad. The Blues are happy to give up pick eight but want a pick from Essendon in return, as well as Saad.
Geelong and GWS have begun talks over a deal for Jeremy Cameron. But Cats list boss Stephen Wells says the talks are "very early in the piece".
St Kilda have confirmed they're keeping an eye on Adam Treloar and his situation with Collingwood.
Kyle Hartigan has been traded to Hawthorn. In return, the Crows get a future fourth-round pick.

Will Snelling has re-signed with Essendon and Cam Rayner has re-signed with the Lions.
Make sure you're subscribed wherever you get your podcasts for the latest episode of our daily trade wraps – just search "Real Footy". The latest episode, featuring Michael Gleeson and Peter Ryan, will be out later this evening.
And you can get the daily trade news delivered straight to your inbox. Sign up here for The Age, here for The Sydney Morning Herald, here for WAtoday, and here for Brisbane Times.
Thanks for being with us today!
Josh Dunkley's manager Liam Pickering says they have told the Western Bulldogs that Dunkley would like to be traded to the Bombers.
Pickering says the Bulldogs have said they want to keep Dunkley and the onus is now on the Bombers to try and get a deal done.
"It's now up to the Bombers to deliver a scenario that the Bulldogs might think twice about," Pickering told Trade Radio.
Pickering also dismissed reports Dunkley had a problem with the Bulldogs off-field culture, and said he wanted to move because he was not played enough in the midfield in 2020. Dunkley was used as a second ruck option at times in 2020, and attended far less centre bounces as a midfielder than he usually would.
"The Dogs have got a strong midfield as we know … he has spent more time out of the middle of the ground, which is where he wants to play," Pickering said.
He said Essendon had been talking to him about Dunkley for "a couple of months" but Dunkley only gave it serious thought since the Bulldogs' season ended.
Asked whether he thought the deal would get done, Pickering said "there's always roadblocks when you've got multiple years on a contract".
"I understand their position and they're entitled to that," he said of the Bulldogs wanting to retain Dunkley.
He described Essendon's contract offer to Dunkley as of "a decent length" but said the money and length of the deal was not the motivation.
Pickering stressed the relationship between Dunkley and the Bulldogs had not soured and that Dunkley would return to the Bulldogs if a deal couldn't be done with Essendon.
Essendon currently have pick 6, 7, 48, 67, 73, 78, 85 in the draft and hope to get a third selection in the first round from Carlton for Adam Saad (pick eight).
Jye Caldwell, the young and highly rated midfielder from GWS, has also nominated Essendon as his preferred destination.
Pickering also gave an update on North Melbourne's Jed Anderson. He was hopeful of his client being re-signed soon.
"We are negotiating with North Melbourne. We have been trying to get this deal done for a while. It's tracking along okay but we need to get some clarity on what it looks like. He's a very good player and to be sitting there unsigned is frustrating."
Cam Rayner has signed a contract extension with the Lions that links him to the club until the end of 2023.
In a letter posted on the Lions website, Rayner said he was "thrilled" to extend his contract.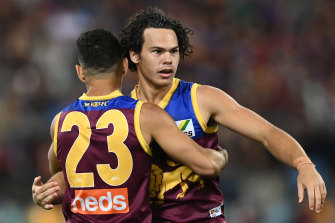 Peter Ryan and Michael Gleeson will be taking listener questions in today's trade wrap podcast.
Send them through to realfootypod@theage.com.au by 4.45pm AEDT.
Carlton remain in a stalemate with Essendon over defender Adam Saad, with Essendon still insisting on a straight swap of Carlton's pick eight for Saad.
Club sources say the Blues are willing to part with that pick in the deal, but want a draft pick back from the Bombers – anticipated to be a second-rounder, either this year or next.
Carlton have no interest in North Melbourne's Jed Anderson.
Geelong list boss Stephen Wells says talks over Jeremy Cameron are "very early in the piece".
"We'll do what we can, within reason, to facilitate the trade," he told Trade Radio.
"One thing that the Giants demonstrated … is that they were looking to be better compensated than what they would have been [by the AFL's free agency compensation pick]."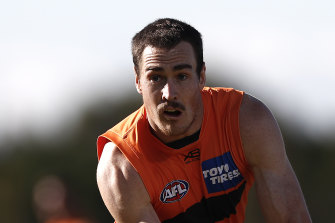 He said there had been "dialogue" and the Cats were clearer about what the Giants wanted for the key forward. But he stressed it was still early in the talks and gave no detail on what their offer might entail.
As reported earlier by Peter Ryan, the Giants have made noises about wanting a deal similar to the one Geelong secured from West Coast when Tim Kelly was traded last season, and certainly the Cats have collateral.
Geelong have picks 13, 15, 20, 38 and 96 in this year's draft.
"When the time's right, hopefully we will have done a deal and something will be announced then," Wells said, declining to comment on whether the deal would involve picks, players or a combination of both.
Wells said they would like to have North's Shaun Higgins join the club, but he was a contracted player with the Roos.
He said Jordan Clark was committed to Geelong and they were committed to him, but conceded Clark was disappointed not to play more games this season. He said Clark had a strong year in 2019 and had Clark not been injured he believed he would have kept his spot in the Cats side.
"We're looking forward to Jordan being one of those players that help us improve," Wells said.
He said the only good thing about the uncertainty over list sizes for 2021 was that all clubs were in the same boat and no club had an advantage over any other.
He said the Cats had been unable to commit to some younger players because of it
"I'm sure the AFL and the players association are very mindful of the situation of the clubs and players," he said.
As reported by The Age yesterday, the Cats have been talking with Jack Steven about his playing future.
Preliminary discussions have been held between the club and the player's management that could lead to a potential payout being agreed, rather than him remaining on the list in 2021.
Wells said Steven was considering his options and if he was able to do what was required to be an AFL player, then he would be with the Cats in 2021.
"It's very hard for some people, being an AFL player. And it was even harder for some people, being in a hub," Wells said.
Wells said Lachie Henderson had been offered the opportunity to play on next season and Henderson was keen.
He also said the Cats had offered Nakia Cockatoo a contract and that Cockatoo understood there was a home for him at Geelong if they couldn't do a deal with Brisbane. The Age reported yesterday that Geelong and the Lions have begun to negotiate a deal that would see Cockatoo join the Lions in 2021 after an injury-riddled six seasons at the Cats.
There's been one trade so far today – Kyle Hartigan has joined Hawthorn in exchange for a future fourth-round pick – but some other news has come through.
Reports emerged this morning that the Cats had experienced radio silence from the Giants as they attempted to start some discussions around a deal that would see Geelong secure restricted free agent Jeremy Cameron. But Peter Ryan reports that the two clubs have engaged with each other on Thursday to get the ball rolling.
Will Snelling has signed a contract extension with Essendon.
Brad Crouch has spoken of his relief after Adelaide elected not to match St Kilda's offer and he was able to head to Moorabbin as a free agent.
Eddie Betts' manager says there was "never a doubt" that he would be with the Blues next season. The club is yet to officially announce he has signed a contract extension.
And as Daniel Cherny reports, St Kilda's chief operating officer Simon Lethlean confirmed on SEN this morning that the Saints were interested onlookers in the Adam Treloar situation, though he acknowledged there were a lot of obstacles to getting the deal done. But the Saints have one clear advantage over the rest of Treloar's potential suitors: their location. St Kilda moved back to their spiritual home at Moorabbin at the start of 2018 after seven ill-fated years at Seaford. And their Moorabbin base is 10 minutes away from Treloar's home.
Adelaide defender Kyle Hartigan was traded to the Crows for a future fourth-round pick today, and he has told Trade Radio it was good that the deal had finally gone through and he could tell his family and friends that he was coming home to Victoria.
He said the return home was one of the motivating factors behind his decision, with a young family and COVID-19 disrupting travel this year. He added that he saw a great opportunity to move to Hawthorn and play in their defence.
He said he was thankful to Adelaide for giving him a start in his AFL career and the club's poor season had not played a role in his decision.
"I've made so many great friends and got so many great teammates in Adelaide … they'll always be a big part of my life," he said.
"I feel fortunate … and thankful to the club for giving me that opportunity [at AFL level]."
He said he would build on his fitness and prove to the Hawks what he could deliver.
The defender, 29, added that the Hawks' finals chances factored into his decision.
"They can definitely compete for finals next year," he said.
He said he thought he had four to five years of good footy left in him and cited former Hawks such as Josh Gibson who had extended their careers at the Hawks.