After being shown footage and still photos from CCTV at the bar the woman also agreed that she made a 'v' gesture with her tongue and stuck her tongue out, indicating oral sex, but said she didn't remember doing that on the night and that it was something she did to her friends.
"I would do it to the boy group as a joke," she said.
She was also shown footage and stills of Mr Sinclair allegedly touching her breasts at the club, but she answered that, while she believed that's what the images depicted, it was blurry.
"At this point on this night you were sexually attracted to Mr Sinclair," Mr Campbell put to her.
"I'm not attracted to him," the woman said, adding that she was, in fact, getting to know Mr Sinclair's roommate at the time.
The court heard Mr de Belin choked the woman during the alleged rape and that she had pain around her collarbone, neck and under her ribs later that morning.
The woman, who cannot be legally named, became highly emotional when questioned about a graze she said she received from jumping the gate to the apartment block where the encounter took place.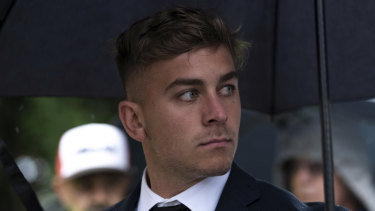 Mr Campbell asked her whether she did anything about the injury when she had a shower after waking that morning.
She replied, "no … I couldn't even have a shower because the water touching my skin around my collarbone area was in that much pain I can remember to this day," before breaking down and asking for a break.
Mr de Belin, 29, and Mr Sinclair, 23, a Shellharbour Sharks player, have pleaded not guilty to five counts each of aggravated sexual assault, saying, through their barristers, that the encounter with the woman was entirely consensual.
Loading
The woman, who was 19 at the time of the incident, was questioned about the timing of a message she sent to an acquaintance, Andrew Kyriacou, who had previously invited her to smoke cannabis with him.
She initially told the jury she had sent the message, "when you want to get high", to Mr Kyriacou just after 2am, following the alleged rape, when she was trying to get from Mr de Belin and Mr Sinclair.
"I wanted to stop feeling, I had just been through something traumatic," the woman said on Tuesday.
But under cross-examination she agreed she had sent the message an hour earlier, while she was in a tuk-tuk with the pair, saying she was trying to recall things to the best of her ability.
"You were on a journey to engage in some consensual activity with these two men and you were sending a message to Andrew about getting high when you finished weren't you," Mr Campbell put to her, to which she replied, "I never consented to go to that place."
Angus Thompson is an Urban Affairs reporter for The Sydney Morning Herald.