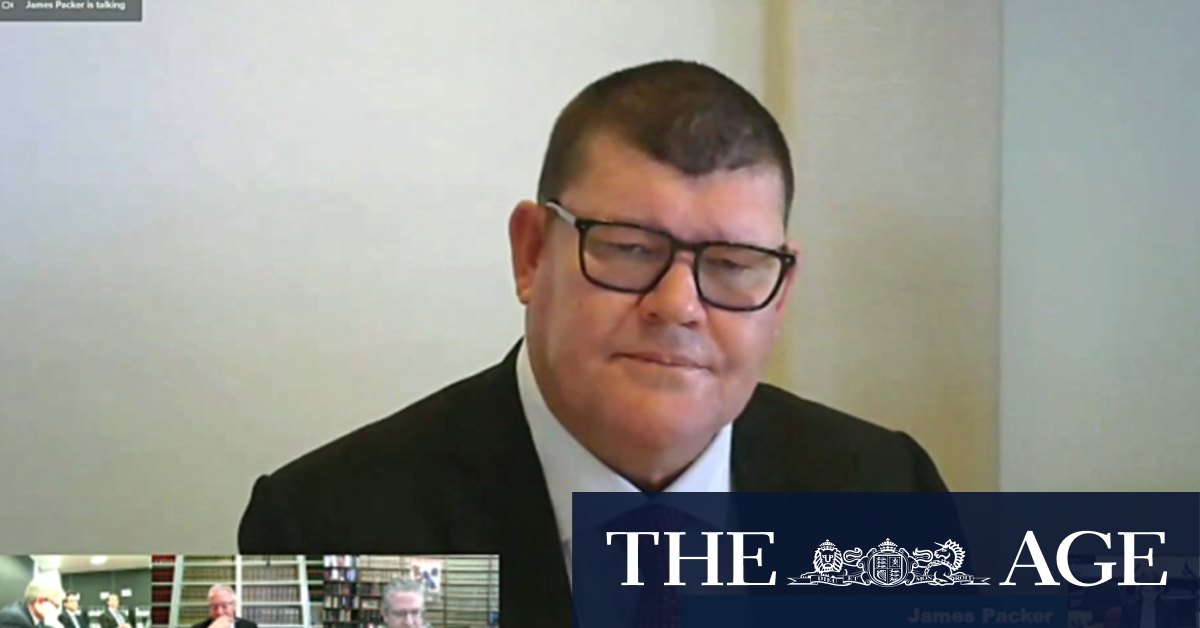 In the second day of his final submission to the inquiry, Mr Bell took Commissioner Patricia Bergin back over the explosive emails presented last month in which Mr Packer sent a threatening email to a businessman referred to as Mr X, since confirmed to be private equity executive Ben Gray, after negotiations to privatise Crown soured.
Mr Packer agreed during evidence his conduct was "shameful" and "disgraceful".
However, Mr Bell said on Thursday there had been "no medical evidence presented to this inquiry" that supported Mr Packer's claim his behaviour was a result of his bi-polar disorder, and he had used "perceptive and business-like" language in other emails sent the same day.
Loading
"The difference was that Mr X had conveyed information to Mr Packer which was bad news, which Mr Packer did not want to hear," Mr Bell said.
"We submit that you should recommend to the [NSW gaming] authority that it reconsider its approval of Mr Packer as a close associate of the licensee having regard to his conduct in these emails."
Under NSW's gambling legislation, a "close associate" is a person who has a position of influence over the running of a casino and must be of "good repute, having regard to character, honesty and integrity". Mr Packer currently owns 36 per cent of the shares in Crown and has three nominee directors on its board.
In further submissions, Mr Bell said that Mr Packer had acted as a "de facto director" of Crown after he stood down from the board in 2018, as evidenced by regular emails he sent to executives and directors instructing them how to run the ASX-listed business.
If Commissioner Bergin accepted this, Mr Bell said it would implicate Crown in Mr Packer's sale last year of a 9.9 per cent stake in Crown to Hong Kong's Melco Resorts for $880 million. That transaction gave a financial interest in Crown to Macau casino kingpin Stanley Ho, who has since died, and a list of associated entities that Crown is banned from dealing with because of Mr Ho's alleged links to organised crime.
Mr Bell said that there was a "good basis" to find Crown breached a clause in its regulatory agreements with the NSW government by failing to stop the deal, based on the involvement of Mr Packer and his board representative Michael Johnston.
Moreover, he said the affair in which Mr Packer and two Crown directors acted only with regard to Mr Packer's financial interests and without concern for any damage the sale might inflict on Crown reflected adversely on the broader and more fundamental question of Crown's suitability to hold a casino licence.
Mr Bell on Wednesday said that Crown was unfit to keep the licence for its Sydney casino and that the deleterious influence of Mr Packer over its corporate governance one of the key reasons. He said measures to address this could include forcing Mr Packer to sell down his current 36 per cent shareholding, and in the short term cutting his board seats from three to one.
Crown regularly shared confidential information with Mr Packer under a secret "controlling shareholder protocol" signed after 2018, which Mr Bell said Crown showed determination to keep "hidden from the market and its own shareholders".
That was illustrated by Crown's current CEO, Mr Barton, declining to disclose the arrangement to investors even when asked directly at Crown's 2019 annual meeting about what information was shared with Mr Packer.
"Mr Barton gave evidence that he had not forgotten about the protocol when he provided the answer," Mr Bell said. "The only conclusion that can be drawn is that Mr Barton, not accidentally but deliberately misled Crown Resorts shareholders in providing his answer, or chose not to tell them the truth".
It was "remarkable", Mr Bell said, that every single Crown Resorts board member at the meeting failed to appreciate Mr Barton had not answered the question accurately and did nothing to correct him.
Mr Barton, who was elevated from chief financial officer to CEO in January, apologised to shareholders at the company's AGM last month for the incident.
"It was never my intention to mislead or provide a 'non-answer'," Mr Barton said.
Loading
The inquiry on Thursday started reviewing the evidence of Crown's partnerships with VIP "junket" tour operators linked to organised crime. Revelations of these links in a series of reports by The Age, Sydney Morning Herald and 60 Minutes last year lead to the inquiry being established.
Final submissions from counsels assisting will continue on Friday, following by submissions from Crown and Mr Packer's private company, Consolidated Press Holdings. Commissioner Bergin will report her findings to ILGA by February 1 next year.
Business Briefing
Start the day with major stories, exclusive coverage and expert opinion from our leading business journalists delivered to your inbox. Sign up for the Herald's here and The Age's here.
Business reporter at The Age and Sydney Morning Herald.
Lucy Cormack is a state political reporter with The
Sydney Morning Herald.