"But the way they have gone … and the way they are going I think not just the form of them players [the recruits] but the whole club, led by 'Ratts' [Brett Ratten], it seems like it's going in the right direction."
Crouch admitted Adelaide potentially matching the Saints offer made him more nervous as Wednesday wore on, but he was relieved to receive the news of his move while on the golf course.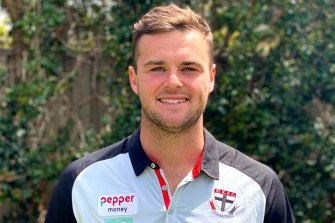 "It's a bit of a relief to be honest," Crouch said. "It started dragging out a little bit and obviously the Crows took a bit of time, right to the last minute.
"I was trying to keep my mind off it as much as I could. The Crows obviously weren't happy at that stage not getting the first round compensation so I knew they were going to try do some stuff, but I just didn't really know what exactly because I wasn't privy to it.
Loading
"It the end, I didn't know anything until sort of everyone did. It came as a shock … very relieved at the end of it."
The 26-year-old said he had had "good conversations" with Geelong and his former teammate Patrick Dangerfield late in the year about a move to the Cats.
"With the [Jeremy] Cameron stuff that went on a bit later in the piece, maybe that had an impact?" he said.
"Just weighing it up they have a lot of … midfielders. It was clear to me in the end they [the Saints] would suit me best as a player."
Loading
Crouch and former teammate Tyson Stengle were caught with cocaine by police after the season.
He said this incident made him more determined for a new start.
"It was very stressful. Originally I didn't really think about anything and how it would affect it [the move], it was just working out how we were going to deal with everything.
"I think that also has made me think I do need a change as well and moving club can give me a real fresh start."
Anthony is a sports reporter at The Age.