To that end, Trumpism is not an historical accident. If anything, Trump's coalition appears to have broadened.
In Florida, Trump improved on 2016 gains with Hispanic voters this year, particularly among the Cuban and Venezuelan communities.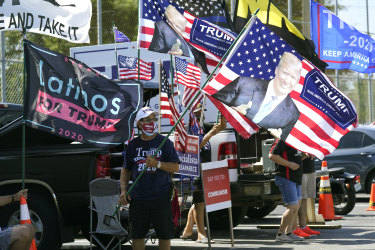 Some of these voters have fled dictatorships and are staunchly anti-socialist. Others are simply drawn to his pro-business policies: small business tax cuts; scrapping free trade agreements; cracking down on China.
There are also signs that some black men have drifted from Joe Biden this year – and that some have turned to Trump instead.
According to an NBC poll of early and election day voters, 52 per cent of black male voters who identified as ideologically conservative cast their vote for the President. In America's Midwest one in three black men voted for him.
An AP exit poll taken in the days before the November 3 election paints another interesting picture. Based on a survey of more than 110,000 people, it found more than half of Native American voters, native Hawaiians and Pacific Islanders were more likely to choose Trump than Biden.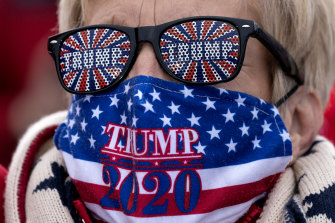 What's more, the survey found, support for the President among these groups was almost as high as Trump's traditional main backers: white men without college degrees.
Trump's appeal is less about what he tweets or says, and more about what he does, and his economic message cuts through with a broad range of supporters who want the COVID-ravaged economy kept open.
While it would be easy to try to fit Trump supporters into a neat little box – just as Hillary Clinton recklessly did with her comment about "deplorables" – they are not a monolith.
They're folks like Hector Garza from South Texas, a Hispanic patrol officer who believes Trump's immigration policies and border wall make America safer.
In September, as I travelled along the Rio Grande River talking to Mexican Americans about the President, Garza was organising a Pro-Trump rally in the town of Laredo because he felt that "conservative voices" like his were being drowned out.
They're also guys like Shane Peters, a white working class Uber driver from Pennsylvania, who told me he never really liked politicians but supported Trump because of his tendency to "get things done".
"Maybe he hasn't handled himself the right way in terms of being a gentlemanly cordial version of a president, but I'd rather a president who's blunt and does the things that he says he's going to do," he said.
Loading
They're even folks like rapper Lil Wayne, who recently caused a Twitter storm when he announced that he'd met with Trump and supported his so-called "Platinum Plan" to assist black Americans.
That plan promises to "increase access to capital in black communities by $US500 billion" ($694 billion) over four years, through a series of broad-brush commitments such as "creating 500,000 new black-owned businesses".
As the American population becomes increasingly diverse, only a lazy pollster should assume that all non-white citizens will reject Trump for all his race-baiting. Diversity doesn't just mean race and religion, but a whole range of complex political views.
Farrah Tomazin is a senior journalist covering the 2020 US presidential election.