Election workers are powering through the night to count laborious absentee ballots in Georgia, where Joe Biden is steadily gaining ground on Donald Trump.
This race will be a photo finish. With 95 per cent of votes reported, it's now neck and neck: Trump currently has 49.6 per cent of the vote, while Biden has 49.1 per cent.
Biden began Wednesday morning (US time) approximately 100,000 votes behind Trump, but by Thursday morning Trump's lead narrowed to 23,000 votes, or 0.5 per cent. Under Georgia election law, a candidate may request a recount if the margin is 0.5 or less.
In Fulton County, a Democratic stronghold and home to most of Atlanta, Biden narrowed the margin by more than 18,000 votes between 5pm and midnight (right now it's 3.30am in Georgia).
In DeKalb County, also part of the metropolitan region, Biden narrowed it by an additional 5000.
The next update from Georgia's secretary of state is scheduled for 10.30am Thursday (US time).
The question now is whether additional absentee votes from rural and more Republican areas will offset enough of Biden's gains to preserve Trump's lead.
Republicans in Georgia are nervously assessing the vote count and have promised to file lawsuits in a dozen or more counties aimed at knocking off votes here and there. The first case, filed in Savannah on Wednesday, was an effort to chisel away 53 ballots that Georgia Republicans said arrived too late to be counted.
with The New York Times
The Maricopa County election centre in Phoenix, Arizona, which was forced to close on Wednesday night (US time) as angry protesters tried to storm the building, has released its last tally for the night.
Trump has narrowed Biden's edge in Arizona slightly to 68,390 votes, or less than three percentage points. It means Trump has hit the percentage (48.1 per cent) he needs to stay on track to potentially win the state, but it may not hold, New York Times reporter Jennifer Medina says.
In Maricopa County itself, Biden's margin went down by 10,783 votes, to a lead of 74,514. But there are about 275,000 votes left to count, plus provisional ballots.
The county, where it is currently 1.30am on Thursday, is not expected to release its next tally update until 7pm.
Although we – using the calls provided by the Associated Press – have called Arizona for Biden, some other outlets are holding off due to the surge in Republican votes.
If Arizona ends up swinging Republican, it is a lifeline to Trump, although he will still need to win Georgia, North Carolina and Pennsylvania. He can afford to lose Nevada.
Donald Trump says he wants vote counting to stop in some states; and he will go to the Supreme Court to make it happen. Can he? Sherryn Groch reports.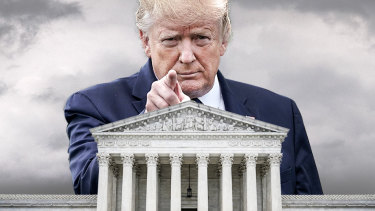 It was a threat issued in the wee hours of the morning to a nation still struggling to understand its future.
"We'll be going to the US Supreme Court," President Donald Trump said, moments after falsely declaring victory in a knife-edge election that hadn't been called yet. "We want all voting to stop. We don't want them to find any ballots at 4 o'clock in the morning and add them to the list, OK?"
At that time, voting had stopped. Polls were closed, even all the way in Alaska on the west coast. But millions of votes were (and still are) being counted, as is common in US elections.
With Democrat rival Joe Biden now gaining ground in a race remaining (excruciatingly) too close to call, Trump's bid to suspend the normal counting process has sent a shiver through Western democracies – labelled a power grab by many commentators as senior Australian politicians, including opposition leader Anthony Albanese, join worldwide calls for a full count.
Biden has vowed to challenge Trump's plan with his own army of lawyers. "This ain't over until every vote is counted," he said, urging Americans to have faith – and to have patience at the end of a long election night. "It's not my place or Donald Trump's place to declare who's won this election. That's the decision of the American people."
So could Trump – or a judge – actually stop people's votes being counted?
What is Trump's plan?
While Trump might want Americans to believe that votes are still being sent in after election day and counted by unscrupulous officials, voting has stopped. Polls had closed before he stepped up to the podium for his address and no state will count absentee ballots postmarked after election day.
What Trump wants is for vote counting to stop. This may seem counterproductive when he is, at the time of writing, still down in the electoral college race to 270, but there's a clear strategy behind it. This year's election saw huge voting numbers and, thanks to the pandemic, a record amount voting via mail. In some states, these mail-in ballots are counted after those from polling booths.
Postal voting has been built into the state's well-honed electoral systems for decades without concern – the defence force have long used them to vote, says Dr Thomas J. Adams, an expert in US politics and history at the University of Sydney. But mail-in ballots also tend to swing Democrat – hence the terms the "red mirage" and "blue wave" where early election results can show the map filling up with red Republican votes, only to be washed away by blue Democrat mail-in ballots counted later.
It's now nearly 2.30am in New York City, but several hours ago riot police swarmed the streets, arresting dozens of people they say attempted to "hijack a peaceful protest by lighting fires, throwing garbage and eggs".
The peaceful demonstrations we saw in Manhattan on Wednesday morning (US time) escalated after night fell. Police seized a Taser, knives and powerful firecrackers from demonstrators who blocked traffic and set rubbish bins alight.
At around 8.30pm local time in the West Village, a phalanx of officers moved on a group of several hundred people who had gathered earlier outside the New York Public Library in midtown before marching to Washington Square Park.
The protesters had briefly shut down traffic in the neighbourhood while chanting slogans like "every city, every town, burn the precincts to the ground" as they passed boutique restaurants where patrons were enjoying dinner on an unseasonably warm evening.
Employing the law enforcement tactic known as kettling, the officers pushed protesters out of the street and sought to contain them on sidewalks. As the protesters banged against signposts and shouted at the police to move, more officers in riot gear joined the fray.
At least three people were detained for setting rubbish bins on fire, the police said; others were arrested because they had blocked subway entrances, the police said. Still others who were taken into custody had thrown garbage and eggs, the police said.
"We appreciate and value the importance of freedom of speech," the Police Department said in a statement posted on Twitter, adding that those who were arrested had "attempted to hijack a peaceful protest".
The scene in the West Village contrasted sharply with the near-giddy mood that had carried the protesters along earlier as they called to "defund the police," have every vote counted and end racial injustice.
As the confrontation unfolded, Chloe Hartstein recorded the arrest of a friend while standing across from a row of officers clad in riot gear.
Hartstein said that her friend, whom she identified as a member of the activist group Street Riders NYC, had been walking on Sixth Avenue with dozens of other people when officers surrounded the group near Ninth Street and put him in the back of a police van.
"They didn't give a reason for his arrest," she said. "They just took him."
A second confrontation occurred around 9.30pm near Union Square Park.
Beyond the rubbish fires, there was no evidence of the property damage that some business owners were clearly anticipating when they boarded up their shopfronts before election day.
The New York Times
Senator Bernie Sanders has already used his crystal ball once during this election campaign.
His prediction of election night chaos on The Tonight Show Starring Jimmy Fallon two weeks ago came eerily true in the early hours of Wednesday morning, US time, when Donald Trump stood up in the East Room of the White House and falsely claimed victory and made unfounded claims about the legitimacy of the knife-edge count.
Now he says Joe Biden and democracy are headed for victory.
"In my view, this unprecedented election was about Donald Trump vs democracy and whether we were going to have a president who respected the Constitution, democratic norms and the rule of law," he said in a video posted to Twitter.
"Fortunately for the future of our country, it appears that if current trends continue, Joe Biden and democracy will win.
"Now is the time to reaffirm our belief in democracy and to give states the time they need to count every ballot so that the will of the American people is heard.
"That's what this country is about – and must always be about."
Our United States correspondent Matthew Knott has spent the past year or so criss-crossing the United States and talking to voters in each of the states that will decide America's next president.
And there was one topic that came up more often than most: COVID-19. It was widely assumed the coronavirus would prove decisive in the US election, but Trump still holds a slim hope of winning a second term despite his downplaying of the threat, Knott writes.
During reporting trips to six battleground states during the US election campaign, the topic of COVID-19 often came up when talking to American voters. That's no surprise. The pandemic has dominated the national conversation since March. More than 233,000 Americans have died from coronavirus. Over nine million people – including President Donald Trump – have contracted the virus. Everyone's life has been affected in some way.
It was widely assumed, understandably, that the issue would prove decisive in the election. Joe Biden tried to frame the election as a referendum on Trump's handling of the pandemic. This seemed wise given polls showed most Americans did not approve of Trump's COVID-19 response. There was speculation that unhappiness with Trump's handling of the virus might depress turnout among conservative voters.
But it didn't work out that way. I didn't meet anyone who was planning to vote for Trump and then changed their mind on the basis of the coronavirus alone. While many people said they disapproved of Trump's COVID response, it was just one of many reasons why they disliked Trump. They'd decided not to vote for him long before the virus came to America's shores. The issue simply reinforced – and perhaps hardened – their existing belief that Trump was unfit for office.
Those who planned to vote for Trump were happy to say they disapproved of his tweeting habits. But they gave him a pass on the virus or praised his performance. The fact America's death toll was so much higher than most other developed countries did not dent their national pride – or their faith in Trump.
"He's not responsible for la pandemia," Cuban-American voter Pedro Vilallonga told me in Miami. "This is a worldwide thing."
"I don't know what anyone else could have done better," Florida retiree Carol McNeal said. "He has handled COVID just perfectly," said fellow retiree Dorothy Sullivan.
Exit poll results showed that Trump voters overwhelmingly said that the economy was the most most important issue to them. Trump's rhetoric on reopening the economy and getting back to normal resonated with them. They thought he was the best person to lead America through its post-COVID recovery.
Not only does the presidential election hang in the balance this evening, so too does control of the Senate.
Securing the Senate majority will be vital for the winner of the presidency. Senators confirm administration nominees, including the Cabinet, and can propel or stall the White House agenda.
Republicans have brushed back multiple challengers to protect their majority. But it is still too soon for them to declare victory.
In Michigan, Democrats have been spared a loss late this evening (AEDT) with Senator Gary Peters beating back a tough challenge from Republican John James. But Republicans have held onto Maine, with Susan Collins securing a fifth term, and other key seats across the map.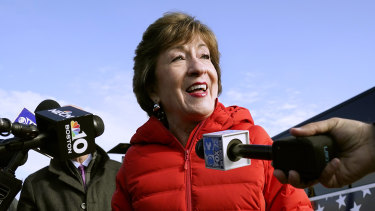 US Senate Majority Leader Mitch McConnell said President Donald Trump's campaign helped his Republican allies, but that state election officials were still counting ballots. Key Senate races in North Carolina, Alaska and Georgia remain undecided.
"We're waiting – whether I'm going to be the majority leader or not," McConnell said at a news conference in his home state of Kentucky.
In a delicate pushback against Trump's own premature claims of victory over Democrat contender Joe Biden in the presidential race, the GOP leader said: "Claiming you've won the election is different from finishing the counting."
McConnell said he felt "pretty good" about the remaining contests. He secured a seventh term in a costly campaign, fending off Democrat Amy McGrath, a former fighter pilot.
While Democrats have picked up must-win seats in Colorado and Arizona, they have suffered a setback in Alabama and Republicans have held their own in one race after another — in South Carolina, Iowa, Texas, Kansas, Montana and Maine, dramatically limiting Democrats' hopes of making inroads.
With Republicans now controlling the chamber, 53-47, three or four seats will determine party control, depending on who wins the presidency because the vice-president can break a tie in the Senate.
AP
Despite the uncertain election result, South Korea's top diplomat plans to visit Washington next week, as Seoul pledges a solid alliance with the United States regardless of the presidential election results.
South Korea's foreign minister Kang Kyung-wha will arrive in Washington on Sunday for a four-day stay, the ministry said.
The trip came at the invitation from Secretary of State Mike Pompeo who cancelled his planned visit to Seoul last month after Trump tested positive for the coronavirus.
The ministers will hold a meeting over bilateral and regional issues including stalled talks aimed at dismantling North Korea's nuclear and missile programmes in exchange for US sanctions relief.
Despite uncertainty over the US election, South Korea's presidential Blue House said it would maintain the "solid" alliance whoever wins the White House.
"Regardless of the election outcome, our government will not only maintain the solid alliance with the United States but also continue cooperation to develop it further," Blue House spokesman Kang Min-seok told a briefing.
"We will also actively cooperate with a new administration to achieve the goal of denuclearising the Korean peninsula and building a peace regime, and closely communicate in line with the traditions that the two countries have worked together with any governments from each other."
The Blue House was cautiously monitoring the US election, with President Moon Jae-in scheduled for no public activity on Thursday. The presidential National Security Council was set to gather at 3pm local time (5pm AEDT) to discuss developments, Kang said.
Reuters
Dozens of angry Donald Trump supporters have converged on vote counting centres in Detroit, Michigan, and Phoenix, Arizona, as the votes went against the US President in the two key states.
Thousands of anti-Trump protesters are demanding a complete count of the ballots in the still-undecided election as they took to the streets in cities across the US.
"Stop the count!" the Trump supporters chanted in Detroit.
"Stop the steal," they chanted in Phoenix.
The counting centre in Maricopa County, which takes in Phoenix, has been closed because of unrest, with the results to be transmitted electronically.
The protests came as the President repeatedly insisted – without evidence – that there were major problems with the voting and the ballot counting, and as Republicans filed legal suits in multiple states, preparing to contest election results.
Meanwhile, from New York City to Seattle, thousands of demonstrators turned out to demand that every vote be tallied.
In downtown Portland, Oregon, which has been a scene of regular protests for months, Governor Kate Brown activated the National Guard after demonstrators engaged in what authorities said was widespread violence, including smashing windows.
Protesters in Portland were demonstrating about a range of issues, including police brutality and the counting of the vote. Police arrested 10 people and seized fireworks, hammers and a rifle after the late night demonstrations.
AP
Georgia (16 Electoral College votes)
Early Wednesday morning (US time), Trump prematurely claimed he carried Georgia. "It's … clear that we have won Georgia. We're up by 2.5 per cent, or 117,000 (votes) with only 7 per cent (of the vote) left" to count, Trump said during his 2.30am appearance at the White House.
But the race is too early to call because an estimated 4 per cent of the vote remains to be counted. That includes mailed ballots from population-dense counties in the Atlanta metro region that lean Democratic. Biden is over-performing Hillary Clinton's 2016 showing in those counties, including in their more upscale suburban reaches.
Nevada (6 Electoral College votes)
About 75 per cent of the votes are in and Biden leads by less than 8000 votes.
But there are outstanding ballots left to be counted in the coming days. Under state law, they can still be accepted so long as they were postmarked by election day, on November 3.
Trump narrowly lost Nevada in 2016 as the state has trended toward the Democrats in the past decade. The last Republican presidential contender to win the state was George W. Bush in 2004.
North Carolina (15 Electoral College votes)
Trump also prematurely claimed early on Wednesday (US time) that he won the state.
"We've clearly won North Carolina, where we're up 1.7 per cent, 77,000 votes with only approximately 5 per cent left. They can't catch us," he said.
Though Trump is correct that he held a nearly 77,000-vote lead in the state early Wednesday, the race is too early to call with up to 116,000 mail ballots left to count, as well as the potential of thousands of provisional ballots.
As long as those ballots are postmarked by November 3, state election officials have until November 12 to count them. And when it comes to mail ballots, Biden was outperforming Trump. That means the ballots yet to be counted could give Biden a lead.
Fun fact: North Carolina is home of the Krispy Kreme doughnut chain.
Pennsylvania (20 Electoral College votes)
In short, more than 1 million votes are left to be counted.
Trump, who held a 675,000-vote lead early on Wednesday (US time), prematurely declared victory in the state.
"We're winning Pennsylvania by a tremendous amount. We're up 690,000 votes in Pennsylvania. These aren't even close. It's not like, 'Oh, it's close,'" Trump said in his 2.30am address.
By Wednesday evening, his lead had slipped to about 239,000 — and the race is destined to get tighter.
One reason is that election officials are not allowed to process mail-in ballots until election day under state law. It's a form of voting that has skewed heavily in Biden's favour after Trump spent months claiming without proof that voting by mail would lead to widespread voter fraud.
A final vote total may not be clear for days because of the use of mail-in ballots, which take more time to process.
Democrats had long considered Pennsylvania a part of their "blue wall" — a trifecta that also includes Wisconsin and Michigan — that for years had served as a bulwark in presidential elections. In 2016, Trump won each by less than a percentage point.
Biden, who was born in Scranton, claims favourite-son status in the state and has long played up the idea that he was Pennsylvania's "third senator" during his decades representing neighbouring Delaware. He's also campaigned extensively in the state from his home in Delaware.
And what about Arizona? (11 Electoral College votes)
The Associated Press has called Arizona for Biden, but in counties including Maricopa, the Republican vote is surging as the remaining ballots are counted and some commentators are not convinced the Democratic challenger can hold the state.
Even before the AP call, Fox News had raised the ire of Republicans by declaring the state had flipped from Republican red to the Democrats' signature blue, in the first battleground win for Biden. The seat promises the victor 11 Electoral College votes, and Biden is currently ahead – but by a small margin.
with AP