We'll leave the trade period there for now. Day three is done and dusted and, like events on Thursday, there was just one completed trade – Shaun McKernan joins his third AFL club, St Kilda. Collingwood midfielder Adam Treloar and Bulldog Josh Dunkley remain some of the key pieces of this year's AFL player movement period. With a full six days to go until the trades are finished, there's plenty of water to go under the bridge yet.
But keep coming back to theage.com.au through the weekend for breaking news from our team including Jake Niall, Michael Gleeson and Peter Ryan, as well as the best expert analysis in the business.
The Western Bulldogs have delisted three – Billy Gowers, Fergus Greene and Brad Lynch. Gowers played 33 games for the club while Lynch battled persistent soft tissue injuries to play nine matches. Greene played five games in 2018.
This year, the trade period finishes after the Melbourne Cup. Should it have been shortened?
The Western Bulldogs admit they were 'blindsided' by Josh Dunkley's interest and willingness to be traded to Essendon.
However, the club's list manager Sam Power says they have only had "low level" talks with the Bombers thus far about any potential trade.
"Our priority is to keep Josh Dunkley … we have to be open to different situations given he has said he wants to go to Essendon, but our preference is to keep him," Power told AFL Trade Radio.
"I've had a couple of chats with (Essendon recruiting manager) Adrian Dodoro, but at this stage they've been very low level discussions."
Power said Dunkley had been a key part of the club's plans and the midfielder's contract had been extended midway through last season.
"Josh is an important player and a required player here," Power said.
"We value Josh … He's part of our leadership group … and someone we see as an integral part, and someone we've planned to be an integral part (of the club) going forward."
If Dunkley is chasing more time in the middle at Tullamarine, Power said they anticipated that opportunity would also present at Whitten Oval.
"I've had a few conversations with Josh over the last couple of weeks, and Bevo (coach Luke Beveridge) has as well.
"We see Josh as an inside midfielder. Those opportunities that he sort of thinks that Essendon may be able provide – equally from our side we know we'd be able to provide Josh with those similar opportunities.
"That's where we see him playing long-term for the footy club."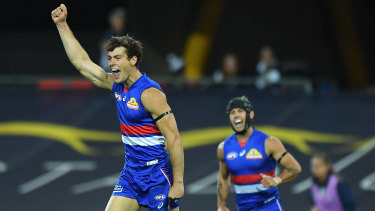 Hawthorn's interest in Collingwood wingman Tom Phillips is genuine with the durable Magpie exploring his options. The 24-year-old's run of 70 consecutive games ended in round 15 when he injured his hamstring forcing him to miss the finals series however he shapes as a logical replacement for Isaac Smith and Ricky Henderson. Any deal would be contingent on the Hawks and the contracted Magpie agreeing to Hawthorn's terms and the right trade deal between the two clubs. Phillips was almost traded to Geelong last season but he baulked at the prospect.
Could Magpie Adam Treloar end up at Moorabbin?
Well, St Kilda have effectively shut the door on that one, telling all and sundry to avoid any "false hope".
"It's extremely unlikely that we would pursue Adam Treloar. We wouldn't even meet with him, we don't want to give anyone false hope," St Kilda's recruiting and list manager James Gallagher told AFL Trade Radio on Friday.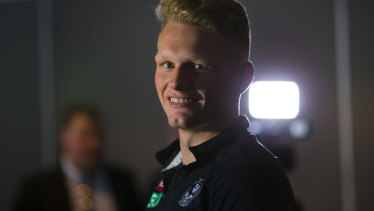 Gallagher also had some eye-catching comments about the move to get former Crow Brad Crouch to the Saints during free agency – which, as an aside, ends today.
"We were reasonably relieved that the Brad Crouch deal happened in free agency," Gallagher said. "There was a real possibility we would've pulled out of that deal if the Crows matched, we didn't have any intention of trading for him."