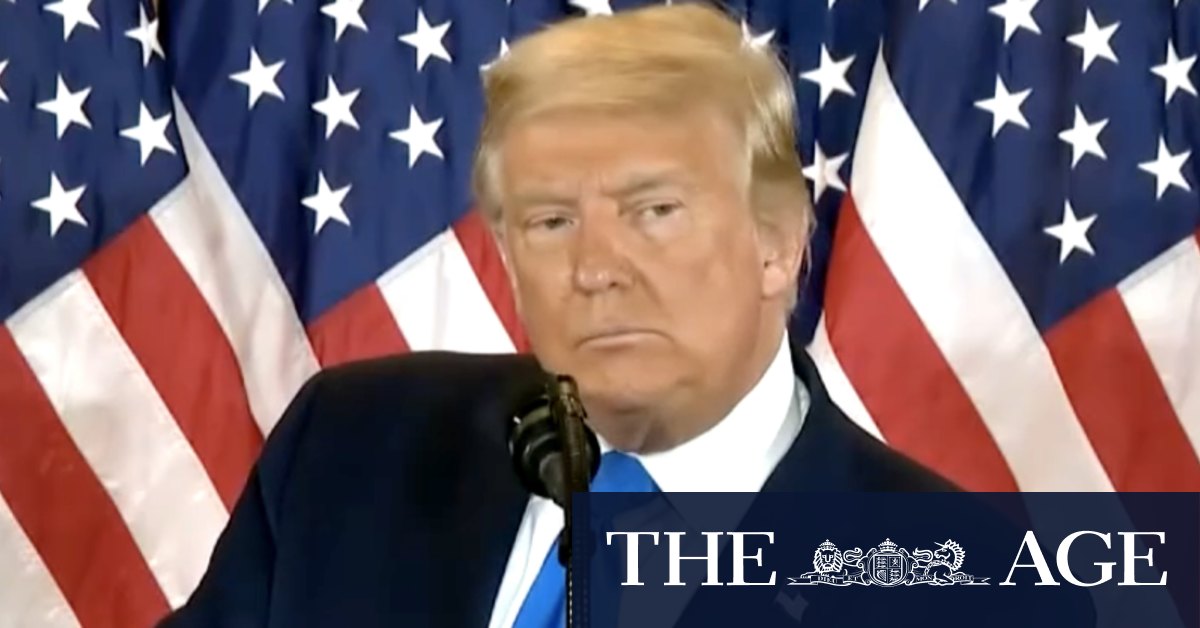 Backers of President Donald Trump ramped up demonstrations on Thursday night against an election they believe was rigged or being stolen, in some cases bringing guns or clashing with counter-protesters as they rallied in battleground states.
Trump's speech in the White House took place as his Democrat opponent Joe Biden appeared to be closing in on victory by rapidly picking up votes in both Pennsylvania and Georgia.
As midnight approached on the US East Coast, Biden was poised to take the lead in Georgia, where he had cut Trump's advantage to about 2000 votes, and he was rapidly eating into the President's lead in Pennsylvania, where Democrat-rich counties were producing thousands of Biden votes with each new update.
Biden was six electoral votes shy of reaching the 270 electoral votes needed to win the presidency, while Trump was 56 electoral votes away from the threshold. As results trickled in from the remaining undecided states, Biden also increased his lead in Nevada by about 4000 votes, while holding on to his modest — but narrowing — lead in Arizona.
However, the President's press conference attack on the electoral system in a number of states and cities caused the most disquiet, with many fearing his actions will undermine trust in the election process in the long term.
"If you count the legal votes, I easily win," Trump said in a prime time address that contained a steady stream of misleading or false claims.
Loading
"If you count the illegal votes, they can try to steal the election from us."
Larry Hogan, the Republican Governor of Maryland, said: "There is no defence for the President's comments tonight undermining our Democratic process. America is counting the votes, and we must respect the results as we always have before. No election or person is more important than our democracy."
Former New Jersey Governor Chris Christie said on US ABC that no evidence was produced to back the President's assertions.
"All it does is inflame without informing. And we cannot permit inflammation without information," he said. "If you're gonna say those things from behind the podium at the White House, it's his right to do it, it's his right to pursue legal action. But show us the evidence."
Trump did not present any evidence of illegal activity beyond votes being counted after election day which occurs routinely at every election.
"We can't allow anybody to silence our voters and manufacture results," Trump said. "I have been talking about mail-in voting for a long time and it has destroyed our system."
Trump said it was "amazing" that Democrats were dominating the votes cast before election day and by mail.
It is not surprising given Democrats were less inclined to vote on election-day during a pandemic.
Trump accused Democrats of "trying to steal an election, to rig an election and we cannot let that happen".
"Democrat officials believe they could never win the election and that is why they did the mail-in ballots where there is tremendous corruption and fraud going on," he said.
Biden replied on Twitter shortly after: "No one is going to take our democracy away from us. Not now, not ever. America has come too far, fought too many battles, and endured too much to let that happen."
Republican congressman Will Hurd blasted the President's comments, saying on Twitter: "A sitting President undermining our political process & questioning the legality of the voices of countless Americans without evidence is not only dangerous & wrong, it undermines the very foundation this nation was built upon."
Loading
Republican congressman Adam Kinzinger said that "if you have legit concerns about fraud present EVIDENCE and take it to court. STOP Spreading debunked misinformation… This is getting insane".
Republican congressman Paul Mitchell said: "Losses hurt deeply , I know that personally. But our nation demands that its political leaders accept both wins and losses with grace and maturity. Let the voters decide."
Trump's eldest son, Don jnr, took to Twitter to attack Republican 2024 presidential hopefuls for failing to be aggressive enough in defending the President.
It led to congressional allies of the President going public with their support.
When asked by Fox News host Sean Hannity whether Republican state legislators in Pennsylvania should consider invalidating the popular vote result in their state, Lindsey Graham said: "I think everything should be on the table … Philadelphia elections are as crooked as a snake."
"We must ensure election integrity!" tweeted Republican congressman Jim Jordan.
Republican Senator Tommy Tuberville said: "The election results are out of control. It's like the whistle has blown, the game is over, and the players have gone home, but the referees are suddenly adding touchdowns to the other team's side of the scoreboard."
Former Republican senator Jeff Flake said on Twitter: "No Republican should be okay with the President's statements just now. Unacceptable. Period."
Former Republican senator Rick Santorum described Trump's remarks as "incendiary" and "dangerous".
"No Republican elected official will stand behind that statement," he said on CNN. "I hope Republicans will stand up and say what needs to be said."
Matthew Knott is North America correspondent for The Sydney Morning Herald and The Age.