"Obviously you'll have the Transurban-led consortium that is going to be particularly interested. I'd also expect quite a large number of infrastructure investors in Australia and globally to be quite keen on it," he said.
A Transurban spokesman said the company had noted the NSW government's announcement and would be monitoring further developments.
"Our focus remains on operating our existing roads and delivering our current major road projects for Sydney," he said.
Mr Perrottet said money generated from the sale of the remaining stake would be used to fund government infrastructure projects and other capital works.
"Proceeds from any potential transaction will be invested into the NSW Generations Fund and allow us to continue to build world-class infrastructure such as the Metro West train line from Sydney to Parramatta," he said.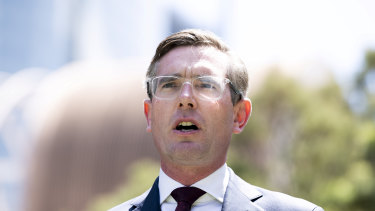 Mr Perrottet in July said the government would not sell its 49 per cent stake unless it "gives us substantial return" and was in the best interests of the state.
He said at the time that despite a significant drop in traffic on Sydney's toll roads since the coronavirus outbreak, he believed WestConnex would remain attractive to prospective buyers due to its relative long-term financial stability.
Macquarie analyst Ian Myles said the remaining stake would generate interest around the world, given the relatively few infrastructure assets available that weren't airports.
"Better still this has got a tolling regime which is pretty awesome for the owner, and it's not an airport so it's actually got people using it," he said.
While traffic volumes have fallen on toll roads across Australia due to COVID-19, he did not anticipate it would affect the sale price, given the long term nature of the investment.
Mr Myles added that the 10 year bond had fallen substantially since the first 51 per cent was sold in 2018.
The first stage of the $16.8 billion road project, the M4 East opened to traffic in mid 2019 before the M8 – a duplication of the M5 between Kingsgrove and St Peters – opened in July.
The remaining third stage, linking the M4 and M5 between Haberfield and St Peters, is slated to open in 2023.
Under the terms of the 2018 acquisition, the Transurban consortium has the "right of first offer" if the government decides to sell its minority stake in the three-staged project.
IFM Investors, which bid unsuccessfully for the 51 per cent share, has been cited as an obvious competitor.
The NSW opposition warned flipping the remaining share during an economic downturn could result in a "fire sale" and called for the government to release its scoping study.
"The Treasurer is proposing to sell off a productive asset when NSW is set to lose $20 billion in revenue thanks to the COVID crisis," opposition Treasury spokesman Walt Secord said.
IFM was contacted for comment.
Tom Rabe is Transport Reporter with The Sydney Morning Herald.