Philadelphia police say they are investigating an alleged plot to attack the city's Pennsylvania Convention Centre where election votes are being counted, global news service Reuters reports.
According to Reuters, a police representative said officers received a tip about a Hummer with armed people driving up from Virginia with plans to attack the convention centre.
Police took at least one man into custody and seized a weapon as well as the Hummer. No injuries were reported and no further details about the alleged plot have been disclosed.
The news was first reported by ABC News affiliate station Action News.
Supporters of both Trump and Biden held rallies in Philadelphia on Thursday (US time) as election staffers slowly counted thousands of mail-in ballots that could decide Pennsylvania's crucial 20 Electoral College votes.
Trump activists waved flags and carried signs saying "Vote stops on Election Day" and "Sorry, polls are closed" as Biden supporters danced to music behind a barricade across the street.
A state appellate court ruled on Thursday that more Republican observers could enter the building in Philadelphia where poll workers are counting ballots.
The US Postal Service said about 1700 ballots had been found in Pennsylvania mail sorting facilities during two sweeps late on Thursday and were in the process of being delivered to election officials.
Trump has repeatedly claimed – without any evidence – that mail-in votes are prone to fraud.
Reuters
The US Postal Service says about 1700 ballots had been identified in Pennsylvania at processing facilities during two sweeps and are being delivered to election officials.
In a court filing early on Friday, the postal service said 1076 ballots had been found at the USPS Philadelphia Processing and Distribution Centre.
About 300 were found at the Pittsburgh processing centre, 266 at a Lehigh Valley facility and others found at other Pennsylvania processing centres on Thursday (US time).
Ballots must be received by Friday evening in Pennsylvania in order to be counted. It is currently 2am on Friday there.
Both sides are eyeing the Pennsylvania prize as its 20 Electoral College votes could deliver Biden the presidency in one fell swoop.
About 500 ballots were also discovered in North Carolina during sweeps of processing centres, USPS said.
US District Judge Emmet Sullivan has ordered twice daily sweeps at USPS facilities serving states with extended ballot receipt deadlines.
Some states, including Nevada and North Carolina, are counting ballots that are received after Election Day as long as they were postmarked by Tuesday, November 3.
Biden is cutting sharply into Trump's leads in Pennsylvania and Georgia. The former vice-president retains a slim margin in Nevada.
Reuters
Here's a snapshot of the vote count in the key states that are still in play, and the one in doubt …
Georgia: Both CNN and local journalists are reporting that Trump is now just 1267 votes ahead in the vote count after more results came in from Clayton County minutes ago. Although I should note that the difference is 1775, according to the official count on the Secretary of State's website. About 14,000 ballots were left to be counted late Thursday night (US time) and about 8900 requested overseas and military ballots have until tomorrow to arrive.
Pennsylvania: Trump's lead has dropped to 18,042 votes. Four years ago Trump narrowly became the first Republican to win Pennsylvania since 1988. Democrats have their eyes firmly on the Pennsylvania prize as the state could deliver Biden the presidency in one fell swoop. But a result is not expected until tomorrow (Australian time).
Nevada: Right now, Biden leads Trump by 11,438 votes. According to the Secretary of State, there are 190,000 ballots to be counted. About 90 per cent are from Clark County, home to Las Vegas.
North Carolina: Biden is about 76,700 votes behind Trump. Election officials have said they will review about 41,000 provisional ballots from voters whose eligibility may be questioned, along with around 110,000 outstanding absentee ballots. They expect to finalise their count by November 12.
Arizona: Associated Press, upon which we rely, has already called Arizona for Biden. However, not all media outlets agree. Biden's lead in the vote count has narrowed to about 46,200 votes. At least 293,000 ballots remain to be counted statewide. Maricopa County, the state's largest – where it is just after midnight – plans to update its count at 9am Friday (local time).
The votes from Clayton county in Georgia are still trickling in, according to reporters on the ground, although the official website has not yet been updated.
Many of the uncounted votes are in Clayton county which could swing Biden's way. President Donald Trump, who has held a slender but narrowing lead, won Georgia by five percentage points in 2016. No Democrat has carried the state since 1992.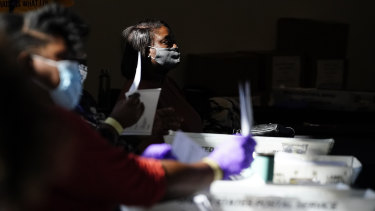 Georgia's Secretary of State, Brad Raffensperger, will not provide another update again tonight, according to his press secretary Ari Schaffer, CNN reports. According to Raffensperger's last update, there were 14,097 outstanding ballots in Georgia.
Biden needs to win about 56 per cent of the remaining ballots in order to take the lead statewide. Trump needs Georgia to keep hold of the presidency.
Here is the breakdown of outstanding ballots by county, as of 10.35pm (US time) according to CNN:
Clayton County: 4355
Cobb County: 700
Floyd County: 444
Forsyth County: 1545
Gwinnett County: 4800
Laurens County: 1797
Taylor County: 456
with The New York Times
The Australian sharemarket has finished Friday's session at a near three-week high with investors bunkering down for the weekend to see if the US election count will reach a conclusion.
The local benchmark added 50.6 points, or 0.8 per cent, to close at 6190.2 and cap its second-best week since May as market sentiment rode high on a rolling gridlock rally and improved metals prices.
The market's march took a momentary hit after a tantrum by President Donald Trump, where – with numbers increasingly pointing to a Joe Biden win – he falsely claimed to be the victim of widespread voter fraud. The index steadied soon afterwards.
In all, the ASX 200 added 4.4 per cent in a week buoyed by the increasingly likely prospect of a Democrat White House that is hamstrung in the Senate by Republicans.
The outcome has been dubbed a "fairytale result" for equities with Biden's planned tax rises and regulatory reforms now likely off the table, though a more statesmanlike attitude to foreign policy and global trade expected.
Milford Asset Management portfolio manager Mike Higgins agreed the result was ultimately supportive of a status quo that has seen markets soar since hitting a floor in March.
"It's been a fairytale result in some respects," Mr Higgins said.
Mr Higgins did however warn the market appeared overexcited and could be due to pull back when trading resumes next week.
"It does feel like there is a fair bit of heat in the market," Mr Higgins said.
"To think this strength will continue into next week… We don't think that will be the case."
Donald Trump's lead in Pennsylvania is now less than 23,000 votes after more results trickled in from Bucks and Delaware counties.
New York Times reporter Nick Corasaniti is in Philadelphia and says there are roughly 175,000 absentee ballots still to count in the state, including more than 58,000 in Philadelphia. Major counties like Philadelphia will keep counting through the night. Right now, it's nearly 1am on Friday there.
Democrats have their eyes firmly on the Pennsylvania prize – the state will deliver Joe Biden the keys to the White House in one fell swoop.
But the Pennsylvania vote count is moving slowly meaning we may not have a result in this crucial state today (Australian time).
Let me draw your attention to this great analysis from The New York Times on this nail-biting vote in Georgia.
Most of the votes still being counted (just over 14,000) are from metropolitan Atlanta, where Joe Biden has seen big gains in support.
A closer look at Georgia shows Biden's core support is in Atlanta and its suburbs, with the outer rings trending largely towards Trump.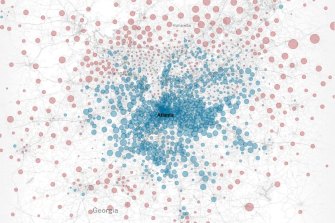 Republicans have traditionally depended on big margins among white voters to overwhelm the large share of Democratic Black voters across the state. But Biden made gains in counties that are predominantly white and in those where most white residents have no college degrees.
Biden maintained the Democrats' long-standing support among Black communities in the state, while those areas that are less Black were more divided between the candidates.
With Georgia's 16 electoral votes likely to be decided by a tiny margin, Democrats are urging voters there to fix absentee ballots that were rejected because of invalid or missing signatures before the deadline on Friday evening.
Those who voted absentee – a group that this year has been heavily Democratic – can check online to see whether election officials have accepted or rejected their ballots. Absentee ballots are often rejected when the voter forgets to sign or uses a signature that does not match the one on file with the state, possibly because it is many years old. Election officials are supposed to contact voters in such cases but are not always able to do so.
Voters have until 5pm on Friday (US time) to submit a simple affidavit form to "cure" such ballots. With Georgia hanging in the balance as the last votes are counted, national Democrats – including Representative Alexandria Ocasio-Cortez of New York – are amplifying the message in hopes of salvaging every vote possible.
The New York Times
Facebook has announced that when a winner of the presidential election is projected, its platforms will display a notice for users to help combat misinformation about the outcome.
"On the results, we will rely on a majority opinion from Reuters as well as independent decision desks at major media outlets, including ABC News, CBS News, Fox News, NBC News, CNN and The Associated Press to determine when a presidential winner is projected," the company said in a statement. "We will then show the candidate's name in notifications at the top of Facebook and Instagram."
A similar notice will appear on candidates' posts, replacing the current label that says votes are still being counted.
Here is an example of the current message that appears on President Donald Trump's Facebook posts:
Facebook will also reduce the distribution of posts that its systems deem likely to be disinformation, to prevent people from repeating debunked claims.
It will also limit distribution for live video, which is harder to evaluate quickly, related to the election. The company has ramped up its enforcement on disinformation amid concerns about post-election violence.
As my colleagues reported earlier, Facebook banned a large group called "Stop the Steal" today that Trump supporters were using to organise protests against the vote count. Some members had called for violence, while many falsely claimed that Democrats were "stealing" the election from Republicans.
Trump has sought a recount in Wisconsin, filed lawsuits in Michigan, Pennsylvania and Georgia and complained about various states' counting procedures. In a statement to reporters late Thursday, he questioned the credibility of the US election, although there is absolutely no evidence of widespread illegal voting.
with Bloomberg
Good afternoon, it's Marissa Calligeros here and I will be with you this afternoon and through the night as we wait, and wait.
We have some fresh numbers in from the state of Georgia, where Joe Biden continues to gain ground on Donald Trump. The President's lead in statewide votes has slipped to just 1775 over Biden. Talk about a nail-biter!
And as of about an hour ago, Georgia's secretary of state Brad Raffensperger said there were just 14,097 ballots still outstanding.
But as my colleagues have outlined throughout the day, a win for Biden in Georgia does not definitely hand him the presidency, because of doubts around the race call in Arizona.
If you're after a musical interlude to ease the election anxiety this afternoon, I believe this is most appropriate …
While all eyes remain on the Pennsylvania prize, a state that would deliver Democratic Party presidential hopeful Joe Biden the keys to the White House in one fell swoop, we are unlikely to know the outcome of that neck-and-neck race for some time.
US President Donald Trump is currently in the lead, but there's only 24,297 votes in it at this point.
Another battleground state we are looking at closely is Georgia, where we are likely to receive an update later this afternoon, Australian time. At present, Trump is ahead by just 1,902 votes in the traditional Republican stronghold, which would deliver 16 Electoral College votes to the victor.
As we have mentioned earlier, Trump needs to win all four remaining battleground states (Pennsylvania, Georgia, North Carolina and Nevada) to secure a second term in office, as he is trailing Biden on 214 Electoral College votes to Biden's 264. The White House-clinching number of votes is 270.
At his first press conference since his election night speech, the US President made baseless allegations on Thursday (US time) of widespread electoral fraud. Those claims have been too much for even some of his Republican supporters to stomach.
It is worth keeping in mind that the Associated Press, on whom we rely for election calls, has already declared Biden the winner in Arizona, a state that delivered him 11 Electoral College votes. That call is reflected in our 264-214 tally topping this blog. However, some media outlets including CNN have not yet called Arizona for Biden. For this reason, a win for Biden in Georgia (16 Electoral College votes) would not be enough for commentators to call the election as a win for the Democrats unless the Arizona result is confirmed. Pennsylvania would deliver Biden the presidency even without Arizona. With Arizona, any of the four remaining battleground states would do.
I am now handing over to Marissa Calligeros, who will keep you informed of the latest news throughout the afternoon and evening. I'll return tomorrow, Australian time, as we continue our 24/7 US election coverage.