Joe Biden said all the right things in his presidential-like address late on Friday night, US time, but he has been around DC long enough to know that, to many, they will sound hollow, writes former US correspondent Nick O'Malley.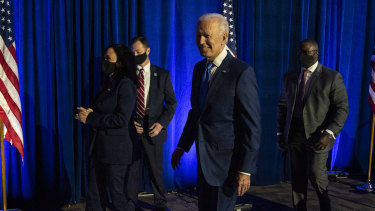 Joe Biden hit all the right notes in his second address to the nation since it became clear that he could soon be made its 46th president.
He deferred a final claim of victory yet asserted his clear mandate, he called for patience and calm yet acknowledged that the count was so slow as to have become numbing. He addressed the need for the machinery of government to resume to take action on the surging coronavirus and collapsing economy.
And finally, perhaps most optimistically, he called for an end to America's endless, pointless partisanship.
"In America, we have strong views, there's strong disagreements, and that's okay. Strong disagreements are inevitable in a democracy, strong disagreements are healthy. They're a sign of a vigorous debate of deeply held views," he said in what appeared to have been carefully scripted remarks.
"But we have to remember the purpose of our politics isn't total unrelenting, unending warfare. The purpose of our politics, the work of the nation, isn't to fan the flames of conflict, but to solve problems, to guarantee justice, to improve the lives of our people.
"We may be opponents, but we're not enemies. We're Americans, no matter who you vote for."
President Donald Trump has held himself up as a champion of US troops without rival. Now, with his presidency on the line, he's casting suspicion on a tool of participatory democracy — the mail-in ballot — that has allowed US military personnel to vote while serving far from home since the War of 1812.
The president has shouted from Twitter to "STOP THE COUNT" and levelled unsubstantiated charges that "surprise ballot dumps" after election night are helping rival Democrat Joe Biden to "steal" the election.
All the while, Trump insists that military voters' mail-in ballots must be counted. He even suggested on Friday (US time) — without presenting evidence — that some troops' mail-in ballots have gone "missing".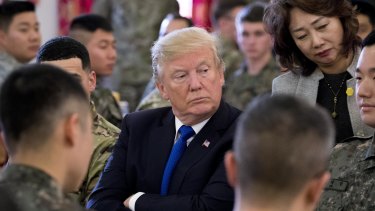 In his dizzying effort to sow doubt about the integrity of the vote, Trump has been all over the map on mail-in voting. The broadsides have unsettled many veterans and former military brass who saw voting by mail as a tether to their civic duty when serving abroad.
"Officials at all levels including in the Congress need to say to the president 'Sir, you need to exercise the same patience that the rest of the nation does'," said retired Navy Admiral Steve Abbot, who later served as deputy homeland security adviser in the George W. Bush administration.
Abbot is a member of Count Every Hero, a coalition of top military brass advocating for service members' votes to be protected and properly tallied. He added: "It doesn't help this democracy for (Trump) to continue to sound this alarm. It's inappropriate."
It's unclear exactly how many mail-in military ballots remain uncounted in the undecided battleground states that will determine who will be the next president. More than 250,000 US service members cast mail-in ballots in 2016 and even more were expected to vote by mail this time.
In the 2016 presidential election, Georgia received more than 5,600 ballots from uniformed service members; North Carolina received nearly 11,000; Pennsylvania nearly 7,800 and Nevada about 2,700, according to the US Elections Assistance Commission.
In the razor-thin election in Georgia, the secretary of state's office said as many as 8,900 ballots requested by military service members and US citizens abroad — in addition to thousands that had already been received and tallied — could still arrive by Friday's deadline.
Trump appeared to take notice of the number of outstanding military and overseas votes in Georgia, tweeting Friday: "Where are the missing military ballots in Georgia? What happened to them?"
Twenty-eight states and the District of Columbia accept and count ballots from overseas service members that arrive after election day as long as they are postmarked before polls close.
With Biden nearing the 270 electoral votes needed to capture the presidency, Trump has escalated his effort to sow doubt about mail-in votes that state officials are still counting.
"It's amazing how those mail-in ballots are so one-sided, too," Trump said in remarks at the White House on Thursday, hours after falsely stating in an all-caps tweet that any ballot received after election day won't be counted. "I know that it's supposed to be to the advantage of the Democrats, but in all cases, they're so one-sided."
In fact, the disparity is hardly surprising. Biden and other Democrats in the leadup to Election Day urged supporters to vote early and by mail because of concerns about the coronavirus pandemic. Trump urged his supporters to vote in person and he held the advantage in many states among those who cast their ballots in person on election day.
Trump campaign spokeswoman Thea McDonald said the president believes "there are and should be exceptions for our military members serving our country overseas" to ensure their ballots are counted. But McDonald questioned why Pennsylvania election officials should be counting mail-in ballots for "Democrats in Philadelphia who attempt to vote after Election Day".
Kristen Clark, a voting rights advocate, said the Trump campaign's suggestion to stop tallying legally cast votes for one group (civilians) while continuing the counting of ballots for another (military personnel) made no sense.
"It's an indefensible position to say state laws should apply to one set of voters but not to another," said Clark, president of the Lawyers' Committee for Civil Rights Under Law.
Trump throughout his presidency has cast himself as a champion of military families. He has relished photo ops with Gold Star families, credited himself with reducing the number of US troops deployed to "endless wars," and poured new resources into the military.
But for some military families, Trump's undercutting of late-arriving mail-in ballots reflects poorly on the commander-in-chief, even as his team has tried to clean up his broad attacks on mail-in voting.
"Everybody wants the right to participate in a democracy. That's why people join the military. It's something we believe in strongly," said Tori Simenec, 28, of Minneapolis, a Marine 1st lieutenant who served from 2016 until August of 2020.
Mike Jason, 47, a retired US Army colonel, recalled relying on mail-in balloting through a nearly three-decade career in which he voted by mail in his home state of Florida from outposts in Afghanistan, Iraq, Germany and a series of domestic installations.
After depending on mail-in ballots as his own personal lifeline to participation in American democracy until retiring from the Army last year, he found Trump's attack on the integrity of mail-in voting to be infuriating.
AP
The two states we're watching closely right now are Georgia, where a recount will be held, and Pennsylvania.
A razor-thin margin and a huge number of outstanding votes are the major reasons that networks have deemed Pennsylvania too close to call.
Late on Friday night in the US (3.40pm Saturday AEDT) Democrat Joe Biden held a lead over Republican Donald Trump of more than 28,800 votes, out of more than 6.5 million ballots cast — an edge of about 0.43 per cent. State law dictates that a recount must be held if the margin between the two candidates is less than 0.5 per cent.
The Pennsylvania secretary of state's website said on Friday that there were about 89,000 more mail ballots to count. Many were from Allegheny County, a largely Democratic area that is home to Pittsburgh, and the Democratic stronghold of Philadelphia County.
There are potentially tens of thousands of provisional ballots that remain to be tabulated, but the exact number is unclear. Those ballots will be counted only after officials verify their eligibility.
Pennsylvania is among a handful of battleground states Trump and Biden are narrowly contesting as they seek the 270 Electoral Votes needed to win the presidency.
Trump, who held a 675,000-vote lead early on Wednesday, prematurely declared victory in the state.
"We're winning Pennsylvania by a tremendous amount. We're up 690,000 votes in Pennsylvania. These aren't even close. It's not like, 'Oh, it's close'," Trump said during an appearance at the White House.
The late-counted ballots were overwhelmingly in Biden's favour.
One reason the race has tightened: under state law, elections officials are not allowed to process mail-in ballots until Election Day. It's a form of voting that has skewed heavily in Biden's favour after Trump spent months claiming — without proof — that voting by mail would lead to widespread voter fraud.
There's a possibility the race won't be decided for days. If there is less than a half percentage point difference between Biden and Trump's vote total, state law dictates that a recount must be held.
Democrats had long considered Pennsylvania a part of their "blue wall" — a trifecta that also includes Wisconsin and Michigan — that for years had served as a bulwark in presidential elections. In 2016, Trump won each by less than a percentage point.
Biden, who was born in Scranton, claims favourite-son status in the state and has long played up the idea that he was Pennsylvania's "third senator" during his decades representing neighbouring Delaware. He also campaigned extensively in the state from his home in Delaware.
With AP
We mentioned earlier that President Donald Trump's chief of staff, Mark Meadows, has been diagnosed with COVID-19.
Two senior administration officials confirmed that Meadows had tested positive to the virus. They offered no details on when he came down with the virus or his condition.
Meadows was with Trump at his campaign headquarters in Virginia on election day morning (Tuesday, November 2) when Trump addressed staff and the media in a fairly small room.
There are reports that more of Trump's aides have also caught the virus.
The news comes on the same day America recorded more than 120,000 new coronavirus cases in one day. To put that in context, Australia has recorded 27,650 cases in total during the pandemic.
The virus has killed more than 236,000 Americans so far this year. In Australia, 907 people have lost their lives.
With AP
Presidential hopeful Joe Biden had been expected to address the nation on Friday evening (US time) to hit prime time audiences on America's east coast. But it was just before 11pm in Wilmington, Delaware, when he finally took to the stage alongside his running mate, Kamala Harris.
Here is the full text of what he had to say: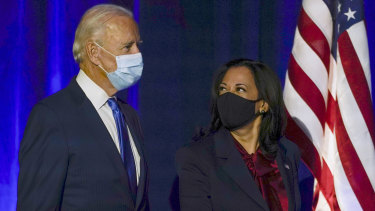 "Evening, my fellow Americans. We don't have a final declaration of victory yet. But the numbers tell us it is clear, they tell us a clear and convincing story. We're going to win this race. Just look at what has happened since yesterday.
"Twenty-four hours [ago] we were behind in Georgia, and now we are ahead and we're going to win that state. Twenty-four hours ago, we were behind in Pennsylvania and we are going to win Pennsylvania. And now we are ahead, but we are winning in Arizona, winning in Nevada, and in fact, our lead just doubled in Nevada.
"We are on track to [win] over 300 electoral votes, Electoral College votes, and look at the national numbers. We're going to win this race [with] a clear majority, with the nation behind us.
"We have gotten over 74 million votes. Let me repeat that, 74 million votes. That's more than any presidential ticket has ever gotten in the history of the United States of America. And our vote total is still growing. We are beating Donald Trump over 4 million votes. And that is a margin that is still growing as well.
"One of the things I am especially proud of is how well we have done across America. And we're to be the first Democrat to win in Arizona in 24 years. We're going to be the first Democrat to win Georgia in 28 years. And we have rebuilt the blue wall in the middle of the country that crumbled just four years ago. Pennsylvania, Michigan, Wisconsin. Heartland of this nation.
"I know watching these vote tallies on TV moves very slowly and as low as it goes, it can be numbing, but never forget the tallies are not just numbers. They represent votes and voters. Men and women who exercised the fundamental right to have their voice heard.
"And what is becoming clear each hour is that record numbers of Americans, of all races, faiths, religions, chose change over more of the same. They have given us a mandate for action, on COVID, the economy, climate change, systemic racism. They made it clear they want the country to come together, not continue to pull apart. The people spoke. More than 74 million Americans, and they spoke loudly for our ticket.
"But while we're waiting for the final I want people to know we're not waiting to get the work done, we will start the process. Yesterday, Senator Harris and I held meetings with groups of experts on public health and economic, and the economic crisis this country is facing.
"The pandemic, as you also know, is getting more worrisome all across the country. Daily cases are skyrocketing. And it is now believed that we could spike, see as many as 200,000 cases in a single day. The death toll is approaching 240,000 lives lost in this virus. That's 240,000 empty chairs at kitchen tables and dining room tables all across America. We will never be able to measure all that pain and loss. The suffering that so many families have experienced.
"We know something about what it feels like to lose someone. And I want them to know they are not alone. Our hearts spoke with you. We want everyone, everyone to know on day one, we're to put our plan to control this virus into action. We cannot save any of the lives lost, any of those that have been lost, but we can save a lot of lives in the months ahead.
"Senator Harris and I also heard yesterday about how this recovery is slowing because of the failure to get the pandemic under control. More than 20 million people are on unemployment. Millions are worried about making rent. In putting food on the table. Our economic plan will put a focus on a path to a strong recovery.
"Look, we both know tensions are high. They can be high. After a tough election, one that we have had. But we need to remember we have to remain calm. Patient. Let the process work out. As we count all of the votes. You know, we are proving again what we have proved the 244 years in this country – democracy works. Your vote will be counted. I don't care how hard people try to stop it. I will not let it happen. The people will be heard.
"Our journey is toward a more perfect union, and it keeps moving on. In America, we hold strong views, we have strong disagreements, and that is OK. The strong disagreements are inevitable in a democracy and strong disagreements are healthy. They are a sign of a vigorous debate, of deeply held views.
"But we have to remember the purpose of our politics is not total, unrelenting, unending warfare. No, the purpose of our politics, the work of the nation, isn't to flame… fan the flames of conflict but to solve problems. To guarantee justice, to give everybody a fair shot. And to improve the lives of our people. We may be opponents but we are not enemies. We are Americans.
"No matter who you voted for, I am certain of one thing – the vast majority of almost 150 million Americans voted, they want to get the vitriol out of our politics. We are certainly not going to agree on a lot of issues but at least we can agree to be level with one another.
"We have to put the anger and the demonisation behind us, to be civil with one another. This time for us to come together a nation to be healed. It will not be easy but we have to try.
"My responsibility as President will be to represent the whole nation and I want you to know that I will work as hard for those who voted against me as those who voted for me. That's the job, that's the job. It's called the duty of care. For all Americans. We have serious problems to deal with. COVID, economy, racial justice, climate change. We don't have any more time to waste on partners in warfare.
"You know, and more than that, we have such an incredible opportunity to build a future we want for our kids and grandkids. I've said many, many times I've never been more optimistic about the future of this nation.
"There is no reason we cannot own the 21st century. You just need to remember who we are. This is the United States of America. There has never been anything, anything, we have been unable to do, unable to accomplish, and we have done it together. I hope to be talking to you tomorrow and I want to thank you all and may God bless you and may God protect our troops."
Hello, I'm Hanna Mills Turbet and I'll be with you until midnight (AEDT). We've been covering the US election with a live blog over the past four days, and while we don't yet have a definitive result, it does feel like we are slowly – slowly – inching towards a Joe Biden presidency.
Biden, the Democratic nominee, gave a short address on live television a short time ago. He stopped short of claiming victory but it's fair to say he looked presidential. Here's what our tireless US correspondent Matthew Knott thought of the speech: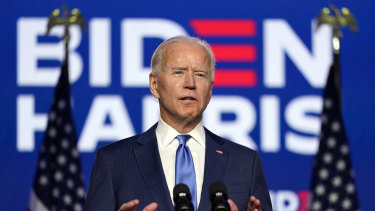 Democratic presidential nominee Joe Biden has declared he will win the presidency, claiming a mandate from the American people to take strong action on climate change, the COVID-19 pandemic and systemic racism.
Biden spoke to the nation as he closed in on the 270 Electoral College votes required to defeat President Donald Trump by extending his narrow leads in Pennsylvania, Georgia and Nevada while retaining the advantage in Arizona.
While major US media outlets have not yet declared him the victor, Biden said the results told a "clear and convincing story".
"We're going to win this race," he said in a speech in Wilmington, Delaware. "We are on track to have over 300 Electoral College votes."
Earlier in the day Trump, who has been sowing doubt about the legitimacy of the election, said on Twitter: "Joe Biden should not wrongfully claim the office of the President. I could make that claim also. Legal proceedings are just now beginning!"
But the President's hopes of winning a second term, either by overtaking Biden's vote leads or by challenging the results in court, appeared to be rapidly slipping away.
If you're just joining us now, here's everything you need to know about the day's developments so far:
Democratic Party presidential hopeful Joe Biden delivered a speech late on Friday (US time) in which he stopped just short of claiming the presidency but declared "we're going to win this race". Biden said he was ahead in the battleground states of Pennsylvania, Georgia and Nevada and had a mandate to act on COVID-19, the economy, climate change and systemic racism.
Pennsylvania is now the most likely path to the White House for Biden, but by no means the only one. The Democrat is currently leading US President Donald Trump in the key battleground state by almost 29,000 votes. A win in the state, which was a coup for Trump in 2016, would deliver Biden 20 Electoral College votes and the presidency in one fell swoop.
As we've noted a few times today, the Associated Press has already called the state of Arizona as a win for Biden, delivering him 11 Electoral College votes and leaving him just six votes shy of the 270 figure that would give him the keys to the White House. We rely on AP for its election calls and have followed suit, but some media outlets such as CNN have yet to make a call. If Arizona is included in the tally of Biden wins, a win in any other state in which he is ahead (Pennsylvania, Georgia, or Nevada) would deliver him the presidency immediately. If Arizona is not included now, a win in Pennsylvania (20 Electoral College votes) would get him across the line first.
The paths to electoral victory for US President Donald Trump are now becoming more remote. He would need to win each of Pennsylvania, Georgia, Nevada and North Carolina to secure a second term in office. At this stage, he is only ahead in the Republican stronghold of North Carolina.
This is Michaela Whitbourn signing off on the live blog. Hanna Mills Turbet will keep you informed of the latest developments this afternoon and evening, as we continue our 24/7 coverage of the US election.
US President Donald Trump has been relatively quiet today (Friday, US time) but in the aftermath of his Democrat rival Joe Biden's almost-victory speech he endorsed comments from Republican Congressman Jim Jordan that cast doubt on the integrity of the US electoral process.
"This is the first time in American history where you have a party systematically set out to win an election after the election, and that's what they're doing and it has to be stopped," Jordan told Fox News.
"Incredibly stated Jim!" Trump replied on Twitter, in a post linking to a video of Jordan's remarks.
It is, of course, possible to argue that post-election litigation brought by the Trump campaign is a way to win an election after the election, but readers may form their own view.
What Jordan was referring to is the counting of allegedly "illegal" votes, apparently cast after the election, but no evidence has been produced of such votes being counted in the election. In some states, mail-in ballots cast before election day are counted after votes cast on election day. Those votes are perfectly legal, and a number of states encouraged mail-in ballots to help cut down on crowds during the COVID-19 pandemic.
If the election result is called tomorrow (Saturday, November 7 in the US) and the Democrats' Joe Biden becomes the 46th president of the United States, it will mark exactly 48 years to the day since he was first elected to the Senate.
Biden has already notched up another milestone: he has become the first presidential candidate in US history to receive more than 75 million votes, and the count is not finished yet. President Donald Trump has received 70.4 million votes so far.
President Donald Trump's chief of staff, Mark Meadows, has told associates he has coronavirus, according to people familiar with the matter, adding to the outbreaks connected to the White House.
It wasn't immediately clear when Meadows learned that he had contracted the virus or whether he had developed symptoms of COVID-19. He informed a close circle of advisers after Tuesday's election, one of the people said.
Meadows didn't respond to multiple requests for comment. White House spokespeople didn't respond to numerous e-mails and phone messages requesting comment.
A Trump campaign aide, Nick Trainer, is also infected, according to two people familiar with the matter. He and campaign spokespeople declined to comment.
Meadows has remained involved in Trump's post-election effort to challenge votes in several states where he trails former Vice President Joe Biden, according to one person familiar with the matter.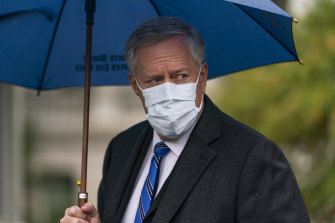 The people familiar with the matter asked not to be identified because the two cases had not been announced.
More than three dozen people associated with the President or the White House have been infected by the virus, including the President, his wife, Melania, and his youngest son, Barron.
Vice-President Mike Pence's chief of staff, Marc Short, and other aides tested positive for the virus late last month, shortly before the election.
Meadows was at Trump's bedside when the president was hospitalised last month with COVID-19.
Trump's handling of the pandemic has been rated poorly by most Americans in public opinion surveys, and is seen as a major reason he's poised to lose re-election to Biden.
Bloomberg