Ms Ruge, 19, had finished year 12 at Wollongong High School of the Performing Arts last year. Friends said she came from a "good and loving family" where her mum was her "biggest fan".
A dentist in Kiama where Ms Ruge worked said the young woman would be greatly missed. Customers said they would miss her "gorgeous calming presence and beautiful smile".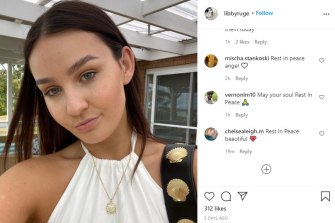 "We can't believe that this actually happened, you are an angel taken too soon," the dentist said. "You were a breath of fresh air, full of life, energy and enthusiasm.
"Less than two weeks ago we were celebrating your 19th birthday, you will definitely be missed."
Emergency services were first called to Flinders Street, near the Collegians Rugby League Football Club, at 10.30pm on Saturday following reports a Toyota Camry had lost control, mounted the kerb and struck three pedestrians before hitting a power pole.
They found Ms Ruge suffering multiple critical injuries and two others also injured.
Ambulance officers described the scene before them as "carnage". "There was a lot of patients lying around," NSW Ambulance Acting Inspector Oliver Aleman told the Illawarra Mercury. "It's a horrible scene to come to.
"It's heartbreaking, a confronting scene … People are having fun, young people are out and about … Young people have got their lives to live, and unfortunately things like this happen."
Paramedics treated the patients at the scene, but Ms Ruge died a short time later in Wollongong Hospital.
An 18-year-old woman remains in that hospital with a fractured pelvis and a 21-year-old man has a fractured leg and ribs. A 20-year-old man who had been walking along the footpath escaped injury.
Wollongong Police District chief inspector Geoff Olsen said Ms Ruge's family had arrived at the scene on Saturday night. "They're devastated of course," he said.
"It's a tragic event, and from what I understand they'd been out together socialising, and they all live in the Illawarra area and were simply walking home or to another venue."
The 21-year-old front-seat passenger was taken to Wollongong police station, where he was charged with dangerous driving occasioning death.
He was also charged with two counts of dangerous driving occasioning bodily harm, driving in a dangerous manner, and negligent driving occasioning death and grievous bodily harm.
The man was refused bail and will appear at Wollongong Local Court on Monday.
The 18-year-old driver remained in hospital under police guard on Sunday morning while blood and urine samples were taken. He is also being treated for minor injuries.
He is alleged to have been driving south along Flinders Street when his grey sedan veered out of control near the club, mounted the gutter, crossed the footpath and struck the four people on the footpath.
The car came to rest crumpled around a power pole halfway between the club and a surf shop.
A third passenger is helping police with their inquiries.
Officers from the crash investigation unit continue to investigate and are appealing for anyone with dash-cam vision to contact Wollongong Police or Crime Stoppers.
Natassia is the education reporter for The Sydney Morning Herald.
Harriet Alexander is a reporter for the Herald.