Epidemiologist Professor Michael Toole from the Burnet Institute would like to see 28 days of zero coronavirus cases before Victoria's mask rule is changed in any way.
There has been no alteration to the requirement to wear masks as part of the easing of restrictions from 11.59pm tonight.
Professor Toole has backed that decision.
"Wearing a mask does not affect the economy and we need all the tools we can get that do not affect the economy," he said.
With nine days of zeo cases achieved, it would take another 19 straight days under Professor Toole's suggestion before a change is made.
"I'd then wait and eventually lift it indoors," he said.
He has also welcomed the cautious reopening of visitors to homes as part of today's easing of restrictions.
From 11.59pm tonight, people can have up to two people visit them at home per day.
"If the visitor number was changed too quickly it would make me nervous. We went from five to 20 overnight just after the quarantine leak," he said.
Clearer messaging to young people about the dangers of COVID-19 was also needed, he said.
"If you look back, the second wave in Israel started with high school kids meeting up after school," he said.
"Young people don't think it's going to affect them, but the so-called 'long COVID' we are seeing can affect young people. So that message has to be done clearly."
Professor Toole said it was time to open up Victoria to both New Zealand and some other Pacific islands, such as Vanuatu.
"Vanuatu has never had a case. Australians like going to Vanuatu and it is suffering from a lack of tourism," he said.
He also said Victoria could consider opening to countries like Taiwan and Vietnam that had successfully tackled the virus.
"Taiwan is the safest country in the world [for coronavirus] right now, so we could open to them," he said.He also said China "have basically got it under control. … So opening to China could be considered".
Tom Wolfe was bent over planting a field of raspberry canes when he realised he was enjoying the break. "We'd been touring pretty much non-stop for 10 years, and I don't think we realised how burnt out we were," says the bass guitarist with The Wolfe Brothers, who've had 13 singles top the country charts since they were finalists on Australia's Got Talent in 2012.
"It's been nice to be back on the farm. I haven't given it as much time and care as I'd have liked."
Wolfe and his elder brother, Nick, sing a lot about home and the simple pleasures of a rural lifestyle, as do all country music artists. Yet with the majority of their audiences in the far-flung towns of regional Australia, their experience of "the country" had mostly out of the window of a plane or tour bus.
Enter the pandemic. It will have been almost a year between major gigs for the Wolfe Brothers, and fellow star Adam Brand, when they once again hit the tarmac for the Country Roadshow package tour in February.
For all the opportunities lost in the interim, the furlough has offered them the chance to reconnect with the land and the homes they sing about, a renewal they say will show up in their music.
For Tom Wolfe, 31, and brother Nick, 35, home is Wolfe's Berry Farm. Since 1899, the Wolfe family has grown everything from blackcurrants to Kentish cherries on the 16-hectare patch south-west of Hobart, and it's seeded a few Wolfe Brothers songs too.
Read the full story here.
Yarraville's Sun Theatre wasted no time after finally being given the go-ahead on Sunday to reopen, announcing a midnight screening in as many of its cinemas as people could fill – at a cap of 20 customers per space.
"Hallelujah. I feel great," said owner Michael Smith of the decision to let cinemas reopen after more than seven months of shutdown. "It is such a massive sense of relief."
Apart from a week in June, Victoria's cinemas have been closed since March, pushing many operators to the brink of financial ruin. Even as other hospitality venues such as restaurants, bars and cafes gradually reopened in recent weeks, cinemas remained shuttered, prompting some in the sector to complain they had been discriminated against.
Even though the new relaxations – effective from 11.59pm on Sunday – put a lower cap on cinemas, galleries and museums (20 people per space) than restaurants (40), cinema operators were determined to focus on the positives.
"We are open from Thursday with Tenet, Burnt Orange Heresy, The Translators and the British and Italian film festivals, and we are just delighted to be ramping up," said Palace Cinemas chief executive Benjamin Zeccola.
Village Entertainment chief Kirk Edwards said: "I am incredibly grateful to be able to welcome movie-lovers back to the cinema and bring our staff back to work. As a Melbourne-based business, proudly operating in Victoria since 1954, the Village Entertainment team is delighted to be able to be part of the state's recovery."
Deakin University professor in epidemiology Catherine Bennett said the Victorian government's response to easing restrictions on Sunday was "a very conservative approach" which was something she welcomed.
"It's a really good sign – we know the government is very conservative and anxious to maintain our precious numbers," Professor Bennett said. "So I do think all easing of restrictions should be taken as a sign of their confidence."
She said she believed the state was on track to "to see a lot more days of zero. If that happens, by the end of November we will be in a much clearer place" to open up fully under the government's so-called COVID-normal plan.
Professor Bennett did question the continued use of masks outdoors.
"We are still asking people to wear masks outdoors when we are worried about the amount of exercise people are getting," she said, adding that the state wanted to open up to tourism.
"Who is going to want to go on a holiday wearing a mask on a beach?"
She said rules on wearing masks outdoors would likely be eased by November 23 when New South Wales will open its border to Victoria.
She said the government could be even more liberal in freeing up outdoor mask-wearing laws with case numbers so low.
"The risk when you are outdoors and in free-moving air and able to keep your distance from other people, the risk is as close to zero as it can possibly be," Professor Bennett said.
"There is still a place for masks in prevention; we need to keep them in certain places just in case the virus is there. But to insist on wearing them at all times and the Premier's response to being questioned on that being 'because it's a simple rule' … [is at odds] with the rest of the roadmap, which has rules … all over the place.
"And yet we can't say to people 'put a mask on as soon as you're near other people outdoors or when you're indoors'."
She said that she was concerned masks could disappear altogether in a bid to keep things simple.
"My concern is that masks will disappear altogether [in the next round of easing] and in fact I would still like to see them indoors, in places like cinemas and the like," she said.
Thanks for reading the blog today, it's been a busy Sunday! I'm handing the blog over now, I hope everyone has a great afternoon.
Here are the main stories from today so far:
For the ninth day in a row, Victoria recorded no new coronavirus cases and no deaths. The 14 day rolling average fell to 0.4, and there are only four active cases in the state.
Premier Daniel Andrews announced a further easing of restrictions, including the removal of the metro-regional border and the 25 kilometre travel limit from 11.59pm tonight. You can find a full list of all the changes which come into effect tomorrow and on November 22 here.
Business groups have generally welcomed the easing of restrictions, but have called for the borders to open and for office workers to have certainty about their return to the CBD.
The Victorian Opposition said Premier Daniel Andrews did not go far enough. Coalition leader Michael O'Brien said the Andrews government should begin applying "common sense" rules, particularly around the use of masks.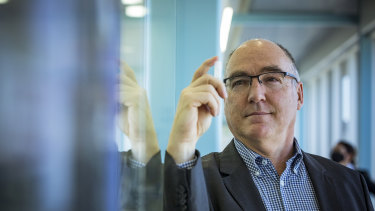 Global biotech company CSL will begin manufacturing a coronavirus vaccine tomorrow at its facility in Melbourne's northern suburbs in the hope trials will prove it is effective and could be widely distributed next year.
NSW recorded no new locally transmitted coronavirus cases in its latest figures. Three new cases were reported among overseas passengers in hotel quarantine.
NSW Health has asked people in the Rouse Hill area to be alert for coronavirus symptoms and get tested after traces of the virus were detected in local sewage systems on Thursday.

In his victory speech, the United States President-elect promised to form a group of scientists and experts as "transition advisors"to help tackle spiralling coronavirus cases in the US. "Our work begins with getting COVID under control," he said in Delaware.
'Our work begins with getting COVID under control'

US President-elect Joe Biden
Ever since Corinne Morgan's weekly ritual of driving to her parents' caravan in Dromana was suspended in June, she has been itching to get back to the beach.
Like many Melburnians, Ms Morgan was eagerly awaiting this Sunday's announcement from Premier Daniel Andrews to find out if she would be allowed to head once again for her weekend oasis.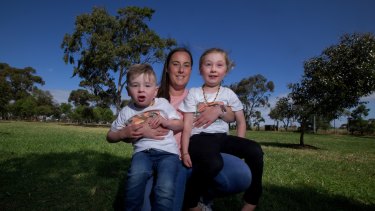 Sure enough, the government announced 25km travel limit will be lifted and the "ring of steel" lowered from 11:59pm on Sunday and Ms Morgan said she would escape the city next weekend.
"I find I can relax more down there. There aren't the 100 things to do at home," Ms Morgan said. "It'll just be really good to get away and we're just hanging to get down there."
The thirty-two-year-old's parents have owned the fixed caravan for over twenty-five years. Ms Hyde went from riding her bike and playing in the park as a kid to seeing her own children, George, 4, and Henry, 2, enjoy the same carefree childhood.
"It's all the same people around us so they've become really good friends with some of the kids," Ms Morgan said.
Read how Victorians are celebrating the lifting of restrictions here.
While the world is transfixed by seismic political events in America, Victoria has reached a place in its struggle against COVID-19 which, on any other day, would have commanded international attention, writes Chip Le Grand.
After nine straight days of no new cases and the suppression of the state's active viral footprint to just four confirmed infections, Victoria has entered what Premier Daniel Andrews describes as a new phase – a post-lockdown resumption of social and economic freedoms both fragile and, potentially, sustainable for as long as the pandemic rages.
Lest anyone miss the significance of this, the Premier's announcement on Sunday of further lifting of restrictions was replete with symbolism: a change in backdrop colour and slogan, the lifting of Victoria's state of disaster, the reunification of city and state, and the dismantling of the government's crisis council of cabinet adopted at the start of the pandemic.
According to the change in slogan and livery, we've gone from staying apart to staying safe and open, and our mood has lightened from deepest purple to white. Like a political winner awaiting the last votes to be counted, Mr Andrews has not quite declared victory but he is promising one is on the way.
"A COVID-normal Christmas, we are going to be able to deliver that, we are going to be able to enjoy it.''
The lifting of the state of disaster, the end of the crisis council of cabinet – a regular hook-up between the Premier and seven senior ministers responsible for different aspects of COVID policy – and a return to something resembling normal government sends a clear signal that Victoria is no longer a state in crisis.
Fundamentally, however, the government is sticking to the same abundance of caution that has characterised its policy response to the destructive second-wave epidemic caused by failures in hotel quarantine.
Read the rest of Chip Le Grand's analysis here.
Victoria's police union says the easing of coronavirus restrictions will be a relief for members, allowing them to move off checkpoints and get "back into police stations and communities".
In a statement posted to its Facebook page on Sunday, the Police Association Victoria said: "We are delighted for Victorians, who can now move further towards normality and enjoy these added freedoms.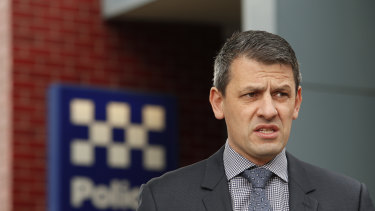 "This will also come as a relief to our members who, for a large part of this year, have been placed in the unenviable position of upholding restrictions which have impacted the lives of so many Victorians.
"Our members look forward to moving off checkpoints and back into police stations and communities.
"We would like to sincerely thank Victorians who have shown our members courtesy, respect and support on the front line. It made their difficult job a little bit easier."
Fines Victoria data released in early October revealed that 19,324 fines worth more than $27.8 million have been issued since the start of the pandemic.
Global biotech company CSL will begin manufacturing a coronavirus vaccine tomorrow at its facility in Melbourne's northern suburbs in the hope trials will prove it is effective and could be widely distributed next year.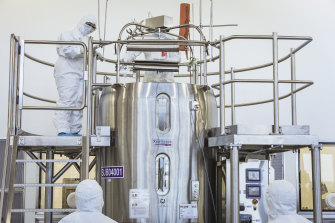 CSL's chief scientist, Andrew Nash, told reporters earlier today a one-millilitre vial of the University of Oxford/AstraZeneca COVID-10 vaccine would thawed and grown in a bioreactor – a large vessel where biological reactions take place – which can hold up to 2000 litres.
After growing in these bioreactors at the Broadmeadows facility, the vaccine will be filtered and purified, leaving just the antigen, or vaccine product, ready to be put into the dosage vials.
"We're making it ahead of time so that should the clinical trial be positive, with the outcomes that we're looking for, the vaccine will be available…to distribute to the population," Mr Nash said.
CSL has separate contracts with AstraZeneca and the Australian Government to manufacture approximately 30 million doses of this vaccine candidate.
The first doses are planned for release in the first half of 2021, pending the results of "stage 3" clinical trials and regulatory approval.
"From the phase one studies we have seen the vaccine is safe, which is the really critical thing, so we're not doing any harm," Mr Nash said.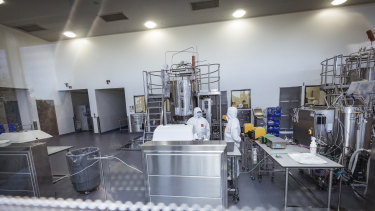 "We've seen that the vaccine can induce the immune response we would hope to see. Then we have to test in large numbers of people to see if that immune response prevents them from being infected."
"You can rest assured that it's going to be safe," he said. "All of the work through the clinical studies will demonstrate safety – the question is whether it's going to be effective".
The biotech giant is manufacturing two separate vaccines, the Oxford/AstroZenca vaccine and the University of Queensland vaccine.
If the vaccine is shown to be safe and effective in clinical trials currently underway, it is expected that two doses per person will be required.
The health department has noted another important milestone in its daily update today: there are now no active coronavirus cases among healthcare workers in Victoria.
A total of 3574 healthcare workers have been infected with the virus during the pandemic.
The Age reported on Friday that the ventilation systems of Victorian hospitals are set to be audited amid suspicions coronavirus particles could have travelled through the air, infecting hospital workers who had no close contact with sick patients.
Today's health department update also reported that there are now no active cases linked to an outbreak in Melbourne's northern suburbs, which had authorities concerned several weeks ago.
A total of 50,147 tests have been processed in that area since October 20.
There are currently four active cases in Victoria: two are in the Greater Dandenong local government area, one is in Casey and another in Monash.
This means that there are no active cases in 76 of Victoria's 79 local government areas.
Two people are in hospital but they not in intensive care.
A total of 19,522 people have recovered from the virus.