It was indeed a new day in the divided states of America.
Gone was Donald Trump – if not yet from the White House, then certainly from the anxieties of many who feared another four years under his chaotic administration.
Gone were many of Trump's supporters, too — drowned out, at least for now, by the sight of millions of people dancing in the streets, honking their horns, and crying tears of joy.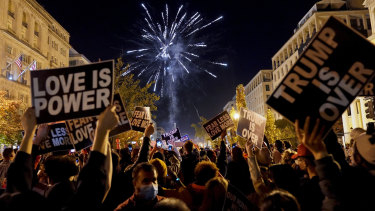 And under the spotlight was a new style of leadership: Democratic President-elect Joe Biden, aided by Harris, a 56-year-old Californian senator, and the first woman to serve as a US vice-president.
Whether the duo can meet their ambitious promises to control the pandemic, rebuild the economy, reform the criminal justice system and combat climate change is yet to be seen.
But it's hard to overstate how much it means to girls and women of colour around the world to have someone who looks like Harris smashing barriers that have for so long entrenched white men at the highest levels of power.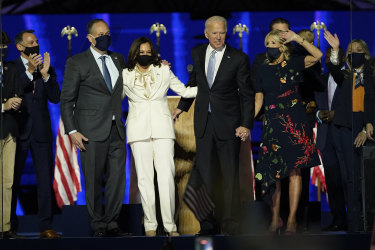 As the daughter of an Indian mother and Jamaican father, Harris acknowledged this too, with a nod to Biden and a hint of optimism for the future.
"What a testament it is to Joe's character, that he had the audacity to break one of the most substantial barriers that exists in our country, and select a woman as his vice-president," she said.
"But while I may be the first woman in this office, I will not be the last. Every little girl watching tonight sees that this is a country of possibilities."
Loading
Harris is used to being a woman of many firsts. She was the first black woman to serve as San Francisco's district attorney; the first to serve as California's attorney-general; and the first American of south Asian descent elected to the US Senate.
But importantly, she used her speech to pay tribute to the generations of women who helped pave the way, particularly black women "who are too often overlooked, but so often prove they are the backbone of our democracy".
It was a fitting comment in the context of US elections past and present. From Barack Obama, to Bill Clinton and Jimmy Carter, there has not been a Democratic presidential nominee in over 40 years who has won the White House without the support of black women, who have traditionally been the key to igniting African-American voters to show up on election day.
The same applied this year, too: note for instance, the extraordinary work of Stacey Abrams in Georgia, who put her own political ambitions on hold to tackle voter suppression and create a grassroots movement that could soon result in the GOP stronghold falling to the Democrats.
Loading
As for the tens of millions of voters who turned up to have their say against the backdrop of a global pandemic?
"I know times have been challenging, especially the last several months," Harris said.
"You delivered a clear message. You chose hope and unity, decency, science, and — yes — truth," she said. "[Now] the real work begins."
Farrah Tomazin is a senior journalist covering the 2020 US presidential election.