"He's just a very unique animal. He's got a great demeanour, he takes everything in his stride," jockey Glen Boss said after his three-and-a-quarter length victory on Saturday.
"He's such an athlete. You don't see them win a Newmarket and a Darley Classic like that. They're good horses.
"There's a sprinter of the year [Nature Strip] right beside him and he went straight past it and said 'see you later boys'."
It doesn't matter that The Everest is not a group 1 because it is the best form in the country. Remarkably, both group 1 winners from the final day at Flemington – Bivouac and Arcadia Queen – have run in The Everest.
The one thing the extended spring in Sydney has done is attract the best four-year-olds with the Golden Eagle. It has fundamentally changed which horses are seen in Melbourne, reducing the quality of the mile racing.
Arcadia Queen showed you can chase the big bucks as a four-year-old before proving you are top class at five when she stormed away with the Mackinnon Stakes on Saturday.
Not so Sneaky after Golden Gift win
Ciaron Maher and David Eustace-trained filly Sneaky Five is still a $21 chance for the Golden Slipper, despite a stellar start to her career.
She has won in Melbourne and Sydney and while her Golden Gift win wasn't flashy, it was tough. Maher and Eustace can now plan a path to the Slipper.
Whether it will be through the Inglis Millennium in February remains to be seen.
"It is hard to get a two-year-old up for that race and then peak them 10 weeks later again," Sydney stable foreman Jack Bruce said. "She is a very good filly and done a big job to achieve what she has already but we think she will be better next week. The boys will sit down and work how to get to the Slipper now."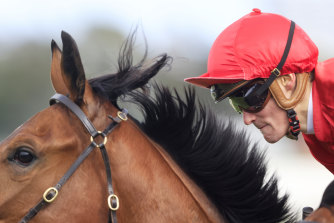 Maher and Eustace have the Golden Slipper favourite Enthaar, who was sent for a break after her explosive Gimcrack Stakes win.
"They are trying to get the right horses to the right races, but there are quite a few good ones there," Bruce said.
Trainers call for Racing Australia to take control of the Melbourne Cup
The Victoria Racing Club calls itself the custodian of the Melbourne Cup but, along with Racing Victoria, it is coming under increasing pressure to change after the death of Anthony Van Dyck on Tuesday.
Australian trainers who have dreamed of winning a Melbourne Cup feel they aren't on a level playing field with the raiders, who they privately think are well looked after at the handicap.
The NSW Trainers Association is so concerned about the image racing is portraying on its biggest day that it has written to Racing Australia asking it to take ownership of the Cup, rather than leaving it in hands of those with a vested interest.
It is a national issue that threatens the industry existence, the letter said.
Trumbull targets The Hunter
Kim Waugh started Trumbull's spring with a two-part plan and hopes to keep a 100 per cent winning record with it in The Hunter at Newcastle on Saturday.
Loading
Trumbull had always promised a performance like the one he produced winning the Sydney Stakes on Everest day and has improved fitness-wise for the second goal of the spring.
"We picked out these two races and thought he would be able to show that he is ready to step up," Waugh said. "He had another trial at Gosford on Wednesday, which Tommy Berry came up for and was very good. He was sharp in the Sydney Stakes and has taken the right amount of improvement from it for The Hunter.
"He was a horse that just did a few things wrong in past and had his share of bad luck, but now he is a lot better and will show how good he is on Saturday."
Racing writer for The Sydney Morning Herald