Watch President-elect Joe Biden address supporters in Wilmington, Delaware.
Thulasendrapuram, India: Waking up to the news of Kamala Harris' election as Joe Biden's running mate, overjoyed people in her Indian grandfather's hometown are setting off firecrackers, carrying her placards and offering prayers.
Groups gathered at street corners of the tiny village of Thulasendrapuram, population 350, reading newspapers and chatting about the Democrats' victory before moving to the temple.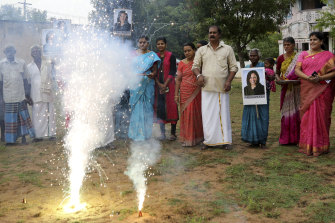 A woman wrote in color powder outside her home: "Congratulations Kamala Harris. Pride of our village. Vanakkam (Greetings) America."
Most of them had gone to sleep by the time Biden clinched the winning threshold of 270 Electoral College votes, making Harris the first woman and the first person of South Asian descent to be elected vice president.
"For two or three days we kept our fingers crossed while the result was delayed," said resident Kalidas Vamdayar.
"Now it's a joyful moment for us. We are enjoying it. We will celebrate with firecrackers, distributing Indian sweets to people and praying in the temple. We will request her to come here. She would have heard our voice and she may come."
Tamil Nadu state Food Minister R. Kamraj led about 100 people at the Dharma Sastha temple for a 20-minute prayer during which the idol of Hindu deity Ayyanar, a form of Lord Shiva, was washed with milk and decked with flowers by the priest. He chanted hymns after lighting oil lamps, and the villagers bowed their heads in respect.
"Kamala Harris is the daughter of our village. From children to senior citizens, each one of us is awaiting the day she would take oath as the vice president of the U.S.," said Aulmozhi Sudhakar, a village councilor.
More singing, dancing and firecrackers are planned Sunday in the village, where cutouts and posters wishing Harris a "grand success" adorn many walls.
J. Sudhakar, who organised prayers on Election Day, expressed his wish that Harris should visit. As Americans voted, nearly 50 residents, with folded hands, lined up in the temple that reverberated with the sound of ringing bells, and a Hindu priest gave them sweets and flowers as a religious offering.
Women in the village, located 350 kilometres (215 miles) from the southern coastal city of Chennai, used bright colours to write "We Wish Kamala Harris Wins" on the ground, alongside a thumbs-up sign.
The lush green village is the hometown of Harris' maternal grandfather, who had moved to Chennai, the capital of Tamil Nadu state, decades ago.
Inside the temple where people have been holding special prayers, Harris' name is sculpted into a stone that lists public donations made to the temple in 2014, along with that of her grandfather who gave money decades ago.
Harris' late mother also was born in India, before moving to the US at the age of 19 to study at the University of California. She married a Jamaican, and they named their daughter Kamala, Sanskrit for "lotus flower."
India's Prime Minister Narendra Modi in a tweet described Harris' success as pathbreaking, and a matter of immense pride not just for her relatives but also for all Indian-Americans. "I am confident that the vibrant India-US ties will get even stronger with your support and leadership."
There has been both excitement — and some concern — over Biden's choice of Harris as his running mate.
Modi had invested in President Donald Trump, who visited India in February. Modi's many Hindu nationalist supporters also were upset with Harris when she expressed concern about the divided Himalayan region of Kashmir, whose statehood India's government revoked in August last year.
Harris stood by Pramila Jayapal, another US congresswoman of Indian origin, when India's External Affairs Minister S. Jaishankar refused to attend a meeting in the United States over her participation last year. Jayapal had earlier moved a resolution on the Kashmir issue critical of India in the House of Representatives.
Rights groups accuse India of human rights violations in Indian-controlled Kashmir, where insurgent groups have been fighting for independence or merger with neighbouring Pakistan since 1989.
AP
Joe Biden's victory over Donald Trump in the US presidential election was celebrated with tears, laughter and the popping of sparkling wine corks by American citizens living in Melbourne.
A group of American Biden supporters gathered on the rooftop of the Arcadia Hotel in South Yarra on Sunday to toast the win after days of waiting for the final result.
The race was eventually called by the US TV networks just before 3.30am on Sunday (AEDT), prompting a wave of relief among Democrat supporters.
"I woke up at 4.30am and saw that I had all these messages," said Lori Perry, 56, a former Republican voter from North Carolina who was wearing a "Biden/Harris" T-shirt.
To watch Donald Trump, deprived of his one eternal proxy for personality – winning – declaring once more, falsely, sadly, with only the barest skerricks of facts to twist to his purposes, that the election was being illegally stolen from him, was to be reminded of the enormous power of democratic elections to confer authority – and then take it away.
A few days before, such claims had seemed fierce. They presaged chaos; who knew what this man, the President, might do? Now, with the results of the count all but certain with the precise approaching date of the end of Trump's reign known to all, he looked like what he suddenly, undoubtedly, was — a grasping, undignified grifter.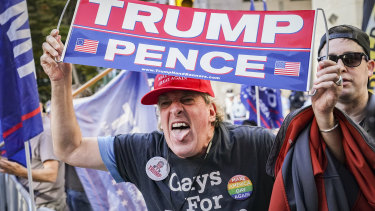 But his grift had worked for so long, and not just on those who supported him.
The greatest trick Donald Trump pulled was to monopolise our attention. What is stunning is the extent to which this has been true outside of America. To be even a bit player in this melodrama — various reporters, Trump hangers-on, Trump-focused comedians — was to attain international celebrity.
She walked out in a white suit – a potent symbol of female solidarity – and took her place on stage to the sounds of Mary J Blige's girlpower anthem, Work That.
But Kamala Harris' first speech as Vice-President-elect did not just underscore the historic nature of her victory; it was also a reminder of the fragility of democracy.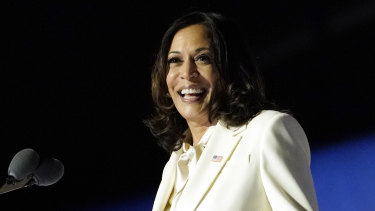 Invoking the memory of late civil rights icon John Lewis, who wrote before his death this year that "democracy is not a state, it is an act", Harris told the ecstatic crowd in Delaware: "What he meant is that America's democracy is not guaranteed – it is only as strong as our willingness to fight for it, to guard it, and never take it for granted."
"When our very democracy was on the ballot in this election, with the very soul of America at stake and the world watching, you ushered in a new day," she added.
Healing.
It was the little word with all the weight once the fireworks and the dancing and the cheers had died away.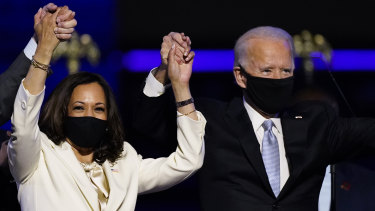 It is a word – an idea – that had been missing for too long from the vocabulary of an American leader.
Joe Biden and Kamala Harris gave it the heft it deserved after only once naming the President who had exiled it for the past four years.
Faith and hope, dignity and respect. Unity. Defeating despair.
Members of Democrats Abroad in Sydney flocked to the Lansdowne Hotel in Chippendale on Sunday for beers on the rooftop.
Polina Karachunsky, an American living in Sydney, was among them.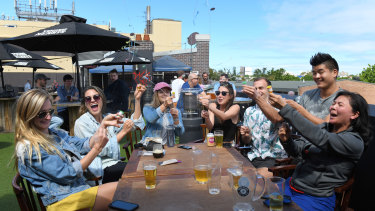 "The biggest challenge for Biden will be to unite all of the people who feel that this election has been stolen from them," the 26-year-old said.
"Trump has been saying that this election has been stolen and that all these votes aren't real.
"So first, getting past that facade, and then uniting those who harbour contempt for Democratic ideals, and for Biden."
A table of self-described "progressive Americans" lauded Biden's win as one less about victory for the Democratic Party but, rather, a reprieve from the tumult of the Trump presidency.
The group was united in its concerns for what they believe to be an extraordinary challenge ahead: trepidation over a clear path out of the coronavirus pandemic; if Biden can reunite an increasingly polarised nation; and whether he can gather the Senate backing required to follow through on his election promises.
Note from Roy: Matthew Knott has updated his main story on Biden claiming victory and it's well worth a read or even a second read if you looked at his earlier version.
Washington: Joe Biden has vowed to "make America respected around the world again" as he claimed victory in the US presidential election, promising to "lower the temperature" after four polarising years of Donald Trump in the White House.
Biden delivered his victory speech alongside Vice-President-elect Kamala Harris after being declared the winner in Pennsylvania by the Associated Press and other US media networks, handing him enough Electoral College votes to defeat Trump.
Biden announced he would immediately begin working on a plan to tackle the COVID-19 pandemic and is expected to take swift action to re-enter the US into the Paris climate agreement.
"Let this grim era of demonisation in America begin to end here and now," Biden said.
Following Biden and Harris claiming victory in the US election, The New York Times has published a typically iconic late front page.
In a year like no other, the touching of the fists is a superb choice in a pandemic year when hugging and handshakes have mostly disappeared from public view.
P.S. For those into newspapers and design, THe New York Times planning editor Josh Crutchmer is a great follow on Twitter as he shares quite a bit of how he and his team plan out things like their front pages.
G'day everyone! It's Roy Ward here and I'll be taking the baton from the excellent Jenny Noyes after her stellar shift.
It's been a momentous day and now we will keep watch on the reaction and developments to President-elect Joe Biden and Vice-President-elect Kamala Harris.
Please feel free to continue leaving comments on the blog and enjoy all that is to come.
As Democrats across the US celebrate Joe Biden's defeat of Donald Trump, New York representative Alexandria Ocasio-Cortez has not held back about divisions within the party in an interview with The New York Times.
Her main takeaway from Biden's win? "We aren't in a free fall to hell anymore. But whether we're going to pick ourselves up or not is the lingering question."
Ocasio-Cortez said the election, in which Democrats also lost seats where they expected to gain them, showed that race is a problem, "and avoiding it is not going to solve any electoral issues". She said it also proved that progressive policies, like Medicare for All and the Green New Deal, "do not hurt candidates".
She said how the party deals with its losses in this election is going to be really important.
"Because before we even had any data yet in a lot of these races, there was already finger-pointing that this was progressives' fault and that this was the fault of the Movement for Black Lives."
Ocasio-Cortez criticised some of her party's campaigns as failing to "fire on all cylinders" and leaving themselves vulnerable to Republican scare-campaigning.
She said she "begged" the party leadership to let her help every swing-district Democrat with their campaigns, and all but five refused.
"And all five of the vulnerable or swing district people that I helped secured victory or are on a path to secure victory. And every single one that rejected my help is losing. And now they're blaming us for their loss.
"So I need my colleagues to understand that we are not the enemy. And that their base is not the enemy. That the Movement for Black Lives is not the enemy, that Medicare for All is not the enemy. This isn't even just about winning an argument. It's that if they keep going after the wrong thing, I mean, they're just setting up their own obsolescence."
The New York Times