"It felt separated for ages and it's good to be back."
For Ms McKenzie, a first-year nursing student, lockdown was particularly stressful. She had done one of her placements at a nursing home – a sector hard hit by the coronavirus.
Ms McKenzie worried about the risk of spreading the virus among the residents.
"I didn't want to pass it on to any of the elderly there so it was a bit scary."
She is now looking forward to seeing loved ones.
"I haven't been able to see my family the whole time. It's been hard."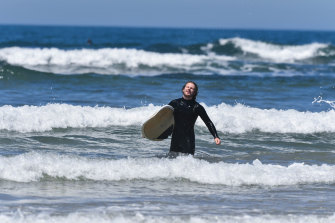 They were among crowds of well-spaced beachgoers on Monday afternoon who seemed to be observing social distancing. Groups of people largely kept their distance, but few appeared to be wearing masks while sitting on the sand, despite pleas from the state government.
The familiar sights of summer – beach tents and umbrellas, children digging sandcastles and skipping stones – had all returned after months of restrictions.
Loading
Melbourne's "ring of steel" came down one minute before midnight on Sunday, allowing Melburnians their first chance to hit the waves legally in months.
For Geordi Coyne surfing is like meditation. He was surfing up to three times a week in between Melbourne's lockdowns.
So when travel restrictions were lifted for Melburnians he wasted little time in heading for Torquay on public transport.
But his first briny taste of the Victorian surf on Monday was bittersweet.
Although he relished the chance to get back in the water, he was missing his Singaporean partner with whom he last went surfing in between lockdowns.
"She really misses surfing. That's the main reason she wants to come back here," he said.
By mid-afternoon he was in no rush to get home.
"I'll stay here until the sun goes, until the last bus."
Mr Coyne is among those Melburnians ready to leave the big smoke and settle somewhere on the coastline. "I'm definitely an ocean boy."
Loading
During the second lockdown the lure of the coast proved irresistible to some Victorians.
On July 22, when Victoria recorded 484 new COVID-19 cases, a woman who was planning to hit the waves and travel more than 100 kilometres from Melbourne to the Surf Coast, was among 61 people fined for breaching restrictions.
The following day, Torquay police confirmed a 49-year-old Albert Park woman was fined $1652 and escorted out of town after she was caught shopping and eating there.
On August 16, when Victoria notched up 279 new cases, a Torquay man was fined for travelling over 140 kilometres west to surf at Castle Cove because there were "no waves on the east side".
Benjamin is The Age's regional editor. He was previously state rounds reporter and has also covered education for The Age.