Rather than being allocated directly to the country's COVID-19 taskforce, "it will first go to the state budget under the general financing account. And from there it will be channelled to the government's programs on COVID-19 and economic recovery".
Indonesia has implemented only limited lockdowns and to date has reported 440,569 cases of coronavirus and 14,869 deaths, the highest in south-east Asia.
Bali, which welcomed 1.3 million Australians in 2019 – more than from any other country – has seen its tourism industry smashed and has lost hundreds of millions of revenue each month.
The terms of the stand-by loan facility are still being hammered out between Canberra and Jakarta.
Australian Treasurer Josh Frydenberg and his counterpart, Finance Minister Sri Mulyani, have been working closely on the deal, which is driven by the nations' economic ministries rather than foreign affairs or trade.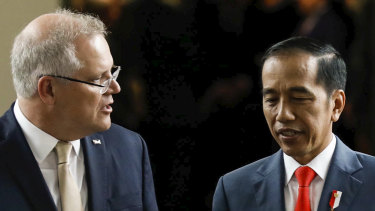 Mr Frydenberg said that "as the two largest economies in south-east Asia, Australia and Indonesia have a close economic and trade partnership".
"The government will continue to work in partnership with Indonesia across a number of areas to support a strong and sustained economic response and recovery to COVID-19."
Indonesia's economy is in recession, with GDP shrinking by 3.49 per cent in the September quarter and 5.32 per cent in the June quarter according to Statistics Indonesia, though the World Bank has forecast it will begin to rebound back towards an annual growth rate of close to 5 per cent in 2021.
Lowy Institute lead economist Roland Rajah said the offer was late, but welcome. Back in April, as the pandemic took hold in Indonesia, he called on Australia to offer Indonesia a $16 billion standby loan.
"It would have been more impactful if it had come earlier, but it's not too late."
Rajah said Australia was "not guaranteeing their debt, we are providing them with an anchor so they can access a certain amount of finance".
Song Seng Wun, an economist with CIMB Bank in Singapore, said the loan deal made sense as Indonesia was "a large and important developing nation that warrants attention from all major super powers".
"These extra lifelines for capital markets, they really just help to ease the pressure on the Indonesian economy."
"And for countries such as Australia, who are also mindful of Chinese influence, they want to step up their presence as well – so it's about strategic balance, too."
Indonesia and China have agreed to work together on one major project under the auspices of China's Belt and Road Initiative, the Jakarta-Bandung high speed railway, and other projects are being discussed.
Loading
At the same time, a trial of a potential Chinese vaccine for coronavirus is underway in West Java.
Euan Graham, a senior fellow at Singapore's International Institute for Strategic Studies, said the loan facility made more strategic sense than seeking closer military ties between Australia and Indonesia, and would be more influential.
"This shows a strategic commitment to Indonesia," he said. "This is probably a smarter move to buy influence in Indonesia rather than focusing on defence cooperation, which is too high and hard bar."
James Massola is south-east Asia correspondent based in Jakarta. He was previously chief political correspondent, based in Canberra. He has been a Walkley and Quills finalist on three occasions, won a Kennedy Award for outstanding foreign correspondent and is the author of The Great Cave Rescue.
Karuni Rompies is Assistant Indonesia Correspondent for The Sydney Morning Herald and The Age