FFA has been contacted for comment, but sources have indicated they are unwilling to entertain a scenario that would enable another country's national team to so directly benefit from being involved in an elite Australian competition.
While most of the Football Ferns' best players have contracts with clubs in Europe or the United States, some play locally in New Zealand, and a move to the higher-calibre W-League would have accelerated their development individually and helped them build greater depth as a team.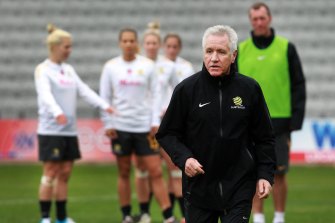 Both Australia and New Zealand, who are ranked No.23 in the world by FIFA, will enjoy the obvious benefits of playing on home soil at the 2023 Women's World Cup.
But the W-League developments suggest the new era of trans-Tasman collaboration in football since FIFA's hosting rights announcement in June has its limits.
Loading
FFA's position is also inconsistent with the rules that apply to the Phoenix in the A-League, where New Zealanders are not counted in the club's max allowance of five foreign players.
Wellington wanted those regulations to be mirrored in the W-League, and had a squad of mostly young players and fringe Kiwi internationals lined up to play the entire season, which begins on December 27, in Australia.
The Phoenix have now abandoned their W-League plans and won't revisit them unless FFA's stance changes, according to sources.
"The club can confirm it has been actively pursuing this course of action in recent months and are working with Football Federation Australia (FFA) on an entry into the competition in due course," Wellington said in a short statement on Tuesday.
"The club will not be making any further comment on an entry into the W-League at this time."
The situation is reminiscent of a similar dilemma in Australian netball after England won the Commonwealth Games gold medal in 2018. Then-Diamonds coach Lisa Alexander claimed that Super Netball's unlimited import rules gave them the impetus for the shock victory, saying: "That's our high performance system working for another country. I don't get it. I don't get to make that decision."
Others, including England captain Geva Mentor, argued that view was "narrow-minded" and dismissed the fact that international players helped boost the competitiveness and commercial profile of Super Netball.
Vince is a sports reporter for The Sydney Morning Herald.