Wallabies captain Michael Hooper (sabbatical), Waratahs captain Rob Simmons, Ned Hanigan, Damien Fitzpatrick (retired), Tom Robertson, Tom Staniforth, Jed Holloway, Ryan McCauley, Michael McDonald and Pat Tafa won't be in sky blue next year.
The newest member of that club is Hunt; the 33-year-old who for the first time in 17 seasons of professional football is unsure of what his future holds.
Despite being one of the most senior figures in a youthful Waratahs side, Hunt confirmed to the Herald he won't be there in 2021. He says he is "keen to play on" if something worthwhile pops up elsewhere.
Waratahs general manager Tim Rapp also confirmed Hunt had left NSW, along with 37-game winger Cam Clark.
Rapp conceded that having a broadcast deal sorted earlier might have stemmed the bleeding as the Waratahs, who finished fourth out of five teams in Super Rugby AU, try to pick up the pieces and show faith in a group of youngsters.
"You probably are going to lock in players a lot easier [had a deal been done] because they're certain about their future," Rapp said. "The uncertainty was the biggest thing that has affected people's decision-making.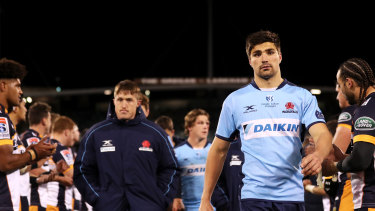 "We are losing some really quality people and some quality players who have got a bucketload of experience within that group. That's definitely something you can't shy away from. It's fact. But we've got guys in and around Wallabies squads, which is going to be of benefit to them and us when they come back with us.
"It's been conflicting, your emotions to it all, but at the end of the day you understand that they've got to do the best things for themselves. There's a large number of people in time who I think will come back after they've had their opportunities elsewhere."
Coach Rob Penney has a vastly different roster to the one he inherited and one couldn't begrudge him feeling frustrated by a number of experienced heads walking out the door.
Loading
"He's had a lot of input into what it looks like next year," Doorn said. "You can't control the people that want to leave but you can control who you will keep.
"I'm not critical of the fact [a broadcast deal] has taken a long time to get to this point. It is what it is. That's sport. You've got to play the ball in front of you. There's no point worrying about what's happened in the past."
Asked whether he expected players to return to full pay next year – those not involved with the Wallabies at present are on 70 per cent of their salary – Doorn said: "It's one of the things we'll work through with Rugby Australia and [players union] RUPA. One of the things we'd all agree with is the need to sort that out sooner than later. There's no point waiting out til the back end of December. Feedback from players is the sooner we can provide certainty as they move into that December and January period, that'd be good."
Rapp said it was looking likely that Jack Dempsey, currently of contract in 2021, will remain at NSW.
Non Wallabies representatives will return to training on November 20.
Sport newsletter
Sports news, results and expert commentary delivered straight to your inbox each weekday. Sign up here.
Tom Decent is a journalist with The Sydney Morning Herald