"We were looking for change and we believed the institution needed to change."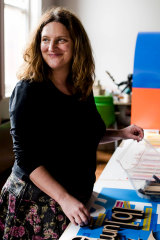 The prize organisers agreed, after discussion with the artists and other community members, to appoint a cultural advisor (Indigenous songwriter and activist Kutcha Edwards) and advisory group to make equity, diversity and inclusion a priority in the future, and to include First Nations and culturally diverse members on future judging panels.
In a joint statement, the winners, judging panel and Melbourne Prize Trust said the artists' gesture was "a productive critical engagement with the ethical conditions of working in the public realm on unceded Aboriginal lands and the importance of action towards justice and equity through the arts".
The move comes two months after the Rob Guest Endowment, a $50,000 scholarship for young musical theatre performers, was cancelled after criticism of the overwhelmingly white cast of semi-finalists. The RGE was accused of subconscious prejudice, and it committed to recruiting a more diverse leadership group, judging panel and competition.
Loading
The Melbourne Prize is usually awarded to a particular work, but this year due to the pandemic recognised an artist's existing body of work.
The finalists and winners in 2020 were Beth Arnold, Mikala Dwyer, Emily Floyd, Nicholas Mangan, Kathy Temin and Field Theory.