Nathan Cleary, Howard's counterpart in the NSW men's team, was subject to a mountain of criticism after the the Blues' shock defeat to Wayne Bennett's Maroons last week. Some senior voices in the game called for him to be dropped, while others said the 22-year-old hadn't recovered from the grand final loss.
Like Cleary, Howard is heading into Origin off the back of a devastating grand final loss with the Roosters. During this week's Blues camp, Howard has sought the advice of veteran star Kylie Hilder, who was an assistant coach for the Roosters during the NRLW season but was named as the Blues 20th player.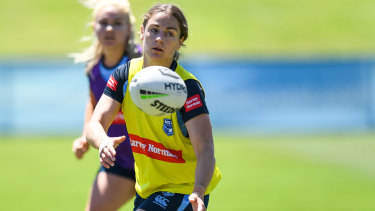 "She knows I get nervous," Howard said. "I've said to everyone I will be fine for game day, I am just focusing my mind on not thinking about football 24/7.
"I know my role and what I need to do. I've played enough to know what my job is if I'm not doing it properly to quickly readjust in the game."
Loading
Howard also opened up about her mental health struggles during the COVID-19 period in light of the NRL's 'State of Mind' campaign. The campaign encourages Origin fans to reach out to their mates after a challenging year.
Howard said the lack of rugby league at the start of the pandemic was "really hard", as friends and family encouraged her to take up extra hobbies.
"The unknown made it difficult to stay motivated," she said. "Not having any footy, not having those connections with your teammates and your close friends … It's hard for people to reach out if they are struggling."
The 27-year-old was encouraged by a friend to start skateboarding as a substitute for football. Howard said she is now trying to reach out to as many friends and teammates as possible to check in with their mental health following the difficult year.
"It's very challenging for people to do [open up]. I was very lucky I didn't actually have to say anything to my friends," she said. "They could tell where I was that's why I am trying to reach out to others."