Last month, Williams was found not guilty after a judge-only trial of intent to commit a sexual offence, but guilty of the alternative charge of common assault.
On Thursday, lawyers for both the prosecution and defence argued that a community corrections order was a sufficient sentence for the crime.
The court heard that Williams, who is Indigenous, had been subjected to racial abuse and other threats since his conviction. Those matters are being investigated by police.
"It is not expected that vigilante behaviour should be condoned or expected in our society," said his defence lawyer, Rosalind Avis.
The court heard that Williams had no prior convictions and has not committed any other offences in the two years that he has been on bail since the attack.
Ms Avis argued that her client had shown remorse for his offending, acknowledging that the attack was "terrifying and can never ever be repeated". He had been unable to give a reason for why he did it, except that he was drunk, she said.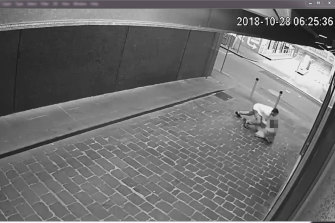 "His actions on that night appear to be out of character and have shocked him and as a result of that he has done everything possible to address that behaviour," she said.
The court also heard that Williams had undertaken treatment for alcohol and drug addiction at the Bunjilwarra rehabilitation centre. He has been diagnosed with depression and social anxiety.
Clinical pyschologist Alice Crole told the court that she had assessed Williams multiple times and believed his continued abstinence from alcohol was important to prevent him reoffending.
"From his non-intoxicated state, he gave me no sense that he has negative attitudes toward women," she said.
Prosecutor Stephanie Clancy said Williams had only shown remorse for how the crime had impacted his own life, rather than how it had affected his victim.
"It was an unprovoked attack on the victim, she was simply walking past Mr Williams on her way to work," she said. "It was cowardly."
Ms Clancy also challenged the argument that alcohol was the key factor behind the attack. However she said that sentencing Williams to a community corrections order would not be manifestly inadequate. Williams served seven weeks in prison while on remand in 2018.
Loading
Judge Amanda Fox agreed to have Williams assessed for a community corrections order, however she left open the possibility of handing him a term in prison.
In her judgment, Judge Fox said there was clear evidence of an "intentional and violent attack".
However she said she had no evidence of the man's intent and found it was possible he was trying to rob or assault the woman.
The matter will return to court for sentencing on November 18.
Get our Morning & Evening Edition newsletters
The most important news, analysis and insights delivered to your inbox at the start and end of each day. Sign up here.
Tom Cowie is a journalist at The Age covering general news.