That's it for today's live coverage, thanks for your comments as always. Looks like there's a bit of traffic on the roads for this first weekend of freedom for Melburnians. For those going away for the first time in months, enjoy it and drive safe.
As state borders open up and case numbers continue to stay low, now is the time that we have decided to stop running daily live blogs on the coronavirus pandemic. Sunday will be the final hurrah, although the blog will return on big news days.
To find out more about why we have decided to take this step, you can read the notes from Gay Alcorn, editor of The Age, and Lisa Davies, editor of the Sydney Morning Herald.
American Dr Anthony Fauci says vaccine developers should push to make billions of their COVID-19 immunisation doses to ensure access to all parts of the world, instead of focusing on rich countries.
But he warned however soon an effective vaccine may be available it may not be enough to help eradicate the disease.
Speaking at a webinar hosted by London think tank Chatham House, America's leading expert on infectious disease said the health crisis may not be a pandemic for much longer "because I believe the vaccines are going to turn that around" but he said that there may be a need to re-vaccinate people intermittently, if COVID-19 becomes endemic.
Co-panelist Dr David Heymann, who led the World Health Organisation's infectious disease unit during the SARS epidemic in 2002-2003 said the future of COVID-19 may be similar to the response to HIV, Ebola, Zika and pandemic flu.
"The public doesn't understand all about vaccines … including that this disease may, even with vaccines, become endemic," Heymann said.
With a young woman twirling a hula hoop as her floral-clad friend beats on a drum, people could have been mistaken for thinking they were entering a climate change rally in the city on Melbourne Cup day.
But if they walked a little further into the crowd, they would have seen men throwing Nazi salutes and people holding signs denying the existence of COVID-19. In the thick of the scrum, a middle-aged woman, wearing a fascinator and dress, bellowed her protest.
It is hard to define in simple terms who the people protesting against lockdowns in Melbourne are, simply because they have come from so many walks of life. Deakin University researcher Josh Roose believes they hail from an amorphous cross-section of society and are united by only one thing: their anger at, and distrust of, government.
And they are not stopping. In online groups littered with references to the QAnon "deep state" paedophile conspiracy theory, they are urging their followers to keep going.
WA Police spent the early hours of Friday morning chasing federal MPs who arrived in Perth on Thursday night after officers who were meant to hand them a written note about coronavirus restrictions were late.
Their direct flight from Canberra – known as the 'VIP' – arrived early, which meant police turned up at the hanger too late to hand out the notes, which advise the politicians they have to take a COVID-19 test after being in the state for 11 days.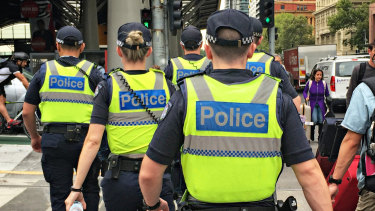 The MPs went home from the airport after a gruelling parliamentary week in Canberra spent away from families.
The flight included Indigenous Australians Minister Ken Wyatt, government MPs Andrew Hastie, Matt O'Sullivan and Ian Goodenough and Labor MPs Anne Aly, Josh Wilson and Glenn Sterle.
Police drove around the city during the night looking for the MPs to deliver the coronavirus information note.
One MP described being woken up by police at 2am. Another described police asking for information about where they might find his colleagues.
"Our WA Police work so hard to keep our community safe," Canning MP Andrew Hastie said.
"They are not Mark McGowan's personal Royal Border Guard. They have better things to do than door-knock MPs at 2am to deliver messages."
Crew members on board an international oil tanker have been tested for COVID-19 after some of them reported flu-like symptoms, temporarily delaying the ship's entry to NSW.
NSW Police and health authorities winched COVID-19 test kits to swab all 21 crew members on board the Haruna Express oil tanker in waters off Sydney on Thursday.
Police said NSW Health was alerted to the ship after multiple crew members reported symptoms of COVID-19. The tanker had left South Korea before stopping in Japan and had crew members from India and Russia on board.
Marine Area Commander Joseph McNulty said on Friday afternoon that all crew members' test results were negative for COVID-19 and the ship would dock at Port Botany in the next couple of days.
"Now the ship has a clean bill of health it will be allowed to enter NSW ports, also Victorian ports and Tasmanian ports as it's carrying unleaded fuel for the Australian economy."
Acting Superintendent McNulty said the ship was intercepted "for the safety of the community".
"It's not a one-off, we've [gone through] a similar process with two ships coming into Newcastle recently. It's far easier to manage the problem off-shore than in our ports."
There were no new coronavirus cases recorded in NSW overnight.
When Indigenous leader Pat Turner heard of the spread of COVID-19 in China in January, she feared for the lives of those with chronic illnesses and vulnerable Elders, revered as living historians.
But a rapid response by Aboriginal leaders to stop the virus worked. Of the 907 deaths and 27,698 cases in Australia, including 685 deaths in aged care, there have only been 149 cases among Indigenous Australians. There were no cases in remote communities and not one death of any Indigenous person. Only 13 Indigenous people were hospitalised.
The extremely low rate of COVID-19 among Australia's First Nations peoples was the "best result for any Indigenous population in the world," said epidemiologist Professor Fiona Stanley, a public health expert and former Australian of the Year.
"It is not just a reversal of the gap but an outstanding result," Professor Stanley said. "It was supposed to be a disaster, but because they acted so responsibly, it was a model of how to prevent an epidemic in a high risk population. [This extraordinary result] just shows what happens when Aboriginal leadership is listened to."
A record-breaking surge in US coronavirus cases is being driven to a significant degree by casual occasions that may feel deceptively safe, officials and scientists warn – dinner parties, game nights, sleepovers and carpools.
Many earlier coronavirus clusters were linked to nursing homes and crowded nightclubs. But public health officials across the US say case investigations are increasingly leading them to small, private social gatherings. This behind-doors transmission trend reflects pandemic fatigue and widening social bubbles, experts say – and is particularly insidious because it is so difficult to police and likely to increase as temperatures drop and holidays approach.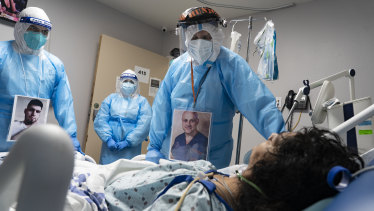 The White House coronavirus taskforce has been urging states that are virus hotspots to curtail maskless get-togethers of family and friends, saying in reports that asymptomatic attendees "cause ongoing transmission, frequently infecting multiple people in a single gathering".
As new daily cases in the US surpassed 145,000 on Wednesday, local time, New York Democratic Governor Andrew Cuomo announced a 10-person limit on gatherings in private homes, calling them a "great spreader."
There's celebrations at the South Australian border this afternoon, following news of the state's reopening to Victorians on December 1.
Paula Gust, a farmer from the Victorian border district of Apsley, established a Facebook site called "Cross Border Call Out" three months ago to give a voice to residents along the states' dividing line.
Within days it had more than 3000 responses, and the numbers have grown since.
The site was crowded on Friday with celebratory comments, tempered by disappointment that the border crossings would remain restricted until the start of next month.
"There are still families separated, school kids unable to see their families, and a lot of compassionate cases whose applications to travel have been declined," Ms Gust said.
"Many people have done it very tough, and there are a lot of people suffering mentally."
The President of the Independent Portland Tourist Association, Denis Carr, said the border opening was "fantastic news".
Mr Carr is the manager of the Cape Bridgewater Sea View Lodge in the far south-west corner of Victoria, and he predicted businesses like his would be "inundated" by South Australians once the border opened.
"We've been pretty excited as Victorian regional people have started to travel and to come and stay, and it's great that the Melbourne people are back now that the city is open again."
However, he said the one concerning factor was that South Australians might be turned off by having to wear a mask in Victoria.
They've been isolated from the rest of the country for 222 days but Western Australia will finally drop its hard border from midnight.
Premier Mark McGowan has announced that the state will move to a "controlled border" from 12.01 am tomorrow.
Every traveller will need to meet certain requirements, however the 14-day quarantine period will only apply to those travelling from NSW or Victoria.
New Zealand health authorities are scrambling to stop a community outbreak of COVID-19, a day after a new case emerged in Auckland's CBD.
COVID-19 Response Minister Chris Hipkins said the new virus sample, from a female student based in Auckland, had now been directly, genomically linked to that of a Defence Force staff member who had spent time near where the woman worked.
The Defence worker's case has been linked to one of the country's Managed Isolation and Quarantine centres.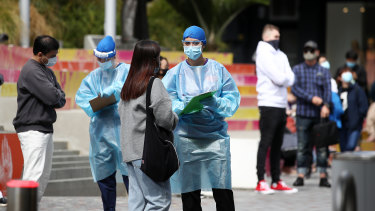 Hipkins announced on Friday that there was positive news — no new cases had been detected among the woman's tested close contacts so far. He said while testing would ramp up in Auckland over the coming weeks, New Zealand's largest city would not raise its alert level up from stage one.
But the minister also sounded a warning note to New Zealanders about the ongoing risk to the community.
"We don't yet have a confirmed theory for how the virus was transmitted between the cases," he said.
"On Monday, I will be taking to cabinet a public health order to make mask use on public transport within the Auckland region mandatory on an ongoing basis. This includes the wearing of masks on all passenger aircraft that travel domestically, within New Zealand."