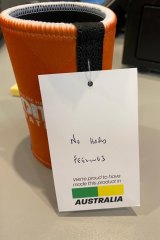 Detailed handwritten notes of an emergency meeting in July about the issue show that Ms Holgate said the postal service should liaise with police unless the parcels were delivered and it was decided she would personally contact Senator Hanson after she was notified of the issue.
"Usually leave it to the customer to refer to police," notes of the meeting say.
"CH [Christine Holgate] says that it's a cop out… Thinks we should liaise with police."
The notes then read: "CH to call Pauline after note goes."
Ms Holgate and Australia Post have denied she spoke with Senator Hanson directly during the scandal, with emails showing contact was made at an operational level between the Australia Post sales team and the One Nation office.
Loading
One email shows when Ms Holgate was presented with questions about the incident from this masthead, she told her communications team: "This was so along ago now I can't honestly remember all the facts … incidentally I did not speak to Pauline."
Ms Holgate resigned earlier this month following a string of scandals including the revelation she had bought four Cartier watches for almost $20,000 on a corporate credit card as gifts for colleagues.
Emails from City of Melbourne chief executive Justin Hanney to Ms Holgate revealed he pleaded with Australia Post to "reflect on the ramifications of delivering such an offensive product" after the council was warned it would be referred to authorities if it didn't distribute the parcels.
"These residents are already under enormous pressure, being surrounded by family and neighbours some who have the coronavirus and who are under unprecedented severe lock down conditions as a result of coronavirus," he wrote.
"Should these packages be delivered, I believe they will cause great offence and conflict to a group of very vulnerable people that are already feeling disenfranchised and are in a highly emotionally charged and volatile state and environment."
Mr Hanney said he had written to the Australia Federal Police because it was the council's view the material contained in the packages was "offensive" and had breached Section 471.12 of the Federal Criminal Code. The council feared it could be aiding in the commission of what was believed to be a crime.
The documents show Ms Holgate asked to be kept briefed of developments of the situation and in one email wrote: "Will you let me know when you hear anything back from One Nation, post the letter you sent yesterday re their parcel mailing to the Tower in Melbourne."
She was told: "They were very appreciative of our proactive communique sent Saturday evening. One Nation do not hold Australia Post responsible for the failed delivery to the residents homes, in fact, quite the opposite.
"They were very appreciative of our diligent attempts to deliver. They are concerned about media leaks and are eager to have the articles back in their possession as soon as can be reasonably achieved."
Loading
When the issue was first raised one employee told colleagues: "feels like Pauline is trying to create a stir". Another thought it may be a "prank".
The documents also reveal that when the saga went public in September, Communications Minister Paul Fletcher's adviser started texting an Australia Post staff member at 6.37am.
A One Nation administrator later raised the publication of the story, with a Queensland-based manager assuring the political party "we take our commitments to privacy and confidentiality of our customers extremely seriously."
Australia Post employees also speculated on email who the source of the information, suggesting they had a "mole" in the organisation.
"Yes we do, what a shame, good timing with the [Queensland] election coming up," another worker replied.
The dispute was resolved without formal police involvement and the parcels were sent back to One Nation.
Rob Harris is the National Affairs Editor for The Sydney Morning Herald and The Age, based at Parliament House in Canberra