A gas leak in Coburg that had been described as extremely dangerous has been fixed, and people have been given the all-clear to return to the area by fire crews.
But a section of Sydney Road remains closed to traffic and trams as a precaution, according to VicRoads and Yarra Trams.
The hazardous gas had been leaking from Sydney Road towards a shopping mall. The surrounding area was evacuated.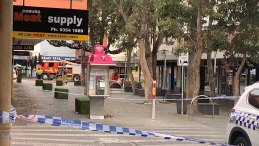 Just after 4pm, Fire Services Victoria announced the leak had been plugged and the area could return to normal.