Anas Ayman Abdu Musa, Yuhana Wal Wal and Santo Wal appeared at Brisbane Magistrates Court on Monday with their lawyers.
They have been charged with murder, affray and acts intended to cause grievous bodily harm.
Mr Musa's family tried to enter courtroom 19, but magistrate Michael Quinn warned those who were not essential workers to leave the packed room to adhere to COVID-19 restrictions.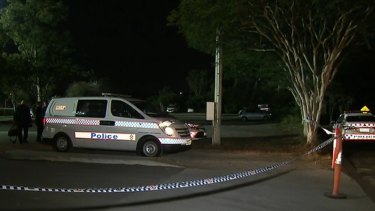 As three people left the courtroom, the family entered once more to listen to the proceedings.
Mr Quinn presented a fresh charge, which was malicious act with intent, to Mr Musa first.
"On the 13th of September, 2020, at Zilmere, with intent you intended to do some grievous bodily harm to Valentino Uchalla, unlawfully struck Valentino Uchalla with a projectile," he said.
Mr Quinn allowed bail on conditions, implementing a curfew where he could only leave the house with his parents and frequently report to a police station.
Mr Musa can not drink alcohol and must provide a sample for alcohol and drug testing when required by a police officer and must not have contact with his co-accused.
When Mr Musa was asked if he understood, he said: "Yep."
Mr Quinn echoed the same fresh charge when Yuhana Wal Wal appeared in court.
Prosecutor Lydia Deveraux acknowledged that Mr Wal Wal surrendered his passport and his blue card, which he needed as his residence was being used as a daycare, and was suspended following the charges being laid.
The men charged over the Zillmere park melee
Ben Abio, 19. A Redbank Plains resident born in Africa. He is a student. 
Alex Edward Deng, 18. Born in Egypt, he lives in Collingwood Park.
Chan Kuchmol Kon, 24. Lives in Redbank Plains and is unemployed.
Joseph Lokolong, 24. A Goodna resident.
Majok Riel Majok, 18. A student who lives in Redbank Plains.
Juma Makoul Deng Makoul, 23. A Redbank Plains resident born in Sudan. 
Anas Ayman Abdu Musa, 21. Born in Sudan, he lives in Bray Park.
Gabreal Wal Wal, 27. Born in Khartoum, the capital of Sudan, he lives in Redbank Plains and works for rail freight company Aurizon.
Kresto Wal Wal, 24. Born in Sudan, he lives at the same Redbank Plains address as Gabreal. 
Yohana Wal Wal, 19. Born in Egypt, he lives in Redbank Plains with Kresto and Gabreal.
Santo Wal, 32. Born in Khartoum, Sudan, he lives in Redbank Plains and works as a sprinkler fitter.
Abraham Ajang Yaak, 26. Born in Kakuma, Kenya, he is a student living in Redbank Plains. 
The 13th alleged offender, 21, lives in Redbank Plains and was due to face Brisbane Magistrates Court on Saturday morning.
The daycare has since closed for Mr Wal Wal to maintain his residence with family.
Santo Wal's hearing was witnessed by family members of Zillmere victims when he was charged with the additional intent to cause bodily grievous harm and unlawfully striking Steven Chong with a projectile and striking Valentino Uchalla.
All three had similar bail conditions, with Mr Wal and Mr Wal Wal also being unable to use social media.
Ms Devereaux sought an adjournment until March 15 to allow time to complete the investigation and align the date with all co-accused.
Outside the courtroom, Viola Ladu, the mother of victims Ronal and Rami Eresto, said she brought her family from south Sudan to Australia as a single mother of three "for a better life".
"We don't know [why they were attacked]," she said.
"My daughter just called me [about the attack] then we just ran to the park [near our house] and then I've been panicking."
Ms Ladu said Ronal was stabbed in the stomach, had a cut finger and was hit over the head with a hammer, while Rami escaped without serious injury.
"He had five operations. The doctor says the knife went through to the liver and kidney," she said.
Ms Ladu said she was angry because she could not comprehend why the attack happened, but came to court to find answers.
Appearing via video-link throughout the day, each of the 10 remaining men were read the new charge related to Mr Uchalla as their lawyers were rotated through the court.
All were remanded in custody to appear on the same date in March for committal mentions, and will not be required to appear.
Jocelyn Garcia is a journalist at the Brisbane Times, covering breaking news.