The plants were donated by Ralph's son Robert, who inherited them after his father's death in 1987. He had maintained the collection and built on it for another three decades, until he decided he was too old to continue.
"I'm excited because it means the continuation of the collection, it can go on for further generations to enjoy," the 76-year-old said.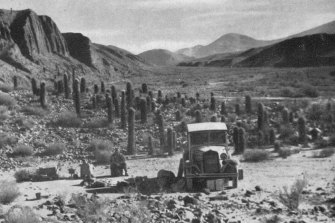 "If I didn't wake up one morning it would have been lost to bulldozers. We both had 60 years involved in it – very few collections last that long and are perpetuated."
Mr Field said his father's interest started about 1910 after he read an article about cactus grafting in Boy's Own magazine. The collection also had the help of the Royal Botanic Gardens, which gave Ralph Field plant cuttings to take home around the same time.
"Some people get into stamps or thimbles. Most people are collectors of something. In this case it was the cultivation of cactus," Mr Field said.
"Some of them are so rare that they're extinct in habitat, yet they're growing in our collection."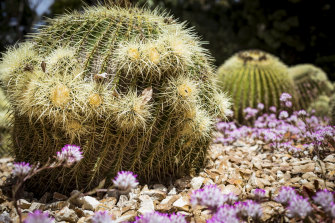 It was not an easy task shipping the plants to Melbourne, with some species weighing 300 kilograms and others more than two metres tall. All up, it took three months and 19 truckloads to move 3000 plants.
Landscape architect Andrew Laidlaw designed the new garden, which is based on the cellular structure of an aloe plant. It replaces the previous arid garden, which was damaged by vandals armed with machetes in 2013.
About 1300 plants from 200species are on display, with three-quarters of them coming from the Field collection.
Royal Botanic Gardens Victoria chief executive Tim Entwisle said the collection would be one of the largest and most important in the country, in terms of the species it holds.
"We're so delighted that we can not only look after but have it on display for everyone to enjoy," he said.
The display is a nod to Melbourne's changing climate, with the hope it will encourage visitors to think about gardens that don't need much water. Summer is also a time when many of the cacti flowers are in full bloom.
Mr Field acknowledges that the cactus isn't for everyone, but he thinks that even those who aren't fans of the spiky plant will enjoy what they see.
"I'm not out to win converts, but quite often the display wins people over," he said.
"You either like them or dislike them, many have had an experience they can never forget with cactus."
As for what his father would think: "It would put a smile on his face.
"He was a man of few words but he would be delighted that I've made this move."
Tom Cowie is a journalist at The Age covering general news.