At Moorabbin Magistrates Court on Monday, magistrate Therese McCarthy ordered that Mr Anasis must also pay $1000 in costs to the EPA, which used drones to monitor trucks dumping waste at the rural property in Diggers Rest that was later traced to a business in Heidelberg.
The waste included tyres, concrete, bricks, soil, metal, timber, plastic, plaster sheet, mattresses, household rubbish and green waste, in piles estimated at up to 90 cubic metres.
Ms McCarthy noted the need for deterrence and denunciation when handing down her sentence, warning "people should be sent a strong message that this type of conduct is unacceptable".
Mr Anasis maintained his innocence when contacted by The Age, insisting he had been engaged by the owners of the Diggers Rest property to clean up the site.
"All my evidence fell on deaf ears, no one was listening ," he said.
Mr Anasis also blamed the owner of an Ardeer site, Bill Patten, who has been saddled with a million-dollar clean-up bill after leasing the land to Mr Anasis in 2014.
In 2015 Mr Anasis was ordered by the Victorian Civil and Administrative Tribunal to remove tonnes of rubbish, covering the area of a soccer pitch, from Mr Patten's property.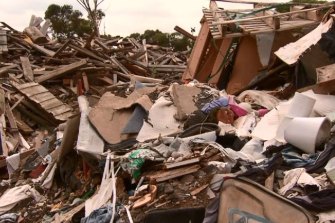 Mr Anasis failed to comply with the order and now Brimbank Council is pursuing Mr Patten.
A letter obtained by The Age reveals Mr Anasis' contempt for Mr Patten and local council officers.
"Tell your mate from the council to go and get f—ed and leave us alone," Mr Anasis said in the letter to Mr Patten in August 2015.
"I know we have made a bit of a mess, but if your [sic] thinking of going further to court then ring me Bill and I will asign [sic] all my debt to you and I will walk away.
"All my trucks and machinery are owned by the banks. I have no home, nothing at all in my name."
Mr Patten said tenants – rather than landlords acting in good faith – should be held responsible for criminal behaviour.
"There is an obvious loophole that is being exploited by unscrupulous operators and now I'm being pursued to clean up the site," Mr Patten said.
"This will eventually cost me my entire superannuation. I'll probably end up bankrupt and having to walk away from the property with nothing."
Start your day informed
Our Morning Edition newsletter is a curated guide to the most important and interesting stories, analysis and insights. Sign up here.