Born in Belfast, Northern Ireland in 1926, her family migrated to Australia two years later where they settled in Melbourne.
Dame Margaret's father died when she was 10 and her mother faced the difficult task of raising the children without the help of extended family.
She was educated at Fairfield State School and Westgarth Central Business College and at 15, while working as a secretary, studied at night at Taylors Institute of Advanced Studies, and then accountancy at the Royal Melbourne Institute of Technology.
"As minister for social security, the welfare of women was central to her," Mr Morrison said. "She reminded her colleagues often that 83 per cent of the payments made through her department were made to women."
Mr Morrison said Dame Margaret oversaw major reform of the national child endowment scheme, switching it from tax rebates to cash payments.
"She ran the Office of Child Care and presided over a major expansion of government support for preschool, child care and after-school care," he said.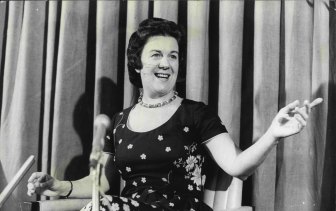 Her clashes with treasurer Phillip Lynch became infamous as she attempted to shield her portfolio from cuts that would adversely affect mothers. She continually knocked back offers to take the role of minister for women's affairs.
She joined the South Camberwell branch of the Liberal Party with her husband Stanley in the 1950s and was identified as a future talent by the women's section of the party.
Ivy Wedgwood, the first woman to represent Victoria in the Senate was her great mentor and encouraged Dame Margaret to replace her when she retired in 1971.
She won pre-selection from a field of 20 male candidates and was asked during the process by a male MP who would look after her three children if she became a senator.
Her response was: "I'm asking you to make a decision to give me responsibility to be a representative in the Senate and I would ask that you would accept that I have responsibility to make the decisions regarding my family."
Dame Margaret would be the highest-ranking woman in federal government for almost 30 years before Julia Gillard surpassed her to become prime minister and Labor senator Penny Wong became the second woman to take on the finance portfolio.
Foreign Minister Marise Payne said Dame Margaret led by example in championing the equal participation of women in Parliament.
"As the first woman senator to hold a federal cabinet ministry, she paved the way for the achievement of gender parity in the Senate, and for the record number of women in Coalition cabinets," she said. "It was an honour to meet her over the years and to hear her perspectives on politics."
Rob Harris is the National Affairs Editor for The Sydney Morning Herald and The Age, based at Parliament House in Canberra