But Hooper cheekily suggested the former Wallabies boss – who speaks several languages – couldn't be getting his message across particularly succinctly.
"He can speak a lot of languages, but he can't speak Spanish that well," Hooper said with a laugh. "So I don't know how his communication is going. But I'm sure he's doing a lot for that environment and that duo there work really well together.
"They're good mates as well. I've played around them a lot and it will be great for professional rugby that you're able to be on the other side now and come up against these guys. It's good."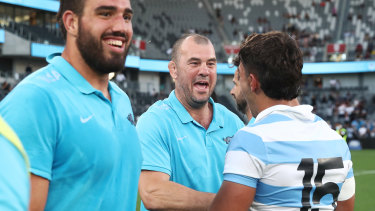 The Pumas are always a passionate side, but many eagle-eyed Australian rugby fans have pointed to Pablo Matera's "show some respect" speech in their historic win against the All Blacks as having all the hallmarks of Cheika.
That may be the case, but Hooper believes Australia's must-win clash with Argentina on Saturday night at McDonald Jones Stadium will boil down to a little more than respect.
"I'm not too sure what [Cheika is] going to be throwing out and what the boys are going to be coming up with this week, but it's imperative for us to focus on ourselves and what we want to deliver," Hooper said.
"It's Test match rugby and it's us versus them. Who wants to play their game harder, has more belief in their game. That's the important [part] tomorrow night."