We are closing today's live blog. As always, thank you for reading and enjoy the rest of your Sunday night.
Here is a wrap up of the main developments from today:
Victoria recorded its 23rd day of no new coronavirus cases. There were no new local cases recorded in NSW, Western Australia, South Australia and Queensland, but in those states there were a number of returned overseas travellers staying in hotel quarantine who tested positive.
Victorians will be able to host 30 people for Christmas and will no longer have to wear masks whenever they leave the house, as authorities declared the state was rid of community transmission of COVID-19 on Sunday.
What a difference a border makes.
It seems only a blink ago that much of Australia looked askance at Victoria as the coronavirus roared out of control in Melbourne. State borders slammed shut. Victorians were no longer welcome.
And suddenly, it is over. At least for now.
To the north, NSW is busily dismantling the border posts that have denied so many Victorians free passage since the barriers went up on August 9.
To the west, the long months of South Australia employing police and troops to refuse or limit access to Victorians have been reversed.
Now, South Australians must run the gauntlet to get into Victoria.
On Sunday, as his state celebrated 23 days without a COVID-19 case, it was Victorian Premier Daniel Andrews dispatching police to control the border with South Australia and to impose restrictions and permits and, in the case of people from hotspots in Adelaide, outright bans on those wishing to cross the state line.
The breathtaking swiftness of the reversal on the state boundaries underlined the unpredictability of the coronavirus' path.
Read the rest of Tony Wright's analysis here.
Scott Morrison has joined world leaders to demand global access to coronavirus vaccines at a virtual G20 summit which was dominated by efforts to tackle the pandemic and the worst global recession in decades.
The Prime Minister, attending while quarantining at The Lodge in Canberra over the weekend, called for more coordinated international action to respond to the crisis, likening the response needed to the key role the G20 played in the wake of the global financial crisis 12 years ago.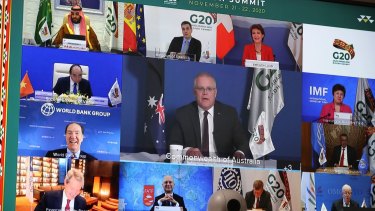 World leaders, including departing US President Donald Trump, popped up in multiple windows across a flickering screen for the two-day gathering as international efforts focus on a large-scale rollout of coronavirus vaccines after recent breakthroughs in trials.
Mr Trump, who is yet to concede the US election, went golfing after making a brief appearance at the cyber summit, during which it is believed he was tweeting about the election result as the Saudi King made his opening remarks.
While most G20 leaders have already spoken directly with US President-elect Joe Biden, Mr Trump reportedly told the meeting: "It's been a great honour to work with you, and I look forward to working with you again for a long time."
A source with access to the virtual sessions, which were closed to media, reported Mr Trump had "said that he had done an absolutely incredible job during his term, economically and with the pandemic".
Read the rest of this story here.
The number of active cases in Australia has dropped by three to 88, according to federal health department figures.
There were 91 active cases nationally on Saturday, 97 on Friday and 94 on Thursday.
The government data shows there were a total of 17 cases recorded in the last day, 23 people are in hospital with the virus and a total of 50,604 tests were completed across the country.
The national death toll remains at 907.
Senior Department of Health and Human Services officials, including Brett Sutton and Euan Wallace, will be grilled at a parliamentary inquiry investigating Victoria's contact tracing system.
The parliamentary inquiry was established against the government's will last month when most upper house crossbenchers supported Liberal MP Georgie Crozier's motion for another inquiry into the government's performance during the deadly second wave.
The inquiry heard from a number of people last week, including Chief Scientist Alan Finkel, the boss of Cedar Meats and Australian Medical Association's Victorian president Julian Rait.
It was told contact tracers brought in to assist the government were given two-day training courses and a script spanning 150 pages to learn before starting their new roles.
Chief Health Officer Brett Sutton, DHHS secretary Euan Wallace, testing and community engagement commander Jeroen Weimar, Safer Care Victoria chief medical officer Andrew Wilson, and deputy Chief Health Officer Annaliese van Diemen will be among the big names giving evidence from 1pm on Monday.
The heads and contact and outbreak management at the department will also provide evidence.
The committee will present a report to Parliament by December 14.
The daily tally of reported COVID-19 cases in Japan hit a record for the fourth day in a row, with 2508 people confirmed infected, the health ministry said on Sunday.
Japan has had fewer than 2000 coronavirus-related deaths so far, avoiding the toll of the harder hit nations, but fears are growing about another surge.
A flurry of criticism has erupted from opposition legislators and the public, slamming the government as having acted too slowly in halting its "GoTo" campaign, which encouraged travel and dining out with discounts.
Prime Minister Yoshihide Suga announced the decision Saturday. But many people had already made travel reservations for this three-day Thanksgiving weekend in Japan.
Airports and restaurants have been packed. Some said the government should have offered to pay for cancellations, or stepped up more on testing instead, if the goal is to keep the economy going amid a pandemic.
Tutorials are circulating online on the proper way to eat and drink at restaurants, while wearing masks.
AP
Victoria's peak body for legal professionals has welcomed Sunday's announcement that some workers could start returning to the office at the end of the month.
Law Institute of Victoria president Sam Pandya said the return would allow lawyers to better support clients.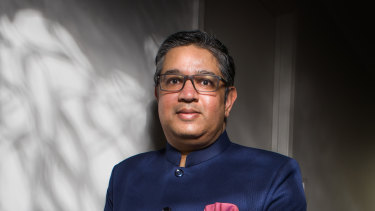 "The fact is that not everything can be done effectively from home. Some of the issues dealt with by lawyers are extremely confidential and sensitive. It is not always practical to give clients legal advice and support over Zoom," he said.
"Many legal practitioners, for the good of the community, have had to take their work home which in some cases involves graphic, traumatic and disturbing material."
The Victorian government announced on Sunday that from November 30, up to 25 per cent of each workforce would be able to return to offices.
Businesses with less than 40 employees can have up to 10 staff on site, subject to density restrictions.
The law institute has been pushing for a return to the workplace, Mr Pandya said.
"Many of our lawyers have reported that their clients are often elderly or not as tech savvy as corporate clients with many files and associated documents, such as wills, only in paper form," he said.
"This is a sensible step in the move towards COVID-normal and we thank the government for its consultation with our profession and listening to our advice and concerns."
Victoria can again breathe easy.
After four months of having to cover our faces when stepping out the front door, we can let our masks slip.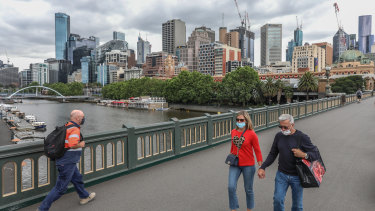 We will still need to wear them in public buildings and outdoors when caught in a crowd but, for the first time since the second wave epidemic crested, we will be guided by common sense instead of a hardline, public health edict.
The changed mask rule does three things.
It removes from our streets and parks the most visible symbol of our COVID winter, signalling that although the pandemic still rages in Europe and America and future outbreaks are likely, we are where we want to be at the end of this wretched year.
It puts an end to the silliest of culture skirmishes – thankfully it never quite reached the stage of warfare here – about whether mandating masks outside was a reasonable public health precaution or an elastic strapped conspiracy against freedom.
It scraps the COVID restriction of weakest efficacy and refocuses the public-health response where we know the risk of viral spread is greatest: in hospitals and nursing homes, at family gatherings and in confined, indoor public spaces.
They've gone through more ups and downs than many engaged couples, but Tennille McNamara and Elliott Richardson are thrilled their wedding can go ahead this Friday with all 60 of their guests.
At one stage during the COVID lockdown, the number permitted to be present at a wedding fell to just five.
That would have resulted in the "heartbreaking" decision to exclude Ms McNamara's children Harper, 13, and Jackson.
During the pandemic, the maximum number of wedding guests varied from 10 to 50 and finally on Sunday came the happy news from Premier Daniel Andrews that up to 150 would be allowed at weddings.
Ms McNamara, of Chirnside Park, said her wedding was booked for November 27 at a winery at Wandin North, in the Yarra Valley, before COVID-19 emerged.
"But we decided to keep it there and try and wing it, and hope it would still go ahead," she said.
"There have been so many ups and downs. Just the constant changes and not knowing what's happening.
"Everything's been really last minute. There have been some emotional days. I feel like it has been a lot more stressful than it normally would be, for sure."
Guests will still have to wear masks – unless they are socially distanced outside.
"But we're just excited to be able to go ahead with the wedding at all," Ms McNamara said.
Ms McNamara, who runs a hairdressing business, said the pandemic had taught her to focus on the positives and be patient.
She said the wedding would be "a day to remember because nobody's really been able to do anything until now. So it'll be special. Extra special."
You can find a run down of the new-look lockdown rules here.
Federal Health Minister Greg Hunt says no cases of community transmission were recorded across the country today.
In a tweet, Mr Hunt said the achievement reflected "continued national progress" in driving down coronavirus numbers and urged Australians to continue getting tested.
"We are always watching out for additional cases and there's still a long way to go – but important continued national progress," he said.
The last time there were no cases of community transmission recorded across the country was last Thursday, November 19.
On November 1, Australia recorded its first day without community transmission cases since June 9.