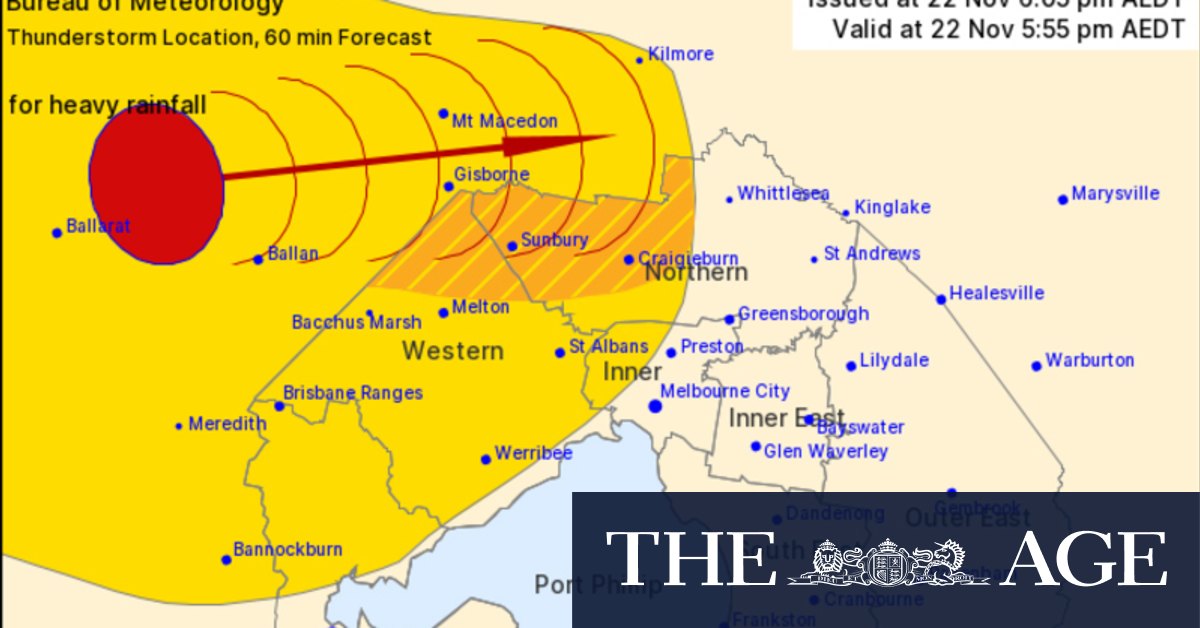 "The situation will continue to be monitored and further warnings will be issued if necessary."
However, Bureau of Meteorology senior forecaster Richard Russell said Melburnians will likely see more rain over the next few hours before it eases to a drizzle on Monday morning.
"There will be rain with occasional thunder for the majority of Melbourne. In the next two hours [from 7pm] it will mostly clear the Melbourne area but we will still see further rain return to the city in the early hours of Monday morning and there may also be lightning," he said.
"By the time most people get up it should have eased to drizzly rain and there won't be much of it by late morning."
There will then be a "rollercoaster of temperatures" throughout next week, however it will stay mostly dry.
Ballarat copped a drenching on Sunday, recording 26.4 millimetres of rain. Most of this – 22 millimetres – fell in the half hour to 5.45pm. The average November rainfall for Ballarat is 55 millimetres.
The weather station at Bullengarook, near Bacchus Marsh, recorded 19 millimetres of rain on Sunday in about an hour.
On Sunday night, the State Emergency Service was advising those in affected areas to check any loose outdoor items are secured and vehicles are under cover or away from trees.
They also advised residents to stay indoors and away from windows, and to avoid travelling if possible.
In the Melbourne area, the SES had 36 call outs in the six hours to 8pm, with the Melton and Craigieburn units the busiest. Of the 36 requests for help, 19 were for building damage, ten were for flooding and six for trees down.
A severe thunderstorm warning is also current for parts of the Central, Mallee, South West and North Central districts, with warnings for damaging winds, large hailstones and heavy rainfall.
The thunderstorms are being cause by a broad trough sitting right across Victoria, creating a warm and unstable air mass, Mr Russell said.
The strongest winds gusts recorded on Sunday were 89 km/h at Yarrawonga 1.06pm, 87 km/h at Rutherglen 1.44pm and 78 km/h at Albury Airport at 2.22pm.
Casterton recorded 10 millimetres of rain in 9 minutes around 3pm, and Hamilton recorded 9.4 millimetres in 6 minutes around 4pm.
Simone is a crime reporter for The Age. Most recently she covered breaking news for The Age, and before that for The Australian in Melbourne.