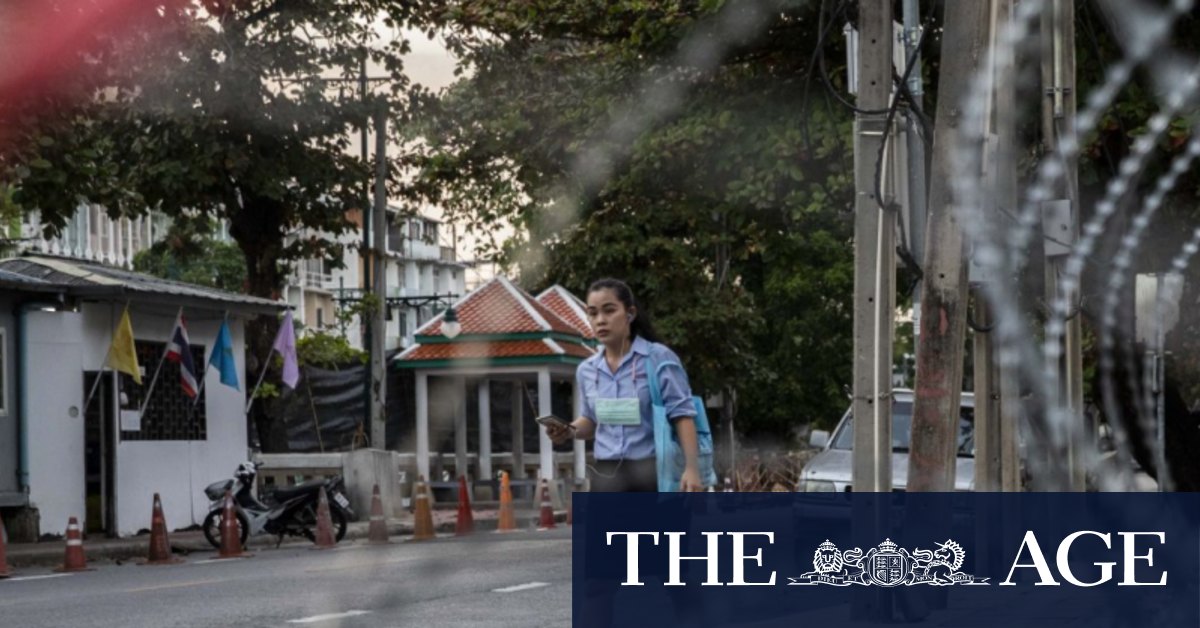 But in keeping with the "be water" tactics adopted by locals from the protests in Hong Kong – which see activists rapidly organise online to shift locations and tactics in response to police moves – the Thai protests instead gathered at the Bank, in northern Bangkok, instead.
The decision to target the Bank, rather than the Bureau, still highlights the protesters' anger with the King – an extraordinary step in a country with strict lese majeste laws – as the King's 23 per cent holding in the bank makes him its largest shareholder.
The protesters three key demands are for constitutional reform, the removal of former general-turned-prime minister Prayut Chan-o-cha from office and curbs on the King's powers.
On social media supporters of the proposed reforms, which have been stymied by the parliament, mocked the police actions while on the ground, volunteers attempted to protect protest leaders.
Giant inflatable ducks, which have become a bizarre – if slightly comedic – symbol of the protest movement were thick on the ground.
Parit "Penguin" Chiwarak, one of the protest leaders, told the crowd they were unfazed by the prospect of facing charges under the lese majeste laws and vowed to keep fighting for change.
Addressing the crowd, Chiwarak called for peaceful protests so as to not give authorities any excuse to impose martial law – comments which echoed an earlier statement he had issued on Twitter about the decision to move locations.
"Causing violence will justify the government's reasons to enforce marital law or stage a coup d'état," he tweeted.
The protesters claim to have five days of protests planned at different locations across the city and Human Rights Watch is concerned the showdown between authorities and the students is headed towards further violent flare ups.
Thai authorities have escalated their legal battle against the students leading pro-democracy protests, charging 12 of them with violating a harsh law against defaming the monarchy.
Police on Tuesday issued summonses for the 12 protest leaders, including Chiwarak, to answer charges of lese majeste, defaming or insulting key members of the royal family. The offence is punishable by up to 15 years imprisonment.
The laws have not been used for three years, on the instruction of the King.
According to the legal aid group Thai Lawyers for Human Rights, the 12 suspects include top protest leaders known for their public criticism of the monarchy.
Many in the student-led protest movement believe the monarchy holds too much power for a constitutional monarchy. But their challenge is fiercely opposed by royalists, who consider the royal institution an untouchable bedrock of national identity.
with AP
James Massola is south-east Asia correspondent based in Jakarta. He was previously chief political correspondent, based in Canberra. He has been a Walkley and Quills finalist on three occasions, won a Kennedy Award for outstanding foreign correspondent and is the author of The Great Cave Rescue.