There is, however, a group of players attracting some interest from AFL clubs:
James Frawley (Melbourne/Hawthorn)
Age: 32
Games: 239
Debut: R9, 2007
Retired as a Hawthorn premiership player but could go again as a Saints defender after the club that his uncle Danny led with such distinction popped the question at season's end. The decision as to whether he extends his career is in Frawley's court, but the lock-down defender would not only fill a void, he would add premiership experience to the list.
Shane Savage (Hawthorn/St Kilda)
Age: 29
Games: 165
Debut: R20, 2009
The Giants spoke to Savage but are yet to determine whether to add an experienced player to their list or take a punt on someone young. Savage is a quality person with a tremendous work ethic who forced his way into the Saints' semi-final team, a reward for his attitude and perserverance.
Mitch Hinge (Brisbane Lions)
Age: 22
Games: 3
Debut: R9, 2019
The defender looks set to return to Adelaide to join the Crows. He had an offer from the Lions but has taken the chance to progress his career closer to family.
Cedric Cox (Brisbane Lions)
Age: 23
Games: 13
Debut: R4, 2017
Cox told the Brisbane Lions he wanted to move to Western Australia for family reasons but Fremantle and West Coast have been in no rush to commit. The Eagles have an open mind but his name is among a range of possibilities the club is considering.
Majak Daw (North Melbourne)
Age: 29
Games: 54
Debut: R4, 2013
From the moment he was delisted, Daw has been clear in his desire to play again. He made a remarkable comeback from serious injury in 2020 after coming close to dying when he plunged from Bolte Bridge in December 2018. A defender who can pinch hit in the ruck, he has not attracted huge interest. But he would be certain to make an impression if he was given the opportunity to train with a club from January 6 in the hope of being added via the pre-season supplementary listing process. Shapes as a good depth defender once lists shake out.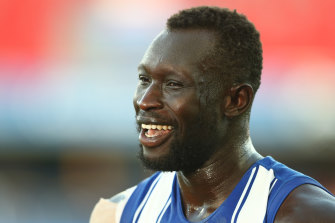 Matt Scharenberg (Collingwood)
Age: 25
Games: 41
Debut: R18, 2015
Scharenberg was up for trade last year with a season to run on his contract, but there was little interest and clubs have been slow to move on the former top-10 pick. He is a good judge of a mark and a steady defender, but three knee reconstructions stalled his career.
Ed Phillips (St Kilda)
Age: 22
Games: 15
Debut: R8, 2018
Phillips has the right mix of pace and endurance and the decision to reduce interchange rotations helps his cause. Showed in a two-minute patch against Geelong what he is capable of when he kicked consecutive goals and would suit Melbourne, Essendon or North Melbourne as they search for outside run.
Robbie Fox (Sydney Swans)
Age: 27
Games: 38
Debut: R2, 2017
Fox was a surprise delisting after playing 14 games but the Swans had to make room to ensure their list stayed balanced. The former basketballer is a solid defender but it is an uncomfortable time for a 27-year-old on the fringes with list spots diminishing.
Peter Ryan is a sports reporter with The Age covering AFL, horse racing and other sports.