Organisers are likely to also target Tszyu, who has become one of the country's most marketable athletes after he demolished Horn in his last fight. If the son of former world champion Kostya Tszyu agrees to participate, it would complete one of the most impressive local fight cards ever assembled.
While Tszyu will ultimately leave any decision to his handlers, the 26-year-old said the promotion held appeal.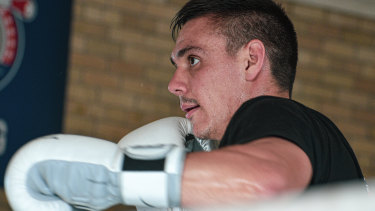 "I wouldn't say no," Tszyu said. "It's all up to my promoter and manager to work on a good deal.
"I love to fight on big shows and the fact I'm headlining all these big shows, it shows that I'm doing something right.
"Any big show is appealing. It's a great time for Aussie boxing because you've got these young boys who are hungry and willing to give it their all.
"They have put in the sacrifice year after year to get into this position, it's great."
Loading
International opponents are likely to seriously consider coming to Australia for a packed stadium event given the alternative is boxing in an empty arena just about anywhere else in the world.
Tszyu's priority, however, is his upcoming fight with New Zealand's Bowyn Morgan at Bankwest Stadium on December 16. The event will mark the first Sydney stadium fight since 2006 and will also feature Paul Gallen taking on UFC star Mark Hunt.
Tszyu has studied footage of Morgan's previous fights and is confident he will have his measure.
"He's tough, he's strong, he comes forward, he's awkward. He's coming to fight," Tszyu said. "That's all I know, that's all I want to know. I don't really care about anything else."
Gallen, meanwhile, believes his skill and endurance will overwhelm Hunt.
"He's the biggest name in combat sports in Australia to be honest," Gallen said. "I'm going out to execute what I do at training and if I do that I win."
Adrian Proszenko is the Chief Rugby League Reporter for the Sydney Morning Herald.