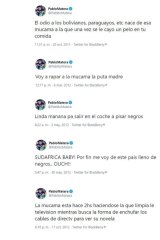 The tweets were the subject of an emergency UAR board meeting, where it was decided Matera's position as captain was no longer tenable.
"The Argentine Rugby Union strongly repudiates the discriminatory and xenophobic comments published by members of the Los Pumas team on social networks …," the UAR announced.
"Although the messages were expressed between 2011 and 2013 and do not represent the integrity as people that the three showed during this time in Los Pumas, from the Argentine Rugby Union we condemn any expression of hatred and consider it unacceptable."
The Herald can reveal the reason the Pumas believe the tweets resurfaced eight years since they were first published.
Sources close to the Argentinian team said on Tuesday they believe the Matera tweets were dug up and shared online to sabotage the team after they'd been the subject of an intense backlash from the Argentinian public for a perceived lack of respect for soccer legend Maradona in the wake of his passing last week.
The Argentinians wore a black armband as a tribute to the late, great 60-year-old but were upstaged by the All Blacks, who laid a No.10 jersey with Maradona's name across it down prior to performing the haka.
The intensity of the response is seen in online comments on the Pumas' social media accounts. An average Pumas post on Instagram draws about 100 comments, but in the 72 hours since the 38-0 drubbing at the hands of the All Blacks, that number was well into the thousands.
Almost all of those additional comments slammed the Pumas for their perceived lack of respect towards Maradona, and the backlash was so intense that Matera issued a three-minute apology video alongside the entire Argentinian squad from the team's hotel on Monday night.
"If both Diego did for you as we know and represents so much that the tribute is a piece of insulating tape on the arm, it is obviously a lack of respect," one top-rated comment read.
"Do the homage on the (field). Where it should be. They had to receive the rejection of all Argentina to realize their error," said another.
The words accompanying the Pumas video post about Maradona on Monday said: "We know that the tribute we did for Diego caused disappointment, but we wanted to tell you that it was by no means our intention. We did not want to stop apologising to them, we wanted to tell them that Diego is always present and is an important person for this team."
Sam is a sports reporter for The Sydney Morning Herald.