While the US and Europe have bought hundreds of millions of doses of Moderna's vaccine, Australia signed direct deals with competitors Pfizer, Novavax and AstraZeneca.
Pfizer's mRNA vaccine looks promising but Novavax is months away from completing trials and AstraZeneca has hit a major speed bump.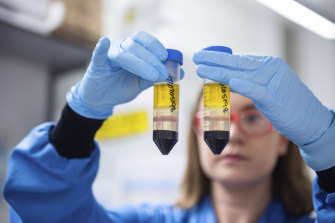 Last week AstraZeneca claimed its vaccine was 90 per cent effective but did not initially disclose that figure came only when the wrong dose was given by accident. At the correct dose, effectiveness fell to 60 per cent.
"It would have been, and may still be better if possible, to have more options," said Professor Terry Nolan, head of the vaccine and immunisation research group at the Doherty Institute and the Murdoch Children's Research Institute.
"We saw last week with the AstraZeneca results, that it's not that straightforward. You don't get a clear answer straight up. It looks good, but we're not 100 per cent sure."
Last week, Health Minister Greg Hunt said the first vaccines were likely to be given in Australia in March.
The government has ordered 10 million doses of Pfizer's mRNA vaccine, enough to vaccinate 5 million people, due to arrive early 2021.
In addition, it has signed agreements to buy more than 3.8 million doses of the two-dose AstraZeneca vaccine early next year and 40 million doses of Novavax's vaccine which should arrive some time in 2021.
Australia does have potential access to Moderna's vaccine through the international 188-country COVAX agreement but would be competing for the vaccine with the other members, which include many of the world's poorest nations.
The TGA deals with far fewer applications than US and European regulators and according to University of Queensland researcher Lisette Pregelj takes, on average, close to 200 working days – more than nine months – to approve a new medicine.
Dr Pregelj, who says regulation has been a major impediment to vaccines in the past, published a paper this year warning that regulators could be COVID-19 vaccine "bottlenecks".
The Ebola vaccine took about six months to develop but it took 13 clinical trials over five years to amass enough data for it to get regulatory approval.
Loading
Vaccines for MERs and Zika remain in clinical trials despite their outbreaks being long over.
To approve a vaccine in a shortened timeframe, the TGA must satisfy itself that the benefit of early approval "outweighs the uncertainty of things like the longevity of immunity and long-term safety follow-up" said Associate Professor Nicholas Wood, head of the NSW Immunisation Specialist Service.
"They can look at things that are partly described by the clinical data, and then have a rolling assessment. If new data emerges, it is looked at down the track."
A TGA spokesperson said the authority had "received and is reviewing preliminary data for AstraZeneca's and Pfizer COVID-19 vaccines, we will only be in a position to make a registration decision once all required data relating to safety, quality and efficacy has been provided and assessed".
"Subject to regulatory approvals, the first vaccines are likely to be available early in first quarter of 2021.
"COVID-19 vaccine applications are being treated with the greatest priority as part of the Department of Health's response to the pandemic."
Start your day informed
Our Morning Edition newsletter is a curated guide to the most important and interesting stories, analysis and insights. Sign up here.
Liam is The Age and Sydney Morning Herald's science reporter