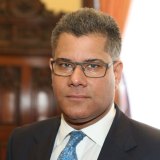 "I would like to thank Australia's states and territories, which have all made commitments to reach net-zero by 2050," Mr Sharma said on Wednesday. "And I urge all of you who have not already done so to join the race to zero campaign."
Speaking at the Carbon Market Institute's emissions-reduction conference on Wednesday, Mr Sharma pointed to the experience of the United Kingdom – the first major economy to legislate for net-zero emissions by 2050 – which in the past 30 years has grown its economy by 75 per cent and cut emissions by 43 per cent. "And the momentum is now building behind similar targets around the world," he said.
On a phone call in October, British Prime Minister Boris Johnson encouraged Scott Morrison to take "bold action" on climate change and emphasise the importance of setting ambitious targets to cut emissions and reach net-zero.
Responding to the British government's account of the call, Mr Morrison said Mr Johnson understood Australia would make "sovereign decisions" on the targets it set.
"It shouldn't come at the cost of higher prices for the daily things that our citizens depend on," he said at the time. "Emissions reductions shouldn't come at the cost of jobs in Australia or the UK."
Federal Energy and Emissions Reduction Minister Angus Taylor, who will address the conference on Friday, said the Morrison government's aim was to reach net-zero emissions as soon as possible but intended to "get there through technology, not taxation".
He said Australia was 16.6 per cent down on baseline 2005 levels towards the country's 2030 target, known as a "nationally determined contribution".
Loading
"Labor has no target for 2030. We have a clear target," Mr Taylor said. "We will continue to progress well to that target, I'm very confident of that. And through technology, we'll continue to drive down emissions beyond 2030 as well."
A growing number of Australia's biggest businesses, such as mining giants and banks, have also responded to rising public and shareholder pressure to sign up to 2050 net-zero targets for their operations, and reduce exposure to carbon-intensive fossil fuels where possible.
Speaking at the same climate conference on Wednesday, ANZ chief executive Shayne Elliott doubled down on the bank's retreat from thermal coal and other fossil fuels after the company faced criticism from federal politicians.
"We got heavily criticised, I got criticised, there was outrage that somehow we should stick to our knitting," Mr Elliott said. "My response to that is this is our knitting, this is what we do for a living. We are in the business of allocating capital and assessing risk."
ANZ earlier this year said it would stop funding new coal mines and coal-fired power stations and commence engagement with heavy-polluting customers to drive down emissions. Senior Nationals politicians, including David Littleproud and Michael McCormack, criticised the move as "virtue signalling".
Business reporter for The Age and Sydney Morning Herald.
Charlotte is a reporter for The Age.